'We cannot leave people behind'
-
Top CEO challenges business leaders as he accepts US award for sustained international excellence
Stanley Bergman (BCom 1972, CTA 1973), Chairman and CEO of US-based company Henry Schein, has received Chief Executive magazine's 2017 CEO of the Year award, which honours leadership skills and achievement.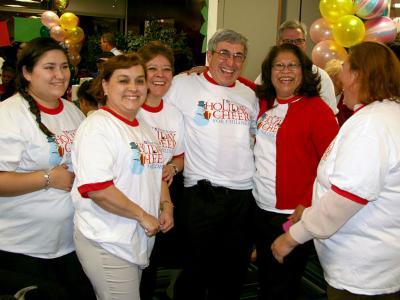 Bergman's "sustained high performance in both business goals and organisational values" were cited as standout features in the magazine's announcement.
Chief Executive said:
While Stan joins an elite group of chiefs that includes Bill Gates, Jack Welch, Alan Mulally, Andy Grove, and others, he has put his own, unique stamp on advancing the art and science of management.
It said that when Bergman took over as CEO in 1989, he and his team "needed to transform the company into a profitable venture while simultaneously guarding the culture it prized."
Henry Schein, a medical, dental and veterinary supplies company, employs 21 000 people and made record sales of $11.6-billion in 2016. Its share price has risen by 1 300% since its listing in 1995.
The company's stated corporate ethos is to "foster an entrepreneurial environment, offer exciting opportunities for personal and professional growth, and treat each individual with respect and dignity."
Accepting the award on 18 July at the New York Stock Exchange, Bergman appealed to business leaders when he said:
Nothing of great consequence happens individually. Every great success requires a team... The old African proverb is so true: If you want to go fast, go alone. If you want to go far, go together.

We cannot leave people behind. Too many in business have been too focused on going fast and not focused enough on going together. The result is a minority of huge beneficiaries and an increasingly vocal majority of those left behind. If we focus too much on the speed of change rather than ensuring that all benefit from change, then we risk greater disenfranchisement and civil dissent, which jeopardizes global stability and all democratic societies.

As business leaders, we should be societal leaders during this time when civility is severely challenged, and when trust in business, government, international institutions, the media, and civil society leaders are at historic lows.
Witsie Steve Collis (BCom 1982, BCom Hons 1983), Chairman, President and CEO of pharmaceuticals giant AmerisourceBergen, was also at the award ceremony. He is on the Muslim-Jewish Advisory Council, which Bergman chairs with Farooq Kathwari, the CEO of US furniture chain Ethan Allen. The council's mission is to combat hate crimes against people of faith. Quoting Elie Wiesel and Nelson Mandela, Bergman spoke about the value of diversity and the need for dialogue among people of all political, religious, economic and cultural backgrounds.
Wits conferred an honorary doctorate on Stanley Bergman in 2016.
His wife Dr Marion Bergman is also a Wits graduate (MBBCh 1974). She practised pulmonary medicine and critical care for 33 years and now works in various ways to promote health, development and human rights.