Chairman and CEO of Henry Schein awarded Wits' highest honour
-
Wits alumnus Stanley Bergman has been recognised for his achievements in business, philanthropy and support for the arts and education.
Wits University bestowed its greatest tribute, an Honorary Doctorate in Commerce on Bergman.
Bergman was lauded by the Acting Dean of the Faculty of Commerce, Law and Management, Professor David Everatt, for his "intelligence, compassion, collegiality,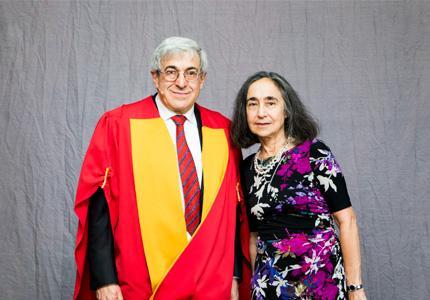 community engagement, entrepreneurship, innovation, determination and lifelong support for – and pride in – his alma mater." He added: "This Doctorate is bestowed in recognition of Mr Bergman's outstanding achievement in business, philanthropy and support for the arts, education and universities around the world."
Bergman holds a Bachelor of Commerce degree (1972) and a Certificate in the Theory of Accounting (1973) from the University of the Witwatersrand. He is a registered Chartered Accountant in South Africa and a New York State Certified Public Accountant. His wife, Dr Marion Bergman is a medical specialist and an alumna (MBBCh 1974) of the same University.
Bergman and Dr Bergman maintain strong ties with South Africa and as the longstanding Chair of the Wits Fund Inc. in New York. Mr Bergman and his family work on growing and advancing the University's alumni body in the United States, many of whom also generously support Wits and serve as ambassadors for Wits in their respective fields.
Vice-Chancellor and Principal of the University of the Witwatersrand, Professor Adam Habib said: "Mr Bergman has made a success of his career and has made a difference to countless people's lives as a champion of preventive healthcare and universal healthcare access. He has also advanced dialogue among people of different cultures and beliefs to work towards a better understanding among all."
He added: "These achievements recognise exceptional distinction in public and professional life, and for this reason we felt that it was fitting to award Mr Bergman with an honorary doctorate."
Delivering the keynote address during the ceremony for graduands, Mr Bergman said: "Success is all about caring about people. The most successful, enduring business people and leaders in the world are the ones who care about people. I learned from my late mother that if you treat people how you want to be treated, things work out, and from my late father I learned to always look for the good in people and to be optimistic. I strongly believe that the more you give, the more you get back. I'm not talking about getting back financially, I'm talking in terms of the inspiring people you meet and the enriching experiences you have."
Bergman added: "Today's businesses are searching for a different kind of leader. In the year 2016, no one wants bosses. We all want coaches, facilitators and mentors – the world of bosses is gone. You have an opportunity to repay your education to society by being a mentor to the people you are going to work for going forward. Business leaders have an obligation to give back to society."
On engagement with all people, he said: "We must also engage with all those with whom we come into contact, regardless of race, class or culture so that we can build bridges and an inclusive humanity for the betterment of society. You need to remember that every single step you take will be an education – you will learn as much outside the classroom, as inside."
About Mr Stanley Bergman
Since 1989, Mr Bergman has served as the Chairman of the Board and CEO of Henry Schein, Inc., a Fortune 500 company and the world's largest provider of healthcare products and services to office-based dental, animal health and medical practitioners, with more than 19,000 Team Schein Members and operations or affiliates in 33 countries. The Company's 2015 sales reached a record $10.6 billion. Henry Schein has been a Fortune World's Most Admired Company for 15 consecutive years and is ranked #1 in its industry on Fortune's 2016 list of the World's Most Admired Companies.
Henry Schein Cares, the company's global corporate social responsibility programme, has expanded access to health care for underserved and at-risk populations, as well as advancing diversity in the health care professions in the United States and around the world.
Bergman and his wife Dr Marion Bergman, a medical specialist and Wits alumna (MBBCh 1974), and their sons, Paul and Eddie, are active supporters of organizations fostering the arts, higher education, cultural diversity and grassroots health care and sustainable entrepreneurial economic development initiatives in the United States, Africa and other developing regions of the world.
Bergman and Dr Bergman maintain strong ties with South Africa; have contributed to a range of programmes in Africa, including refurbishing the only dental school in Tanzania. In the 1990s the Bergmans were avid supporters of an organisation called Medical Education for South African Blacks (MESAB), which provided approximately 7,000 scholarships for South African health professional students. Dr. Bergman was the treasurer and served on MESAB's board.
Bergman serves as a board member or advisor for numerous institutions including New York University College of Dentistry; the University of Pennsylvania School of Dental Medicine; the Columbia University Medical Center; World Economic Forum's Health Care Governors; the Business Council for International Understanding; and the Metropolitan Opera.
Bergman is an honorary member of the American Dental Association and the Alpha Omega Dental Fraternity. His awards include being the recipient of the Ellis Island Medal of Honor; the CR Magazine Corporate Responsibility Lifetime Achievement Award; a Doctor of Humane Letters from A.T. Still University's Arizona School of Dentistry and Oral Health; an Honorary Doctor of Humane Letters from Case Western Reserve University; and Honorary Fellowship of King's College London and the International College of Dentists.