New Wits laboratory will advance African genetics research
- Wits University
The Sydney Brenner Institute for Molecular Bioscience today launches a new research lab to understand African genetics and advance precision medicine in Africa.
The new Sydney Brenner Insitute for Molecular Bioscience (SBIMB) research laboratory launches today, Monday, 11 October 2021.
A hybrid research symposium from 13:00-16:00 precedes the official ribbon-cutting ceremony from 17:00-18:00 at the Institute.
The hybrid research symposium is open to the public online, although spaces are limited.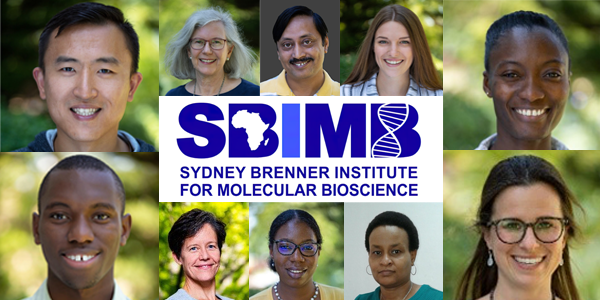 The new lab was made possible by donations from both the Albert Wessels Trust and Wits University.
Chairperson of the Trust, Elizanne Wessels, says: "South Africa has a wealth of brilliant young scientists who need suitable infrastructure and academic training to mobilise their talents in genetic studies. Ethnocentric research is not suited to Africa's genomic diversity, nor does it provide information pertinent to the particular health issues that ensue. The Albert Wessels Trust is delighted to have assisted the Institute to bridge this gap."
By creating a world-class research environment, Africa's leading scientific and clinical researchers can tackle profound and critical questions in biomedical molecular research and develop innovative solutions to some of Africa's greatest health challenges.
"SBIMB researchers and other African collaborators will embark on machine learning approaches to mine extensive and complex datasets, with the aim of shedding light on some of our most challenging health problems," says Professor Zeblon Vilakazi, Wits Vice-Chancellor and Principal.
A new era in African genomics research
Genomics is the study of the full genetic complement of an organism (genome). Genomic sequencing is the process of determining the entirety of the DNA sequence of an organism's genome, thereby enabling identification of potential diseases.
The new SBIMB research lab – unique in Africa – is an extension to the existing biobank at the Institute, in which valuable African genetic material (DNA) is preserved for analysis and research. The new lab will enable expanded capacity to store the high-tech equipment required for PCR (polymerase chain reaction) testing and genomic sequencing.
Professor Michèle Ramsay, Director of the SBIMB, says: "The research symposium and launch event provide the opportunity to showcase the Institute's genomics research that focuses on understanding non-communicable diseases in African populations and to continue the important work of discovering and interpreting the extensive diversity in African populations through our genomics studies."
Ramsay is a Professor in the Division of Human Genetics in the School of Pathology at Wits, the South African Research Chair: Genomics and Bioinformatics of African Populations, and a founding member of the Human Heredity and Health in Africa (H3Africa) consortium, a 10-year project to enhance genomic research capacity in Africa, funded by the US National Institutes of Health and the UK Wellcome Trust.
Francis Collins, the Director of the US National Institutes of Health (NIH), was a major architect of the H3A consortium and one of its benefactors.
Collins says, "Over our nine-year partnership under the H3Africa initiative, the Sydney Brenner Institute for Molecular Bioscience has been instrumental in training a new generation of African scientists in genomic science, while conducting state-of-the-art research to advance understanding of genetic and environmental determinants of common diseases of Africa, and bridging gaps in our knowledge of the diversity within human genomes."
Enabling a precision medicine approach in African populations
Professor Lynn Morris, Deputy Vice-Chancellor: Research and Innovation at Wits, will host the symposium, themed Enabling a precision medicine approach in African populations. Precision medicine refers to a way in which healthcare providers can offer and plan specific care for their patients, based on the person's genetic makeup and other important health indicators.
"The purpose of this research symposium is to showcase the SBIMB's exciting genomics research in African populations, and will demonstrate the breadth, depth and impact of research at the SBIMB, which is performed by postgraduate students, postdoctoral fellows and scientists," says Morris.
PhD candidates at the SBIMB who are presenting at the symposium include David Twesigomwe and Laura Cottino, who work on data from African populations. Their research characterises copy number variants in genes that are important in the way we respond to drugs.
Carl Wenlong Chen will discuss cancer genomics by explaining the hunt for susceptibility genes in common African cancers, while postdoctoral fellow, Dr Andrew May, will focus on COVIGen-SA Host genomics of SARS-CoV-2 (the virus that causes Covid-19). May's research explores precision medicine for the future and how genetics might affect response to this viral infection in African populations.
The symposium will also focus on the SBIMB's major research programmes. Featured researchers include Dr Ananyo Choudhury, who co-leads the AWI-Gen genome-wide association study (GWAS) and the AWI-Gen population structure study analyst teams. AWI-Gen is the Africa Wits-INDEPTH partnership for Genomics studies.
Dr Furahini Tluway, Dr Tinashe Chikowore, and Dr Voke Oduaran will present the AWI-Gen study on cardio-metabolic disease in Africans, while Professor of Bioinformatics, Scott Hazelhurst, will explain the diversity of pharmacogenomics in African populations and the route to clinical translation. Pharmacogenomics refers to the study of how genes affect the body's response to certain medicines.
Dr June Fabian, Shaun Aron and Natalie Smyth will expand on developing an enabling environment for African genome research in an interactive session facilitated by Jocelyne Gayenga, the project manager for strategic development at the SBIMB.
Professor Shabir Madhi, Dean of the Faculty of Health Sciences at Wits, says: "The launch of the SBIMB research laboratory is a milestone centenary project for Wits. As the University celebrates its 100th year in 2022, the laboratory is a timely and critical facility to advance African genomic studies in Africa, for the public health benefit of those living on the continent."
This is a Wits100 Centenary Campaign project. Wits celebrates 100 years of academic and research excellence, and the advancement of the public good, in 2022. Details: Wits Centenary
About the Sydney Brenner Institute for Molecular Bioscience (SBIMB)
Named after Nobel Laureate and Wits alumnus, Sydney Brenner, the Sydney Brenner Institute for Molecular Bioscience (SBIMB) is a research institute in the Faculty of Health Sciences at Wits. The Institute is dedicated to investigating the molecular and genomic aetiology [cause, set of causes, or manner of causation] of diseases among African populations. Launched in 2014, the SBIMB's mission is to conduct biomedical molecular and genomic research to address health priorities in Africans. It envisages becoming a leader in biomedical research on the African continent and conducting world-class, innovative and relevant research that will benefit the southern African community, and to excel as a centre for learning.
About African genomics research at the SBIMB
Key areas of research at the SBIMB include:
Genomics
Population genetics
Bioinformatics
Biomedical informatics
Molecular and cellular biology
Computational and structural biology
This research includes investigating genetic and environmental factors that contribute to cardio metabolic diseases, rheumatoid arthritis, glaucoma, cancer, and the role of the microbiome in obesity, diabetes and hypertension.
The Institute's research also examines African population demographic history, host pathogen interactions, and runs several pharmacogenomics projects.