Curios.ty 11 (#Viral): Covid-19 - An opportunity for a global reset
- Wits Communications
The pandemic demands a relook of how we connect with each other and the world.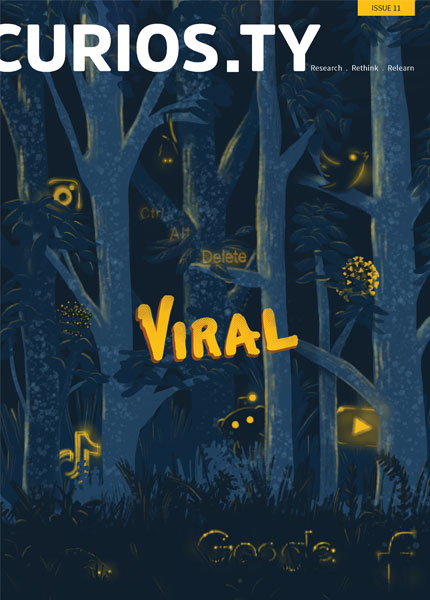 The 11th issue of Wits University's research magazine, Curios.ty, themed: #Viral, is available online now: http://www.wits.ac.za/curiosity/. (To republish articles, see guidelines below).
The Covid-19 pandemic has gone viral and has severely impacted on how we interact, conduct our business, teach and learn. Some disruption has been positive as we realise the importance of human connectedness, scientific research, and the changing nature of work. But it has also demonstrated the digital divides experienced worldwide and the dangerous reality of misinformation through social media and some public figures.
Our research in #Viral features how the pandemic presents an opportunity for a global reset, while demanding that we relook how we connect with each other and our world.
In this issue:
CTRL-ALT-DELETE: Resetting the post-pandemic South Africa (Page 8): The pandemic presents a chance to pause and reflect, and, possibly, launch South Africa on a much more equitable path.
How vaccines save lives (Page 12): The story of how vaccines save lives is important to tell – now more than ever.
Virus wages war on women (Page 24): Almost everyone has suffered in some way from the effects of the Covid-19 pandemic – but women have suffered far more, threatening some of the gains made in gender equality in a democratic South Africa.
Understanding the infodemic (Page 26): Misinformation, mythology, and fake news have collided to produce staggering quantities of Covid-19-related information, the misrepresentation of which has implications for public health.
About Curios.ty
Curios.ty is a print and digital magazine that aims to make the research at Wits University accessible to multiple publics. Curios.ty is available on the Wits website here: http://www.wits.ac.za/curiosity/
Copyright and republication
© All material in this publication is copyright and all rights are reserved. Reproduction of any part of the publication is permitted only with the express written permission of the Head of Communications at the University of the Witwatersrand, Johannesburg. For permissions, send an email to curiosity@wits.ac.za.
Follow us on:
Twitter: @Wits_News | #Curiosity | #Viral
Facebook: @WitsUniversity
LinkedIn: University of the Witwatersrand
For the latest Wits research news, visit: http://www.wits.ac.za/news/latest-news/research-news/
Contact Wits Communications should you require more information or visit our media section for more on our experts and latest media releases.