Curiosity 5: #Mandela100
- Wits University
Is Nelson Mandela still a relevant guiding spirit for South Africans in 2018? Curiosity's latest issue explores Madiba's life and legacy.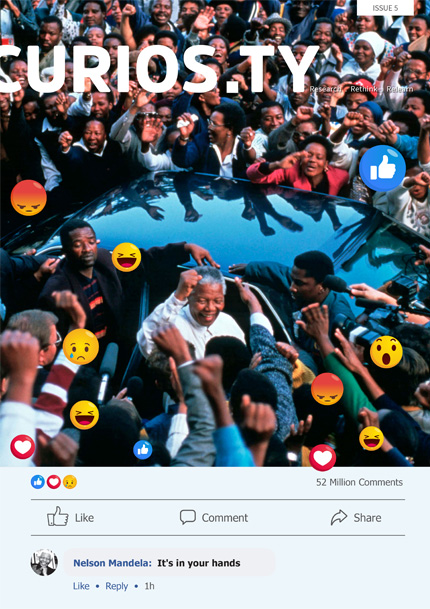 Wits University is celebrating #Mandela100 with a commemorative issue of our new research magazine, Curiosity, which is now available online: http://www.wits.ac.za/curiosity/
The issue features a number of Wits experts who have studied Nelson Rolihlahla Mandela – his life, his policies, his roles – and who share their research, insights and observations in stories about Mandela as a son, a man, a husband, a freedom fighter, a prisoner, a president, a leader, a peacemaker, a pioneer, an elder and a global icon:
At the end of the Rainbow: Is Mandela still a relevant guiding spirit for South Africa in 2018, or is he a phantom, haunting the present with old missteps and compromises?
Journalist, author and academic William Gumede shares his 'How to' –guide to social activism for a post-Mandela South Africa where today's leaders espouse narrow Africanism, populism and tribalism that Mandela so fiercely opposed.
When talking about #statecapture, Professor Patrick Bond remembers that time The Brothers Manhattan captured Mandela.
A unique feature of this issue is that almost every story demonstrates an intersection between Madiba, his life, and his alma mater, the University of the Witwatersrand. It is during his time as a student at Wits in the 1940s that Madiba formed life-changing, long-term relationships with many people who fought alongside him against apartheid, defended him in court, and paid with their lives for the freedoms we enjoy today. They include Ruth First, Joe Slovo, George Bizos, Bram Fischer, JN Singh, Ismail Meer and Ahmed Kathrada.
#Curiosity is available on all campuses in hard copy and can be read online on the Wits website here: http://www.wits.ac.za/curiosity/
ABOUT CURIOSI.TY
With #Curiosity we aim to make our fabulous researchers, research and research stories more accessible to our staff and students, the general public, the media and our international networks, to foster collaborations and impact the world for the good of our communities.
PLEASE SHARE! To have a greater impact, we also need your help to share the link: http://www.wits.ac.za/curiosity/ with your own online and social media communities.
Follow us on:
Twitter: @Wits_News and @WitsUniversity| #Curiosity | #Mandela100
Facebook: @WitsUniversity
LinkedIn: University of the Witwatersrand
For the latest #WitsResearch news, visit: http://www.wits.ac.za/news/latest-news/research-news/.
Contact Wits Communications should you require more information. We would also like to hear from you. Send us your comments via wits.news@wits.ac.za.