Wits researchers excel at National Research Foundation Awards
- Wits University
Nine researchers from Wits University were recognised by the National Research Foundation (NRF) at the 2017 NRF Research Awards in Bloemfontein last night.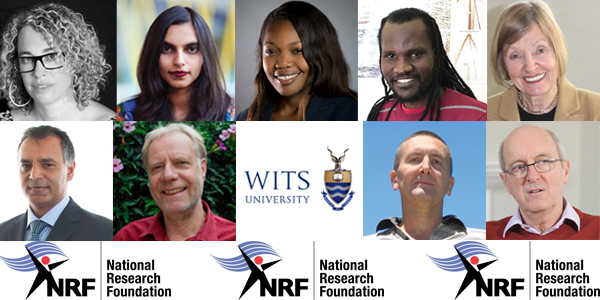 The NRF Awards are considered the benchmark for research excellence. The 2017 Awards, themed Sustainable Development through Knowledge Creation, focused on the role of knowledge creation in supporting and enabling South Africa's sustainable development, as envisaged in the National Development Plan. Naledi Pandor, Minister of Science and Technology, delivered the keynote address.
Five Wits researchers were awarded NRF A-ratings and four received special awards.
Wits researchers awarded A-ratings for the first time are:
Lynette Wadley, Honorary Professor of Archaeology in the Evolutionary Studies Institute, and Shabir Madhi, Professor of Vaccinology and Director of the MRC Respiratory and Meningeal Pathogens Research Unit received A-ratings for the second time.
NRF A-rated researchers are unequivocally recognised by their peers as leading international scholars in their respective fields, for the high quality and impact of recent research outputs.
Two Wits researchers received Early Career/Emerging Researcher awards. They are Nicole Falkof, Associate Professor and Head of Media Studies in the School of Literature, Language and Media Studies, and Dr Musa Manzi, Senior Researcher and Director of the Wits Seismic Research Centre in the School of Geosciences.
The Thuthuka funding instrument, which enables the Early Career/Emerging Researcher awards, is central to the NRF's Human Capital Development Strategy. The objective is to enhance the research stature of up-and-coming researchers from designated groups and redress historical imbalances in the country's research cohort.
Dr Tiisetso Lephoto in the School of Molecular and Cell Biology received the Excellence in Science Engagement Award. This award recognises academics' efforts to make their research – and science and technology in general – more accessible to the public.
Shakira Choonara, in the Centre for Health Policy in the School of Public Health, will soon graduate with her doctorate in Public Health. She received the Research Excellence Award For Next Generation Researchers.
Professor Adam Habib, Vice-Chancellor and Principal of Wits, congratulated the awardees:
"Hearty congratulations to all finalists and winners of the 2017 NRF Awards, especially my Wits colleagues. You are all pioneers in your respective fields and your contribution towards creating new knowledge and finding solutions to the challenges of the 21st Century will benefit our country and beyond. Your commitment to research excellence at the advent of the Fourth Industrial Revolution is essential for enabling an equitable global academy that benefits all of humankind. On behalf of the University of the Witwatersrand, I extend my deepest appreciation and congratulations to all researchers who excelled this year," said Habib.