Academics, corporate executives, historians and doctors to speak at July grads
- Wits University
Wits will host phenomenal speakers at the second cluster of the Wits graduations, which start tomorrow, 9 July 2019 and conclude Friday, 12 July 2019.
During this season, over 2000 graduands from across Wits' five faculties will be capped. A total of 117 graduands will traverse the Great Hall stage in red gowns as they get their PhDs conferred on them over two special PhD graduation ceremonies – the second time the University hosts these ceremonies since 2018. The PhD ceremonies will take place on 12 July 2019 at 09:30 and at 14:30.
Dr Sebabatso Manoeli, a development professional, Africanist and historian will address the Faculty of Humanities graduands and guests at the first graduation ceremony tomorrow, 9 July 2019. Manoeli is a senior executive at the DG Murray Trust, a strategic social investor and one of South Africa's largest private foundations. In her academic career, she taught at Stanford University's Montag Center for Overseas Studies in Oxford and was also a Departmental Lecturer in African Studies Centre at the University of Oxford, where she earned a Doctorate in History.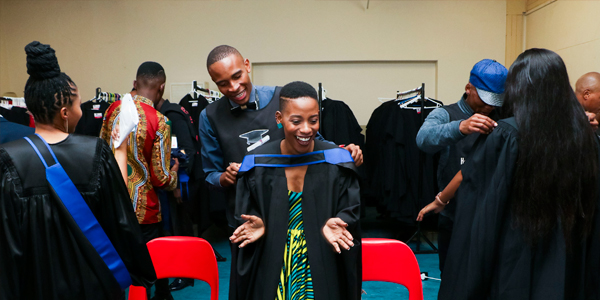 Renowned HIV Clinician, Dr Sindisiwe van Zyl, speaks at Wits on 9 July 2019, during Faculty of Humanities graduation. Dr Van Zyl has gained popularity for her usage of social media to discuss pertinent health and societal issues with the public. The seasoned medical practitioner obtained her medical degree from the University of Pretoria. Affectionately known as Dr Sindi, she is passionate about patients' rights and is an HIV expert with particular focus on HIV care, management and treatment, HIV counselling and testing, antiretroviral treatment and pre exposure prophylaxis amongst others. Dr Van Zyl is also the host of the night-time talk show: Sidebar with Sindi on Kaya FM.
Human genetics researcher and academic, Professor Collet Dandara will pass pearls of wisdom to graduands in the Faculties of Humanities, Engineering and the Built Environment as well as Science on 10 July 2019. Dandara is a leading expert in pharmacogenomics in Africa and internationally. He is currently a Professor in Human Genetics, at the University of Cape Town. Dandara's research on pharmacogenomics of African populations involves evaluating how one's genetic make-up affects their responses to therapeutic treatment, particularly, patients on treatment with antiretroviral therapy. He is a prolific and highly cited academic whose supervision has contributed to the success of scores of masters and PhD graduates.
Faculty of Health Sciences graduands will draw inspiration from Dr Kgosi Letlape when he addresses them on 10 July 2019. Dr Letlape is the current President of the Health Professions Council of South Africa and is Chairperson of the Medical and Dental Board. An ophthalmologist by profession, he obtained his MBChB degree in medicine from the University of KwaZulu-Natal in 1981 and went on to complete a degree in Ophthalmology at the College of Ophthalmology Medicine South Africa in 1988. He also holds an Ophthalmology qualification form the University of Edinburgh. Dr Letlape made history when he became the first black person to qualify as an ophthalmologist in South Africa during the apartheid years.
Mr Andile Sangqu, Executive Head for Anglo American in South Africa will speak at the Faculty of Commerce, Law and Management's graduation ceremony on 11 July 2019. He was previously group executive of sustainability and risk at Impala Platinum and brings extensive commercial, mining and stakeholder relations experience from his former executive and board roles. He holds numerous commerce and accounting qualifications including a Bachelor of Commerce degree, an honours degree in Accounting Science and a Masters of Business Leadership, amongst other qualifications.
The speakers will give addresses in the Wits Great Hall, Braamfontein Campus East as follows:
Dr Sebabatso Manoeli 09:30 9 July 2019
Dr Sindisiwe van Zyl 14:30 9 July 2019
Prof. Collet Dandara 09:30 10 July 2019
Dr Kgosi Letlape 14:30 10 July 2019
Mr Andile Sangqu 09:30 11 July 2019