Wits University triumphant at the 2022 higher education awards
- Wits University
Wits takes home nine awards, including special awards for outstanding research and an award for consistent excellence.
The University of the Witwatersrand on Thursday, 17 November scooped an array of awards at the Marketing, Advancement and Communication in Education (MACE) Excellence Awards. The awards are held annually to celebrate and recognise outstanding work of marketing, advancement, and communication in the higher education sector in South Africa.
Established in the early eighties, MACE fulfils a leadership role in the sector within Southern Africa through high-quality development programmes, facilitating networking partnerships and transformation, as well as promoting best practices among these professions.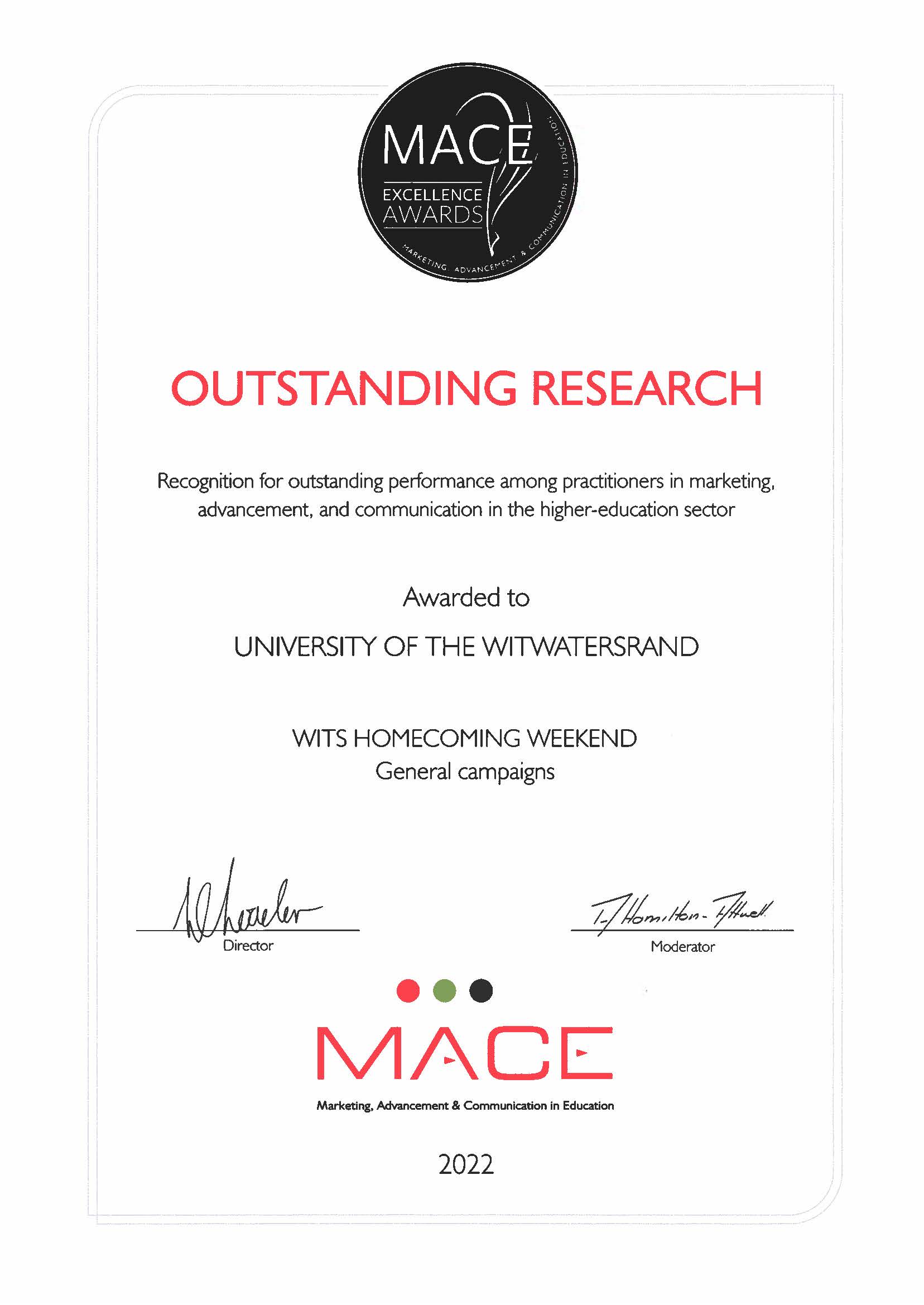 Awards categories span the length and breadth of the professions and reflect the changing nature of the fields. Wits University entered seven awards and outstandingly won nine awards. This includes a bronze award of excellence for the Curios.ty's #gender issue, two silver awards - one for the WITSReview October 2021 issue another for the Wits intranet, two gold awards for two centenary campaign - Wits in Time Square, New York and Oh, to Believe in Another World. The WITSReview April 2022 and the Wits Homecoming weekend took platinum awards. Over and above these awards the University was presented extra awards - the Outstanding Research award for Homecoming weekend as well as a special award - the Severus Cerff award for consistent excellence.
These awards come at the tail end of a very successful centenary year, that saw the whole university community come together to pull off a once in a 100-years Homecoming event. "A special thank you and well done to the Advancement team" says Shirona Patel, Wits Communication Manager.
The MACE Excellence Awards are held annually. For the 2022 awards, 171 entries were evaluated, taking 24 evaluators and one moderator 429 hours to evaluate each category. A total of 95 awards were given to 16 institutions.