Drawing arts investment in a WAM world
- Wits University
There were splashes of colour, champagne and canapés, glitz and glam at the Wits Art Museum soirée ahead of the SA premier of Oh to Believe in Another World.
The star-studded cast of Joburg's glitterati and Wits alumni included world-renowned artist William Kentridge, who is director of the film Oh to Believe in Another World; Comrades Marathon legend Bruce Fordyce; entrepreneur extraordinaire, Reeva Forman; and Johannesburg Executive Mayor, Dr Mpho Phalatse, amongst others.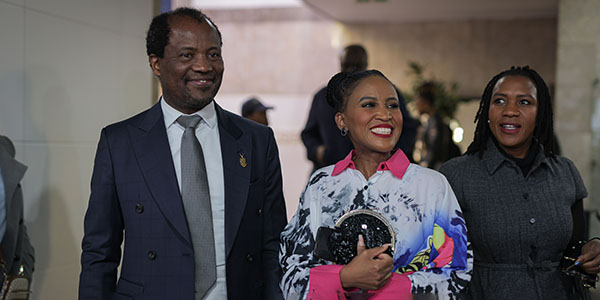 "It was 1995 when I was first introduced to Wits University when I came here from Pretoria, trying to be an engineer – a big mistake! I wasted two years of my life but I must say that in those two years, I enjoyed every part of the University – student life was great!" said the mayor, who subsequently earned a medical degree at Sefako Makgatho Health Sciences University in 2005.
The former Sunnyside resident recalled visiting The Wits Theatre in the 1990s and watching Wits arts students perform – some of whom are today amongst the biggest arts icons and legends in this country.
"I remember 1995 at the Freshers' Ball the first time I heard the legendary Thandiswa Mazwai sing – I think she stayed at Jubilee, just across from Sunnyside – and look at her today; another big name in the arts in South Africa. Wits University has really produced and invested in the arts over the years," said Phalatse.
"The last thing I'd like to share about my experience of the arts while I was a Witsie is the annual RAG procession that used to go through Johannesburg – I don't know if we still have it? I haven't seen it for a while – but that was an all-time favourite for all of us Witsies."
The #Wits100 Centenary Campaign, which aims to raise R3 billion for research and innovation, infrastructure, teaching and learning in the University's centennial year, culminates in a Homecoming Weekend at Wits for alumni, staff, students and the Johannesburg public from 2 to 4 September 2022. The Homecoming Weekend programme includes a float and parade through Braamfontein.
Wits, WAM, Joburg and Kentridge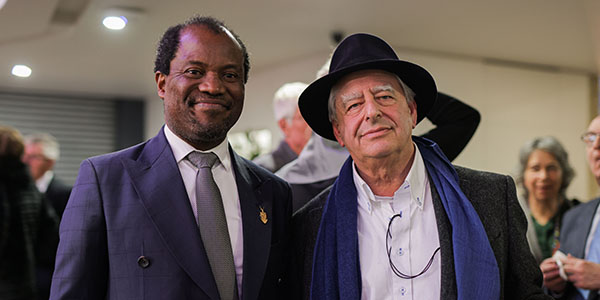 WAM celebrates its first decade in 2022 in concert with Wits' centenary and the South African premier of Oh to Believe in Another World. The film itself spans the 1920s through 1950s and is a masterful production of film, puppetry, performing arts, and music that reimagines the lives and loves of Russian composer Dmitri Shostakovich during the Russian Revolution of 1917. It was Shostakovich's 10th Symphony that was the impetus for Kentridge's celluloid interpretation.
Russians, rebels and Africans
The Russian Revolution more than 100 years ago gives Kentridge's film historical and temporal context. This both enables immersion in a Soviet epoch arcane to Africa and provokes reflection on a Brave New World a century later. Similarly, Wits University in its centenary year, in a post-pandemic, politically tumultuous and socio-economically devastated South Africa, imagines and believes in another, better, world.
Addressing the 150 guests at WAM and later at the Wits Linder Auditorium, Professor Zeblon Vilakazi, the Vice-Chancellor and Principal, said: "Just as William Kentridge draws us from the outside into a new realm, navigating through complexity, interacting and intersecting with different periods, places and people, imagine if we could, for just one moment, believe in another world? A more equal world filled with hope and possibility. A world in which the arts are treasured and curated for the benefit of future generations. A world in which education and innovation is properly valued and funded. Imagine if we could make this our new reality? As we turn 100, we are reimagining the future of Wits University, and the future of our society, and we invite you to walk this journey with us."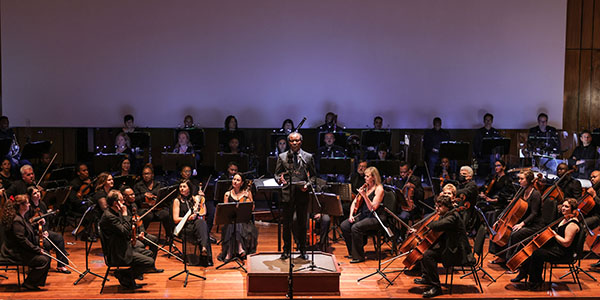 The South African premier of Oh to Believe in Another World, at the Wits Linder Auditorium on 27 July 2022 after the WAM VIP cocktail event, was Kentridge's gift to his alma mater and his city, both of with which he has enduring ties.
"I do want to say one thing about the idea that I am gifting this to Wits and to you," Kentridge told guests at WAM. "I see it completely the other way round. I see it as a fantastic chance for the work that we've made – and there's been a big team of us of; editors, filmmakers, actors, dancers – who've been part of making this Shostakovich project, which would be shown in Europe. So to have the chance to actually show it at home … it feels [like] a gift you are giving me. So thank you for the generosity of that gift to enable us to see it here."
In addition to premiering Oh to Believe in Another World as a Wits centenary event, Kentridge has also donated an edition of his prints for sale, the proceeds of which will go towards deserving Wits art students.