Wits celebrates 100 years of excellence
- Wits Communications
The University aims to raise R3 billion through the Centenary Campaign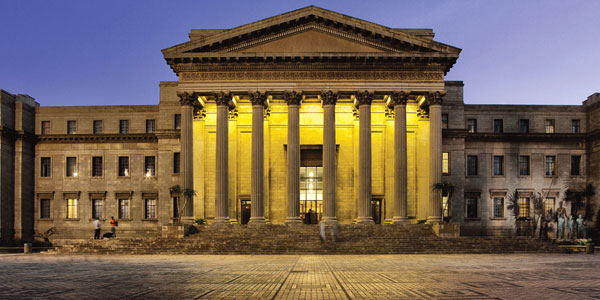 Wits University has made a formidable impact on society over the past 100 years, and is set to continue advancing society for good. It is a beacon of hope for South Africa, and continues to punch above its weight in the world.
"Wits is national treasure that occupies a special place in the hearts and minds of South Africans," says Prof. Zeblon Vilakazi, Wits Vice-Chancellor and Principal. "It makes a disproportionate impact in society in multiple spheres. We will continue to use our intellectual prowess, social leadership and innovation, to tackle the complex problems of the 21st Century, be it the climate emergency, inequality, pandemics, the future economy, or ensuring better healthcare for all."
Wits celebrates 100 years of academic and research excellence, innovation, and social justice in 2022. It launched the Centenary Campaign, that aims to raise R3 billion to support, teaching, research and innovation, infrastructure developments and students. A series of events is being planned which will culminate in a Homecoming Weekend from 2-4 September 2022, closer to Wits' official birthday.
Birth of a University
On 4 March 1922, the University of the Witwatersrand was legislated through an act of Parliament. However, the official inauguration was postponed because of the Rand Rebellion and other events, and the celebrations were held on 4 October 1922.
Wits' history is inextricably linked with the growth of industry, mining, the development of Johannesburg, and the transformation of society. Over the past ten decades, Wits has developed the high level and scarce skills required to move South Africa and our economy forward. "We have made spectacular discoveries, developed world-firsts, nurtured generations of students, created new knowledge, and developed innovation with global impact," adds Vilakazi. "But we are only successful thanks to the efforts of our committed staff, leaders, social partners, and with the support of our friends, alumni, donors and funders."
Wits' footprint extends way beyond its lecture theatres and research laboratories. The University hosts South Africa's only private teaching hospital, which trains a record number of specialists every year. In the west of the province, Wits own caves and land rich in fossils in the Cradle of Humankind World Heritage Site where staff and students discover, explore and conduct research. In 2016 the Tshimologong Digital Innovation Precinct was opened in Braamfontein, which brings together people from across disciplines to engage in digital entrepreneurial activities that transform our world for good. An invention born in this precinct was announced as TIME's best creations.
The Wits Rural Campus in Mpumalanga conducts world-class longitudinal research in science, health, social and economic areas, which can for example, be compared to data in urban settings, gathered by research teams working in Soweto. Wits is home to two commercial companies, a Planetarium that will soon be transformed into the Wits Digital Dome, the Wits Art Museum which houses over 9 000 works of unique African art, the Origins Centre, the Palaeosciences Centre and Fossil Vault that houses invaluable fossils, and Historical Papers and Archives, which curate national treasures like former president Nelson Mandela's Rivonia Trial papers, on behalf of the people of the world, and more.
"This is just a fraction of how Wits impacts on society. Our doctors, our joint staff and students serve seven public teaching hospitals, work at multiple clinics, and service thousands of beds every day, undoubtedly getting the best clinical training," explains Vilakazi. "This week we opened the spectacular Wits Chris Seabrooke Music Hall to launch our Centenary Campaign, with performances from our talented staff and students, and the support of donors. This is a boost for the arts and is just phenomenal!"
Over 200 000 graduates
Over 200 000 illustrious graduates and many other Witsies have walked our halls, inspired change, and left an indelible mark on society. These are the critical thinkers, creators, originators, discoverers, problem-posers and problem-solvers and innovators who continue to influence all spheres of society. "These are Witsies who stand up and stand out, not for themselves, but for others, to secure our collective futures. These are the curious people who seek new knowledge, who ask questions, and who search for answers. They are the ones who stand up for social justice and pursue the truth. They have a passion for progress, empower others, and change the world for the better," elaborates Vilakazi.
Beyond 2022
There are three core areas that Wits will bolster as it transitions into the next century: developing excellent graduates who advance society, conducting world-class research and fostering innovation, and using its location to lead from the Global South.
Wits has embarked on a Centenary Campaign that seeks to raise R3 billion to support teaching; research and innovation; students; and infrastructure development in eight priority areas: digital transformation, ensuring better health for all, catalysing innovation and entrepreneurship, solving global challenges, advancing society, governance and justice, future proofing our national treasures, energising its alumni, and developing the next generation of leaders.
Join us on the #Wits100 journey
"Turning 100 is an extraordinary milestone for this great University, and I invite you to celebrate this momentous year with us," concludes Vilakazi. "For over 100 years we have walked, and we still walk with purpose. Every step takes us forward as we create new knowledge, as we shape our city, country and the world for the next Century, for good. Let us walk this journey together and continue to build Wits' legacy for the next 100 years."
Read more: Wits Centenary