So you think you can pharma? Wits Pharmacy students pitch solutions
- Wits University
PharmApprentice is a curriculum innovation where Wits Pharmacy students develop entrepreneurial skills in a competition enabled by Aspen Pharmacare.
It's a Friday morning in Aspen Pharmacare's Central Boardroom in Woodmead, Sandton. Undergraduate students from the Department of Pharmacy in the School of Therapeutic Sciences at Wits, pharmacy academics, and pharmaceutical business leaders have gathered for a showdown of new pharmaceutical business concepts and technologies.
Here teams of third-year Wits pharmacy students will present business proposals that they have developed as contestants of PharmApprentice, a programme launched by the Wits Department of Pharmacy in 2018 in partnership with Aspen Pharmacare.
Up for grabs by the winning team are certificates and a one-ounce silver coin each from the Scoin Shop, which commemorates the 1986 Nobel Peace Prize Laureate, Elie Wiesel. The winners travel to Port Elizabeth for a two-day tour of the Aspen Sterile Manufacturing Facility and industry-related seminars. The prize includes flights and a two-night stay in a hotel.
A curriculum that equips for 4IR
"The PharmApprentice Programme forms part of the third-year Bachelor of Pharmacy undergraduate curriculum within the course of Pharmacy Practice at Wits. It is a compulsory programme that contributes toward the students' year marks," says Professor Yahya Choonara, Chair and Head of the Department of Pharmacy and Pharmacology at Wits University. "The practice of pharmacy requires graduates to be competent in business so that that they fuel economic growth through start-ups and in multinational corporations."
PharmApprentice uses a competition format to teach pharmacy students the basics of pharmaceutical entrepreneurship. The students are required to identify a consumer/patient healthcare market need and to develop a pharmaceutical business model around the concept that meets this need.
"PharmApprentice ensures that Wits graduates' pharmacy degree becomes a catalyst for positive economic development in South Africa. It lays the foundation for pharmacists to embrace entrepreneurship and the Fourth Industrial Revolution [4IR]]. Aspen is committed to youth empowerment and economic growth and the PharmApprentice programme builds business capability among new pharmacy graduates," says Stavros Nicolaou, Senior Executive for Strategic Trade at Aspen
Nicolaou also delivers a lecture series on intellectual property, medicines importation, and strategic commercialization concepts as part of the PharmApprentice programme.
In developing their models, students practise financial projections and forecasts, accounting, market research, and viability analysis – all part of the curriculum to develop entrepreneurial thinking. Students also learn to apply pharmacy law, legislation and policies around intellectual property, medicines importation, and commercialisation.
Pharmtrepreneurs
The 2018 the PharmApprentice programme generated 13 outstanding business plans. These included apps to digitize prescriptions, share patient information, and address language barriers for patients travelling to foreign countries; pharmacy stock management and recruitment solutions; mobile sports pharmacy services; home-based oncology care and cardiac detection tech; and green, portable solar-powered portable cold-chain boxes.
The Pharmacy Practice steering committee, comprising Wits academic pharmacists Zelna Booth, Stephanie De Rapper, and Rubina Shaikh, and Andrew Jones (former Accountancy lecturer and Assistant Dean of the Faculty of Commerce, Law and Management at Wits) scored each business plan against a rigorous academic rubric. PharmApprentice contenders then pitched their plans to external stakeholders at the Annual Wits Pharmacy INVEST Research Expo.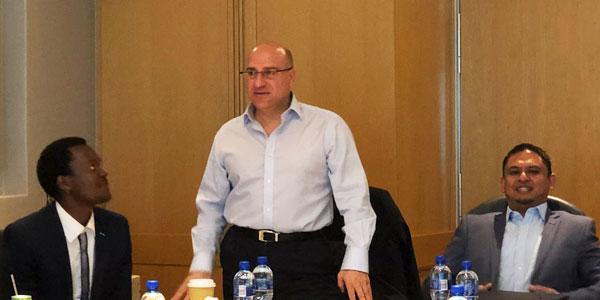 Phinder pips all to 2018 PharmApprentice prize
Team Phinder was named PharmApprentice 2018 for their mobile app for use by both locums and pharmacies in need of locum services. A locum is a person who stands in temporarily for someone else of the same profession. Phinder's 'dial-a-locum'-type app features a calendar, geographical tracking, locum ratings, and payment. The app meets the need to bridge the communication gap between locums and pharmacies and to reduce administration related to locum employment.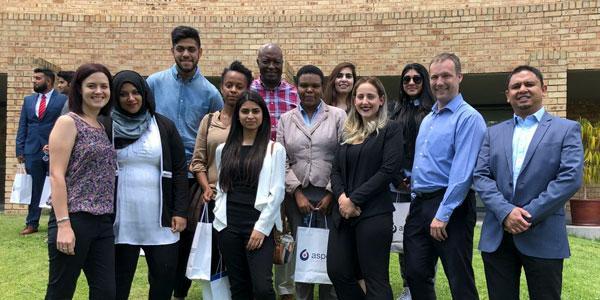 Phinder Winner Words
Team Phinder members shared their experience of PharmApprentice and their visit to Aspen's facility:
"Visiting Aspen was an eye-opening experience. It impressed upon me the fact that the knowledge acquired at university is not only theoretical but also applicable in the real world and in our future careers" – Saminah Badat
"Being allowed to tour the production sites definitely helped better my understanding of theory taught in lectures, which at times can be quite abstract. Furthermore, it also made me realize the importance of such content" – Muhammed Seedat
"It was incredible seeing the work we learn, especially pharmaceutics, in the industrial environment. I see pharmacy from a different perspective now" – Tasneem Cassim
"I left feeling inspired and am thankful to everyone who took the time to enrich our understanding" – Nazihah Hoosen
"I was exposed to an entirely different world in terms of pharmacy. It has sparked my interest in manufacturing" – Noyola Bhinca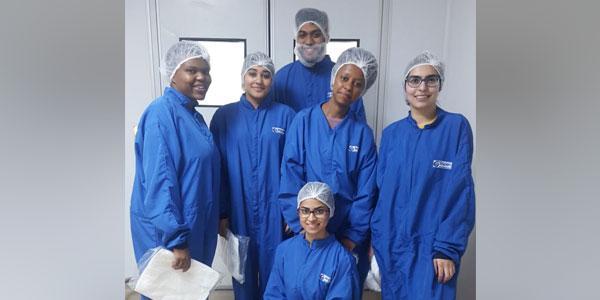 "PharmApprentice was a major success in its first year. Part of the mission of Wits Pharmacy is to empower every pharmacy student to achieve more by unlocking the hidden value within their pharmacy degree and PharmApprentice is the Wits Pharmacy edge," says Choonara.
PharmApprentice 2019
Wits BPharm III students were introduced to PharmApprentice on 14 January 2019 during an introductory Pharmacy Practice lecture. The first PharmApprentice official event takes place on 20 March 2019.