Matrics urged to follow own career
- Wits University
Matriculants have tough tasks ahead of them and this includes sitting for the matric exams and choosing their future academic home.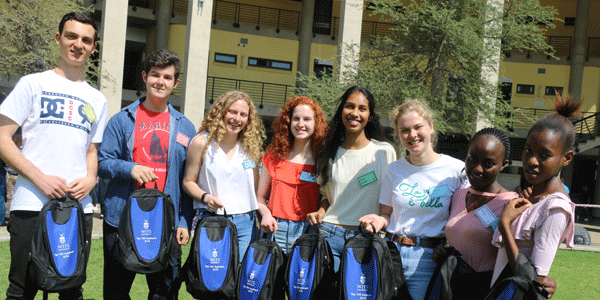 Choosing a career is a daunting tasks – and for others, this is further complicated by parental pressure.
Wits Vice-Chancellor has pleaded with parents to give children the freedom to choose their own careers.
"I meet too many young men and women who are simply doing a course because they want to please their parents," said Professor Adam Habib, Wits Vice-Chancellor and Principal.
"The world is different to when you were at university and there are so many more options for young people," Habib.
These words were shared at the annual Top 100 function, a private event hosted by the University for first year applicants with the highest points on the admission point score (APS). The event is also attended by parent of the VIPs presenting an opportune moment for the University to engage with the future Witsies. The Top 100 applicants come from all over South Africa and score between 53 and 56 on the APS. The bright young minds are in line to get a full bursary in 2019 provided they maintain high academic performance.
In his address Habib spoke candidly about the Wits environment, the quality of Wits graduates and the ambitions of the university as we move into the fourth industrial revolution.
Wits is renowned for producing leaders, for its rigorous academic programmes and vibrant student life.
"We do great stuff in the classroom but you never produce great leaders simply from the classroom. Leaders are created in the classroom and from what happens outside the classroom," said Habib adding that parents must not shield their children from the politics and challenges that confront South Africa.
The ability to navigate the world and be part of a collective humanity is important for young people who are growing up in a complex world where geopolitics loom large.
Student politics and demonstrations often emerge as concerns for applicants and parents. To this Habib said these problems are not unique to South Africa, young people the world over are protesting.
"Berkley, Minnesota had more protests from young people feeling insecure because the world is changing. We are having a challenge globally, in part this emanates from young people feeling insecure. The fundamental shift in our global economy around the technological transformation is creating levels of uncertainty that we have never had. Young people who are growing up on social media are feeling alienated in ways not seen before. They are not as optimistic as previous generations about the future and are voicing their concerns."
Wits prides itself in creating quality graduates with the required skills to make a meaningful contribution to society.
A recent survey by the university found that 97% of Wits graduates get a job within six months of completing, 62% get a job before they finish their degree; 82% of humanities graduates secure a placement within six month of completing demonstrating that all disciplines are relevant.
Speaker after speaker stressed the importance of living a balanced life and getting a rounded student experience. Wits sports athletes perform on the field and in the classroom.
Some of the 2018 achievements include the Wits Debating Union winning the South African National Universities Debating Championships. The Wits Football, Wits Rugby and Wits Hockey teams came close to winning the 2018 Varsity Cups. Three former national hockey players Ricky West, Pietie Coetzee and Tsoanelo Pholo are among the high calibre of coaches at Wits.
The event cordinated by the Wits School's Liaison Teamt concluded with a campus tour and featured stops at Wits residences and the Tshimologong Digital Precinct where Wits is enabling digital innovation and incubating ideas for the fourth industrial revolution.