Major Scoop for Tsoanelo
- Wits University
Wits Hockey coach Tsoanelo Pholo has become the first black female coach to go through the highest international qualification and score a distinction.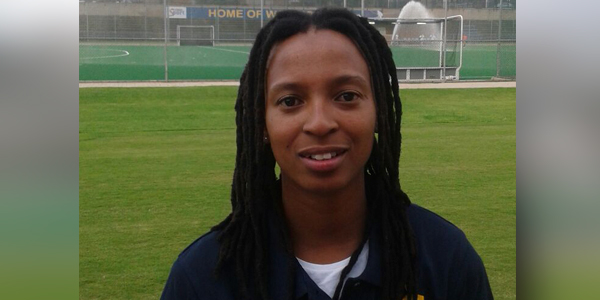 Wits Hockey coach, Pholo, has passed with distinction one of the highest qualifications in a hockey coaching career. She breaks new ground as the first black female hockey coach on the continent to climb this ladder.
South Africa was victorious on many fronts during the Hockey African Cup of Nations Tournament which took place on 22 – 29 October 2017 in Ismailia, Egypt. Not only did the national male and female teams win the tournaments, South Africa also achieved a first for the continent.
Pholo, a former national hockey player sat for the level 3 hockey coaching exams administered by the International Hockey Federation in partnership with the African Hockey Federation. She also achieved the highest score in the group and received a special recommendation from the international federation to which will fast-tack her coaching career.
Pholo who held the position of striker in the national team joined Wits in January 2017 to coach the Women's Team.
Wits Sports Administration has congratulated the Olympian.
"We are ridiculously proud of her achievement. The Wits Women's hockey teams now have the benefit and advantage to tap into two world-class hockey coaches. Tsoanelo joined the Wits Hockey coaching staff this year and has produced great results so far. There is a renewed energy and focus and the female hockey players train and play like champions," says Adrian Carter, Head of Wits Sport.
"We have long stated that a coach is responsible for creating the right environment for our student-athletes to thrive, transform and develop optimally". Pholo has had a record season this year for the Wits First women and recently coached the Southern Gauteng women's u/21 team to national glory. This proves that she has a bright and inspirational career ahead of her."
This achievement is particularly special in that Wits Sport launched the first ever Wits Sport Transformation Fund on 18 August at which the first recipient was none other than a Junior National Hockey goalkeeper, Sisipho Magwaza.
"We have no doubt that Pholos's coaching achievements will inspire future black hockey players to join the wonderful Wits women's hockey system that has simply undergone the most wonderful transformation over the past few years.
This is not only an incredible achievement for Pholo, Wits or Southern Gauteng, but forcontinent. If we invest in supremely talented people like Pholo, there is simply no telling what she will be able to achieve and just how much of a positive impact she will have on the South African hockey landscape," beamed Carter.