Your innovation journey starts here
Based in the new Wits Innovation Centre (WIC), the Innovation Support unit enables researchers, innovators and entrepreneurs to develop products, processes, and services that impact society for good.
We will assist you, at no cost, on your research-to-products journey by identifying and facilitating the commercialisation of promising technologies developed from Wits research-led, researcher-led and student-led innovation.
We will support you on your journey as you gain skills and experience in understanding markets and business drivers and will share in the spoils in accordance with Wits' policies.

We can help with:
All aspects of the innovation journey including fundraising, marketing, spinouts/incubation, negotiating commercial deals, intellectual property protection strategies
Identify promising innovations from your research activities
Training on the "how to" of innovation, networking and partnerships
Getting the best intellectual property deals for researchers
Statutory administration and policy advice
Attention all members of the university community!
Take the first step today and make contact with our team of scientists, engineers and specialists by completing the

We invite you to be a part of our mission to drive innovation and progress by sharing your groundbreaking ideas. Whether you are a student, faculty member, researcher, or industry collaborator, we want to hear from you.

Do you have a new idea that emerged from your R&D or sponsored research? Have you recently published a paper that could lead to new discoveries? Are you working on a student project that has the potential to change the world? We want to know about it!

We believe that the greatest ideas come from collaboration and sharing diverse perspectives. By bringing together the collective brainpower of our university community, we can drive innovation and solve some of the world's most pressing challenges.

So don't hesitate – share your ideas with us today! Together, we can make a difference and shape the future for the better.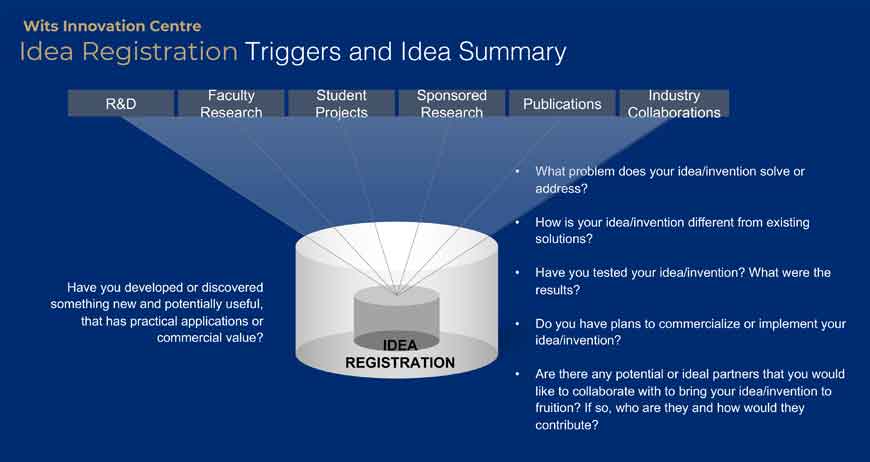 Intellectual Property Management. Why it matters
Effective IP portfolio management contributes towards research-intensive university

The rationale for intellectual property (IP) portfolio management is to strategically identify, develop, and protect intellectual property assets that can help an organisation achieve its business objectives. This may include increasing revenue, reducing costs, entering new markets, or gaining a competitive advantage.

An effective IP portfolio management strategy can provide a number of benefits, including:

Maximising the value of your intellectual property assets: By actively managing your IP portfolio, you can ensure that your organisation is leveraging its intellectual property assets to their full potential.
Reducing the risk of infringement: By proactively monitoring the intellectual property landscape, you can identify potential infringement risks and take steps to protect your own IP rights.
Supporting business growth: By developing and commercialising new intellectual property assets, you can create new revenue streams and support the growth of your organization.
Enhancing your competitive advantage: By securing strong intellectual property rights, you can create a barrier to entry for competitors and position your organization as a leader in your industry.
Facilitating partnerships and collaborations: By actively managing your IP portfolio, you can identify potential partners and licensees who may be interested in your intellectual property assets, and negotiate mutually beneficial agreements

IP portfolio management maturity levels

IP portfolio management is a critical aspect of innovation and economic development, and universities play an important role in this process. By managing their intellectual property assets effectively, universities can generate revenue, foster collaboration with industry partners, and promote innovation in their communities. The following guide outlines the five levels of IP portfolio management and what universities can measure at each level.

Discovery: During the discovery phase of IP portfolio management, universities identify new technologies or inventions that could potentially be valuable to their institution. Universities can measure the number of invention disclosures submitted by faculty, researchers, and students. This metric can help universities understand the volume and diversity of new ideas being generated on their campuses.

Ideation: The ideation phase of IP portfolio management involves refining and developing ideas for new IP assets. Universities can measure the number of patent applications filed, as well as the number of licenses or options executed for IP assets. These metrics can help universities track the progress of their ideas as they move from concepts to tangible assets with potential commercial value.

Screening: During the screening phase of IP portfolio management, universities evaluate the potential value and feasibility of each IP asset. Universities can measure the number of patents granted, as well as the level of interest from potential licensees or investors. These metrics can help universities evaluate the market potential of their IP assets and determine which technologies are most promising for further development.

Marketing: The marketing phase of IP portfolio management involves actively promoting IP assets and generating interest from potential partners, investors, or customers. Universities can measure the number of licenses executed, as well as the revenue generated from licensing or other forms of commercialisation. These metrics can help universities track the success of their marketing efforts and the impact of their IP assets on the wider market.

Commercialisation: The commercialisation phase of IP portfolio management involves bringing IP assets to market and generating revenue from them. Universities can measure the revenue generated from their IP assets, as well as the number of new products or services launched in the market. These metrics can help universities understand the financial impact of their IP portfolio and the success of their commercialisation strategies.
Share
Tweet