Educational Services
The Museum contains a wealth of material and sources that are relevant to the Revised National Curriculum Statement and is therefore an excellent resource for educators. The hundreds of fascinating exhibits on display are of interest not only from a historical point of view, but also demonstrate technological advances in the field of medicine and health care. Using evidence is a major feature of the curriculum and by visiting the Museum learners will be able to view authentic or replica sources and to interpret evidence.
Grades 6 and 7 learners in particular will benefit by a visit as the Museum covers areas in the RNCS curriculum: History of Medicine in which indigenous medicine, traditional healing and medicine in early Africa, Asia and the Americas is studied. The Museum provides an introduction to medical history and its important discoveries.
There are also many important epidemics as well as the HIV Aids pandemic which pupils need to be aware of and through visiting the Museum their knowledge bases of these diseases will be extended.
Worksheets, based on evidence located in the Museum displays (primary and secondary sources), are available for learners from Grade 4 to Grade 7. Incorporated into these worksheets are important skills such as empathy, investigation, analysis, enquiry, classifying, contrasting etc. Activities correlate directly with the RNCS and follow the conceptual acquisition of knowledge: cause and effect, chronology and time, change and continuity and similarity and difference.
In addition, fun activities such as developing a time line, Who am I? cards, disease cards and cards posing questions to which the answers are available in the Museum, take the learners in an interactive and fun way around the Museum in order to educate in an authentic environment away from textbooks and classroom methodologies.
All activities are based on the principles for teaching Social Sciences as underpinned by the RNCS. They allow the learner to:
Create and frame their own questions
Engage the dialogue
Justify choices
Use sources (from displays in the Museum) which appeal to them.
Tours
Tours take place from Monday to Friday between 09:00 and 16:00 and last for approximately 2 hours. An introductory talk on the history of scientific medicine is given. Learners are then divided into groups (ideally maximum of 20 per group) and complete worksheets.
The Museum's professional staff will devise a tour to suit the particular needs of learners and educators.
Videos
Videos on various subjects are available for viewing at the Museum. A list of videos is available on request.
Assistance with portfolio work
The professional staff of the Museum are available to assist learners with portfolio work. Learners are welcome to use the Museum's library and archives which houses primary and secondary sources of information. Photocopying facilities are
available on the campus.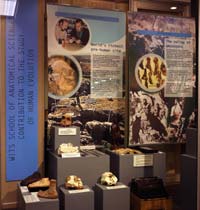 Career guidance
Career guidance, subject choice and requirements for admission to the Faculty of Health Sciences is offered. Schools may request this at the time of booking a tour.
Booking a tour
Please book a tour for your school by contacting us as follows:
Telephone and fax: 011 717 2081
Email: adler.museum@wits.ac.za
Costs
R30 per learner
The cost may be reduced for disadvantaged learners on application to the Curator.
Worksheets available include: