Let's DIY future democracies for good
- Wits University
#DIYAfrica 2021 creates space for Africans to "Do It Yourself" and realise the potential of new and emerging technologies to bring about change.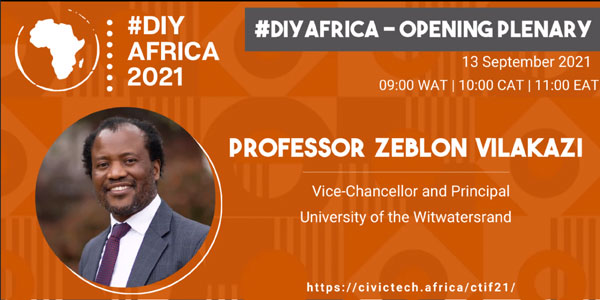 "Africa at some point will need to lead the digital transformation, particularly to address a wide range of societal issues that have an impact on us, the continent and the world," said Professor Zeblon Vilakazi, Vice-Chancellor and Principal of Wits University.
"It is an opportunity to ensure that our intellectual labour maximally translates for the benefits of the continent. Civic tech and media innovation are showing that a future democratised, digital government and social order that is sustainable is achievable."
Vilakazi announced that as part of Wits' centenary celebrations next year, the University will establish a new African Centre for Excellence in Digital Technology and Government. This Centenary Flagship programme and the newly established Wits Centre of Journalism (WCJ) will be platforms for robust engagement between research, academia, society and government.
He addressed the opening plenary for #DIYAfrica 2021 – a collaboration between the Civic Tech Innovation Forum (#CTIF2021) and #JamfestAfrica2021. The CTIF is an annual event presented by the Civic Tech Innovation Network (CTIN) in Wits University's School of Governance that seeks to connect practitioners, researchers, experts and decision-makers with interests in civic tech and provides a platform for them to learn, share knowledge and experience and collaborate.
Jamfest is an African media and information festival directed at a diverse set of African media makers and media publics, presented by the Journalism and Media Lab (Jamlab), a project of Wits Journalism that supports more and better innovation in journalism and media in Africa.
The virtual #DIYAfrica 2021 conference has brought together civic tech and media innovators and stakeholders to connect around the ways in which digital innovators, innovations, initiatives, and their support structures are playing out across Africa in the spaces of journalism, media, civic activism, and public services, particularly in this pandemic era. The "Do It Yourself" approach is offered as a frame for exploring the potential for a more democratised society – one where technology enables empowerment, participation, critique, and even resistance.
"The role of society and social enterprises are increasingly important drivers of the digital exponential, a process of rapid technology changes and disruptions in the way we do business, life and work. The flow of information is moving faster than the speed of which the producers and the curators of knowledge can anticipate. And with that comes the challenge of how we manage and curate data and information," said Vilakazi.
He said Wits is proud to host the CTIN, Jamlab and many other innovative digital transformation programmes.
"The University is at the forefront in driving the development of cutting-edge digital technologies for the 21st Century, from artificial intelligence to machine learning, quantum computing and technologies, data sciences, blockchain and many others. We are helping organisations and businesses to go digital and are pioneering the adoption of innovative digital technologies in education, finance, arts medicine, journalism, and government."
"The new Centre for Digital Governance will also assist countries across the continent to meet the critical means needed for the development of the appropriate policies and regulatory frameworks needed in this rapidly exponential changing space of e-government," Vilakazi said.
About #Wits100

The University of the Witwatersrand (Wits University) is a leading African university ranked in the top 1% of universities in the world. In 2022, Wits celebrates 100 years of academic and research excellence, social justice, and the advancement of the public good. Wits is a catalyst for change that creates hope in society, and our founding values remain: We uphold no distinctions of class, wealth, race, or creed and cherish academic freedom and the discovery of truth. Visit https://wits100.wits.ac.za/. #WitsForGood