When computers came to Wits
- Deborah Minors
The University bought its first computer from IBM 59 years ago. Today, Wits and IBM are partners in quantum computing.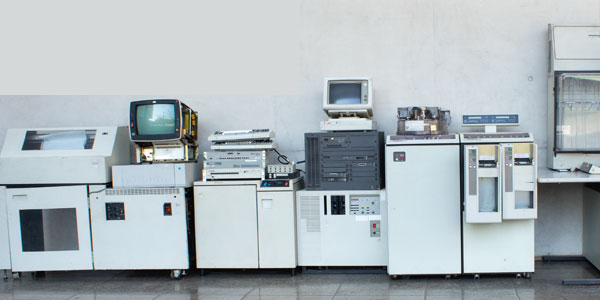 In 1960, Wits was the first university to have a computer in South Africa. Professor Guerino Bozzoli, Vice-Chancellor from 1969 to 1977 purchased an IBM Model 1620 Mark 1. At this time, International Business Machines (IBM) sold computers to universities at an 80% discounted rate so that IBM could dominate the fledgling computer market.
The computer required its own room and a special cooling plant. Data were fed into the computer by means of a punched tape and the output printed on a telex machine. The capability of the IBM 1620 Mark 1 was approximate to a then R50 calculator. Dr Derek Henderson was director of the Wits Computer Centre and the first Professor of Computer Science at any South African university.
The Wits Computer Centre was firmly established by the mid-1960s. A card machine soon replaced the punched tape input and a fast electronic printer was acquired. Later, an upgraded IBM System 360 could very quickly solve simultaneous equations, which enabled Wits to service business and industry.
By 1988, the Collins Dictionary of Computing published that year declared ASCII "the most important code for microcomputing purposes" and noted that 'modern' programming languages and terminals made coding sheets largely obsolete.
Fast-forward to the 21st Century and in June 2019, Wits University and IBM announced a new collaboration that makes Wits the first African partner on the IBM Q Network. This enables Wits to access the 20 qubit-IBM Q quantum computer.
Today, the School of Computer Science and Applied Mathematics at Wits has invested in preserving the remnants of the original mainframe computer. This and other old Wits computers are preserved in the Computer Museum, which is part of the TW Kambule Mathematical Sciences Laboratory in the Science Stadium on Braamfontein Campus West.
Sources:
G.R

Bozzoli

(1995), A Vice-Chancellor Remembers, The Computer Era and The Nineteen Sixties, pg. 94-97, Wits University Press

Ian R. Sinclair (1988), Collins Reference Dictionary Computing, Code, Code Conversion, Coding Sheet, pgs.48-49, Collins

Mr

Shunmuga

Pillay, Manager: Scientific and Research Systems, Mathematical Sciences and Curator, Wits Computer Museum
Deborah Minors is a Senior

Communications Officer in 

Wits Communications

.

This article first appeared in 

Curiosity

, a research magazine produced by

 

Wits Communications

 and the 

Research Office

. 

Read more in the

eighth issue, themed: #Code

how

our researchers are exploring not only the Fourth Industrial Revolution manifestations of code, such as big data, artificial intelligence and machine learning, but also our genetic code, cryptic codes in queer conversation, political speak and knitting, and interpreting meaning through words, animation, theatre, and graffiti. We delve into data surveillance, the 21st Century 'Big Brothers' and privacy, and we take a gander at how to win the Lottery by leveraging the universal code of mathematics.