The Wits Digital Dome to light up the sky
- Ufrieda Ho
It's the end of an era as Wits Planetarium is reimagined as a 'out of this world' digital dome.
It's a good day at the Wits Planetarium when the soundtrack Vangelis, the Greek musician, syncs perfectly with the moving projection of a cluster of stars rising from the rim of the dome, while the room darkens, on cue, to a shade of deep-space black.
"I still get a kick out of it every time," says Planetarium Supervisor Constant Volschenk, who has played "conductor" hundreds of times at the Planetarium since 1997. He has overseen an orchestra of gears, dials, knobs and switches that have made planetarium live shows pop for thousands of people who have over the years craned their necks into the cushioned headrests and willingly fallen under the spell of the story of the night sky.
"We can have 400 school learners at a show. When you get through to even one child who leaves in total amazement, then my job is done," says Volschenk.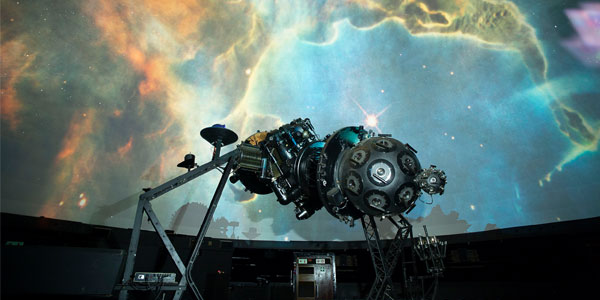 Planetarium projection
In the days before the Covid-19 lockdown, the Planetarium welcomed about 60 000 people every year. It's been a popular city fixture since it opened its doors in October 1960. It was in 1956 when the then Johannesburg City Council decided that a planetarium would be the perfect hurrah for a City that was turning 70 years old. Wits donated the land, cementing a city-university partnership, and welcomed a unique asset to the campus.
Zeiss, the manufacturer of the star projectors in Germany was not able to manufacture a new projector in time that year. "That's when the Hamburg Planetarium offered their projector for sale. Part of the arrangement was for the star projector – which was built in 1930 – to be taken to Copenhagen so that it could be upgraded to become the Zeiss MKIII that we now have," says Volschenk. He adds that the distinct pale avocado dome along Yale Road was designed specifically to optimise the projection from this Zeiss MKIII projector.
Man on the moon in Yale Road
Over the years there have been dozens of live and pre-recorded shows that have ranged from ancient Egyptian astronomy to exploring major celestial events like solar and lunar eclipses. The Planetarium has also been the venue for numerous launches and talks. Volschenk remembers the time that it was turned into a giant beach to re-launch a holiday club scheme for Sun City.
"Following the Apollo 11 moon landing, the Planetarium was one of the first places in South Africa where people got to watch the recordings of Neil Armstrong's first steps on the lunar surface. The tapes were flown in from London and someone fetched them directly from the pilots and brought them here. It was such a big event that people were lined up all the way to De Korte Street waiting to get in, and there was no charge," reminisces Volschenk.
These are the kind of historical highlights that have put the Planetarium's star projector at the heart of the City's heritage. But now it's time for the grand ol' dame projector herself to slip into memory. The Zeiss MKIII will be pensioned off in 2022 to make room for a rebuild project that will give Wits and the public a research, educational and entertainment resource aligned with 21st Century demands.
Visual lab puts stars in our eyes
Professor Roger Deane, Director of the Wits Centre for Astrophysics and the Square Kilometre Array Chair in Radio Astronomy, says that the multi-million rand digital upgrade will transform the familiar dome into a high-tech, fully immersive, multi-sensory, multi-dimensional resource. He likens it to an IMAX theatre experience – but better.
"For many researchers across many fields, we feel as if we are basically drowning in data, which is coupled with the challenge of datasets becoming more complex and more multi-dimensional. A resource like this Wits Digital Dome is a way of honing a more intuitive understanding of big data," explains Deane.
The technology will be a boon to science and research, while it will also hit the sweet spot for entertaining and educating a modern-day public. As an example, Deane imagines that it could be three-dimensional shows made from drone footage swooping through the world's largest radio telescope, the SKA. An immersive experience of the SKA, which is built in an inaccessible part of the Karoo, inspires collective pride in this significant South African scientific endeavour in a site that most people will never get to visit.
"We could also visualise what the Large Hadron Collider at CERN is measuring as particles are smashed together. It's why we view the Digital Dome as a visualisation laboratory that will have countless applications and opportunities for collaborations, including creating local content for showcasing a wide range of academic disciplines, from lightning research to multi-layered biodiversity data, as well as advancements in the digital arts," he says.
Multidisciplinary celestial (and sports) immersion
It could also serve as an additional medium to highlight some of the Wits Arts Museum's 15 000 works of art for instance, or as a virtual walkthrough of the world-renowned active archaeological dig sites that Wits has been excavating and studying.
Beyond Wits, it could present visualisation and immersive experiences for a community of researchers to better understand ocean conditions, to study climate science, or to virtually explore underground mines towards improving strategies to reduce mining accidents or to limit environmental damage.
"The emphasis on multi- and trans-disciplinary research and applications is critical to give the new Digital Dome continued relevance, access for those from disadvantaged communities in particular, and for it to justify the big spend," adds Deane.
He says that the Wits Council has already committed about a fifth of the funds (around R20 million) of all three stages required, meaning that the construction can kick off in 2022, Wits' centenary year. A major donor is also interested in funding the first phase of the project.
The building project will incorporate a revamp of the Planetarium, within an upgraded precinct, and will include a partnership with Wits Sport on revitalising joint facilities and surrounding structures. The new facilities will be used both for viewing sports matches and to host exhibitions and other events. Given that it is a multi-use precinct, it will ensure broad, University-wide use as well as greater public patronage and access.
This project is also about giving attention to this wonderful, green precinct at the north end of campus that is perhaps sometimes underappreciated.
"I'm an astronomer focused on research and postgraduate training. However, I believe that as academics, we have broader roles and responsibilities in society. In this project we are furthering the interests of Wits, as well as promoting science engagement and education with the public, and what that means for the City and for community building," explains Deane.
He promises that the Zeiss MKIII will "go to a good home" as she is moved out of the Planetarium. She deserves it – after all, it is this projector that started everything 62 years ago, with each planetarium show urging another person to reach a little further, to touch the stars.
Ufrieda Ho is a freelance writer.
This article first appeared in Curiosity, a research magazine produced by Wits Communications and the Research Office. Read more in the 14th issue, themed: #Wits100 where we celebrate a century of research excellence that has shaped today and look forward to how our next-generation researchers will impact the next 100 years.