Telling African stories through art
- Beth Amato
The Wits Art Museum covers 3 000 m2, housing more than 12 000 artworks, of which 5 551 comprise the Standard Bank African Art Collection.
The Wits Art Museum, a decade old in 2022, houses a world-class African art collection and is an architectural embodiment of the city that it inhabits and sentinel of African art stories, both untold and emerging.
On the corner of Jan Smuts Avenue and Jorissen Street in Braamfontein there once stood a post-apocalyptic site: a grotty petrol station adorned in rusty barbed wire. Above this towered the University Corner building, which housed a curious revolving restaurant in disrepair. But in 2009 this changed with the rejuvenation of University Corner and the breaking of ground where the Wits Art Museum (WAM) would be established.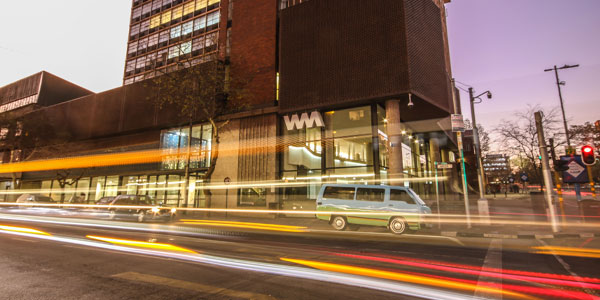 Collection, location, and vision
"The location of WAM is particularly significant," says the Museum's Senior Curator, Julia Charlton, who has journeyed with WAM in its various iterations since 1997. "One of our main reasons for existence was to show 'academic citizenship'. We needed to be accessible to the public, through our location, free entrance and presentation."
In the 1990s, WAM's extensive collection was bursting at the seams in what was then the Gertrude Posel Gallery, housed in Senate House (now Solomon Mahlangu House) at Wits University. The Gallery was difficult to access and its location was ill-suited to meet the contemporary needs that its remarkable collection deserved. But with the help of generous individual donations and a commitment shown to WAM by its donors and University leadership over the years, WAM has secured its appropriate and rightful place along one of Johannesburg's key cultural arcs.
"The fact that we are here today is quite remarkable," says Charlton. Wits was undertaking five major capital projects at the same time, which was unprecedented. "We had to pull in a lot of money to make this a sustainable site. But the urgent need to house the African art collections properly resonated powerfully with the benefactors, who shared the vision of transforming a shabby corner of Johannesburg into an excellent art museum and combining art and education in concrete form."
Charlton commends the visionary leadership of former Deputy Vice-Chancellor Professor Belinda Bozzoli, and former Vice-Chancellor Professor Loyiso Nongxa, who believed in the establishment of WAM as a prolific contribution to arts and culture at large.
Charlton recalls a particularly special moment when Nongxa opened an exhibition at the Wits Galleries in Senate House in 2001. Nongxa saw, for the first time, items that he recognised as part of his cultural heritage in the Eastern Cape, admitted into the great canons of art. "The fact that these artefacts were deemed art – collected, curated, and cared for – moved him a great deal," explains Charlton.
The Wits Art Museum has four storerooms covering 3 000 m2, housing more than 12 000 artworks, of which 5 551 comprise the Standard Bank African Art Collection. The Museum's holdings now include the Schlesinger Collection, the Gerard Sekoto Collection, the Robert Hodgins Print Archive and the Walter Battiss Collection. Another major component is the Wits Museum of Ethnology Collection, a closed collection officially transferred from the University's Anthropology Department in 2001. Several substantial research archives have been donated to WAM. Among these are the Neil Goedhals collection, the Judith Mason Archive, and the Jack Ginsberg Centre for Book Arts.
Books as art and artists' books
In 2019, WAM opened the Jack Ginsberg Centre for Book Arts (the Centre), the namesake of generous benefactor, Jack Ginsberg. His collection of 'artists books' and books on the subject procured over 50 years were once pitched for by a prestigious New York Museum, but Ginsberg was firm in his choice to house them at WAM and to grow this artistic sub-field in Africa. Wits is Ginsberg's alma mater, and this was a strong reason for his important collection being placed there.
"Book art, and indeed the Centre, is a living, growing field. There are many differing definitions of what makes an artist's book. We embrace the Duchampian approach: If an artist considers something an artwork then it's an artwork," says Ginsberg.
At the Centre, visitors will be treated to Pippa Skotnes' book sculpted horse and an incredible display of Sue Williamson's objects collected in the aftermath of the forced removals in District Six. The Centre has an acquisitions budget that enables it to keep up with developments in the field and hosts four major exhibitions a year.
The Centre is the largest book arts centre in the southern hemisphere. In Wits' centenary year, the Centre is exhibiting most of world-renowned artist and Wits alumnus William Kentridge's artists books and art monographs, and this is significant: "I think that the number of Kentridge's art monographs are approaching [Andy] Warhol's," says Ginsberg.
'Artedemic' citizenship
At WAM, academic citizenship extends to teaching, research and public engagement and WAM's Education Curator, Kamal Naran, says that the Museum has been a rich resource for young children, students, researchers and the general public. "We have tried to be relevant and it has been such a joy to arrange tours and educational activities for people across all disciplines. For example, we had architectural students engaging in a recent exhibition for the explicit purpose of developing their critical thinking skills."
Charlton explains that the disparate components of WAM form a rich, vast and varied collection of artworks and a unique resource.
Redefining art
Wits University's Art History syllabus changed rapidly in the 1980s to include the study of African artists and artworks, particularly what is now described as classical/historical African art, says Charlton. Until then, what constituted "art" and "art history" was taught as a linear progression from "Ancient Egyptian through Greek and Roman towards the Renaissance and beyond, to the Impressionists and Surrealists and ending somewhere around Pop Art." However, Wits soon became known for its African art specialisation, which then influenced the growth of the collection.
Kutlwano Mokgojwa, Curator of the African art collection at WAM, says that for a long time, the West has dominated the idea of African art expression. Mokgojwa says that the Museum's collection, exhibition, teaching, publication and research efforts have tried to subvert this ill-fitting notion of "African art".
Wits academics have, through the African art collection, contested the idea that the continent only has (a narrow) artistic expression. Wits Professor Anitra Nettleton drove this contestation at WAM and within the University. She showed how varied African art was, says Mokgojwa. Although this is not reflected as prolifically in the writings of Western art history, "these are part of our cultural heritage and they can't be dismissed as craft. Since Nettleton's work has been completed, we have added to the art historical canon by taking the time to research and find these incredible artworks." In this way, WAM has made and continues to make a seminal contribution to the continent's cultural and artistic narrative.
Mokgojwa believes that WAM's attention to detail in its dizzying complexity and variation of African art has enabled artists and creatives of African descent to reclaim their narratives. "We are living in an incredible age; we are telling our stories from our perspectives and disseminating them to the world."
Beth Amato is a freelance writer.
This article first appeared in Curiosity, a research magazine produced by Wits Communications and the Research Office. Read more in the 14th issue, themed: #Wits100 where we celebrate a century of research excellence that has shaped today and look forward to how our next-generation researchers will impact the next 100 years.