No new Mandela – yet
- Shaun Smillie
Sello Hatang, Head of the Nelson Mandela Foundation, shared some intimate moments with Madiba, and nostalgically shares what he beliefs is Mandela's legacy.
In May 2009, Hatang saw in Nelson Mandela something that the statesman hid from the public.
For a moment, as the former president walked through the Alexandra township back room that he had lived in when he first came to Johannesburg, Hatang could see Mandela was filled with sadness.
"Madiba had said while he was in prison that one of his greatest fears was that he would come out of prison and that everybody that he knows would have died," explains Hatang. "I saw that when we went to that house, and he was asking about where is so-and-so, where is so-and-so. And all of them had died."
Hatang realised Mandela had spoken of this fear in a letter he had written to a friend. But the former president's mood quickly brightened when he saw a child walk past. He asked one of his aids to invite the child and his friends into the house.
"You could see his mood lift as he asked them how old they were and where they were from. In my mind, this was to him the connection to ancestry, passing on and the future," said Hatang.
The Madiba that Hatang got to know on those trips was different to the world leader that the likes of his long time aid, Zelda Le Grange, and Achmat Dangor and Shaun Johnson had to manage. Their Mandela could at times be controversial and was known to go against the wishes of his advisors. He famously would be told not to mention a particular awkward incident or an issue related to a person he was about to meet. The first thing he would do is bring up the topic. Some said it was his way of breaking the ice.
"I was exposed to a mellow Madiba, who had entered retirement," recalls Hatang, who worked with Mandela for three years.
But there were still hints of the old man, with his famously dry sense of humour, like the time Hatang accompanied Mandela to the Freedom Park Memorial in Pretoria, on what was to become one of the last official visits Madiba was to make before his health failed him.
During the walkabout, Mandela kept asking if Samora Machel, Mozambique's first president, was listed on the monument alongside the names of those who had died during the liberation struggle.
"He asked, 'Did you include Samora Machel, and Dr Mongane Serote [the Freedom Park Trust Chief Executive] said, 'Yes, we did'.
Then he asked again, 'Did you include Samora Machel?' Then, after the third time, Madiba said, 'I am just double-checking, because when I get back home, I have to tell my wife that that part is covered'."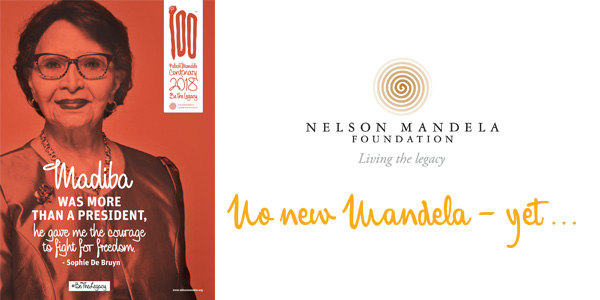 Eight years later, Mandela passed away. It is now Hatang's job to promote the icon's ideals and defend his legacy.
This comes at a time when the world is celebrating the centenary of his birth.
Former US president, Barack Obama delivered the Nelson Mandela Memorial Lecture at Wanderers Stadium in Johannesburg in July 2018. It was the first time that the lecture took place at such a large venue.
"Ahmed Kathrada always said we must try not make these lectures just for the elite few who can afford to be in those spaces, and this is something that we are very conscious about – that we don't lose sight of the fact that these lectures should be for as great a number of people as possible," says Hatang.
The success of these lectures, believes Hatang, is that they have always been timeous in responding to the issues of the day.
President Thabo Mbeki delivered the 2006 lecture, where he stressed the importance of building a common humanity.
Two years later, South Africa was dealing with widespread xenophobic riots.
In 2004, Archbishop Desmond Tutu delivered the second Nelson Mandela Annual Lecture, and warned against corruption and that South Africa must avoid anything that will make it endemic.
"The lectures are being used to create a platform for work that can be imagined in the future, and this year's lecture was no different because [former] President Obama spoke about the issue of how we make democracy work for the majority; how we should be building an active citizenry while re-awakening Madiba's legacy," says Hatang.
South Africa has now entered an age where there is no longer a Madiba to look to for guidance and leadership.
It is a void many believe cannot be filled by South Africa's current calibre of leaders. We are not yet ready for a new Mandela, believes Hatang.
"Another Mandela can only come out when we don't just focus on the past and keep blaming the past for what it didn't do for the present," Hatang says.
"We can't argue for a better past. We can only argue for a better future."