Mobilising big data and AI to fight GBVF
- Tamsin Oxford
Gender-based violence and femicide is a pandemic more insidious and endemic than a virus – how technology can help combat and prevent it.
President Cyril Ramaphosa described gender-based violence and femicide (GBVF) as the "second major pandemic we face in South Africa today", and with good reason. SA has one of the highest incidences of femicide and rape in the world, and the lockdowns only made things worse – more than 120 000 victims were reported in the first three weeks of the first lockdown in 2020.
According to Stats SA, almost 50% of assaults are committed by a friend, partner, relative or household member, and one in five partnered women have experienced physical violence. This finding led the President to launch the GBVF Response Fund (GBVF-RF) early in 2021. For Wits University Chancellor, Dr Judy Dlamini, who also chairs the GBVF-RF, the starting point for addressing this problem lies in understanding how big it is and how impactful this crisis is, which is why she has engaged in a project to mobilise big data and artificial intelligence (AI) against GBVF.
Impartial intelligence
"We have a serious national crisis that predates Covid-19 and we need to find ways of combatting GBV with the sole aim of eradicating it," she says. "To ensure that there are the right policies in place to address this problem, and to allocate responses in the right places at the right time, you need accurate data, accurate data analysis, and AI without bias."
One of the challenges facing the project from the outset was the need to create an AI platform and data analysis toolkit that was free from the inherent biases found in AI. There are numerous examples of how AI platforms – Microsoft, Amazon – have favoured the white male, and this is a bias that cannot be allowed when it comes to overcoming the complexities of GBVF.
"The starting point is to get the correct data which requires conducting participatory research in affected communities, as this data can be effectively analysed to find the right solutions," says Dlamini.
"The goal is to develop an intersectional lens that can look at those social identities that tend to be ignored and the different contexts for different communities, so that any solution developed will truly address the issues."
Dlamini says that the challenge is to work out the representivity in teams of developers, what data is being used and how the algorithm is developed. Only 22% of professionals in AI are women, and they usually hold low-level roles. Women are 20% less likely to own a smartphone or have access to the internet, according to the Global Gender Gap Report, 2018. "So, when using AI to address social ills, we first have to address inherent bias."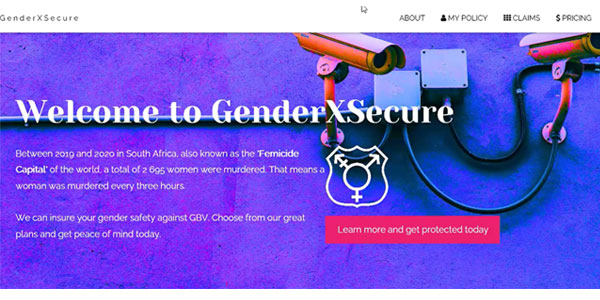 GenderXSecure is a parody site for gender safety insurance. This parody site speculates on the existence of a subscription service that offers one less exposure to GBV by endowing the member with privileges that would make them less vulnerable. They review the options for the different packages one could take out and lastly, they do a risk assessment calculator to help them find their best cover. The questions asked by the website are supported by screenshots of GBV stats."
Subverting patriarchy
For Dlamini, the patriarchal system is so entrenched in all communities for various reasons that it will take deliberate and consistent effort and support across the board to defeat GBVF and gender inequality in general, in this lifetime. With the right data and analysis, she believes that it is possible to predict and prevent GBVF, and that the right data can influence policy, the appropriate interventions and resource allocation.
"We can use the data to see what it's telling us about a specific community and how many intervention areas and types of intervention are required, such as at police stations and other support services," she says.
"We can use the data to look at the causes underlying GBVF and how we can address those, and find ways of creating social cohesion and better conversations around gender equality and different sexual orientations. If we get it right, it can inform so many aspects that can change the paradigm of how women are viewed and how we can change this toxic system that doesn't serve anyone."
It's early stages for this initiative and collaboration across sectors, academic disciplines, civil society and government holds the key to finding a sustainable solution.
Mapping gender safety on the ground
Another project that focuses on the GBVF conversation, but on a more granular level, is the Digital SUPERPOWER! Lab in collaboration with Fak'ugesi Labs. Creative technologist Ling Tan from Umbrellium, and Dr Tegan Bristow, Principal Researcher for the Fak'ugesi Festival and Senior Lecturer at Wits, are developing an app specifically targeted at womxn and the LGBTQIA+ communities in Bulawayo, Johannesburg and London.
"This is a citizen-led data project on a small scale, led by a community," explains Bristow. "The point is to understand how different rights organisations and people interested in gender safety in these three cities can use a piece of technology on a mobile phone to answer specific questions around gender safety. Ultimately, it's about putting a tool into the hands of communities and citizens that allows them to geospatially map issues around gender safety in their communities."
The tool asks the questions that governments may not be answering by logging where and how people are experiencing problems. While the app is still in the prototype phase, it is built to work around very specific questions. Bristow and Tan are working with a group of femme-identifying individuals, including those who are transgender.
People in each group across the three cities use the app by screen tapping to share insights, while concealing the app in their pockets so as not to put the person at further risk of attack or theft. They share their impressions of security within specific areas across the metrics of 'very good' to 'very bad'. They can stop at a place and take a photo and write a note, enter their answer on a scale of one to five, or tap on their phone – one tap indicates 'not feeling safe' while five taps is a healing location. The information is logged according to location and situation.
"The insights offer an overview of how people are managing safety and advocates for improvements around gender safety," says Bristow. "The app considers a lot of data and takes the nuanced detail into account that can help organisations by providing insights that can make tangible change for GBV."
Tamsin Oxford is a freelance writer.
This article first appeared in Curiosity, a research magazine produced by Wits Communications and the Research Office.
Read more in the 13th issue, themed: #Gender. We feature research across disciplines that relates to gender, feminism, masculinity, sex, sexual identity and sexual health.