Educating science student-teachers about energy
- Shoks Mnisi Mzolo
How good is a science curriculum that's insulated from working scientists or that ignores climate change and sustainable development?
Energy is one concept important to Bachelor of Education (BEd) graduates who go on to teach in the sciences. Curiously, despite its position as a link between Physics and Chemistry, interdisciplinary science education remains rare in the classroom. Furthermore, teachers are under pressure to finish the curriculum on time, leaving little or no room to do other things, nor shine a spotlight on energy, for instance.
Relevance
"The course must be relevant to the daily life of each student. Relevance is the first step," says Physics Education Senior Lecturer, Dr Emmanuel Mushayikwa, in response to how the Wits School of Education prepares BEd students for their future role as teachers of the subject.
"We have two target components – content and methodology. With the latter, we teach them how to teach. My argument, even for the content component, is that you must make it relevant to the daily life of the student-teachers for it to make sense and be very well understood."
While discussing relevance, Mushayikwa refers to the dynamics of greenhouse gases being taught in the context of Chemistry. He was encouraged by the response that the content component elicited from his students, because it was presented in a manner that proved relevant. Likewise, energy as a topic is taught from a point of relevance.
"Discussing energy more could help us find some answers and solutions to our crises, such as energy insecurity," he explains, then zooms in on a recent example from the lecture hall, namely a joint lecture that he and the late Honorary Professor John Bradley, who had been involved in chemistry education, delivered in April 2022. The joint lecture focused on the theme of energy from both the physics and chemistry perspectives.
"Students liked the fact that the topic of energy was introduced together with Physics and Chemistry. When we talk about electro-magnetic radiation, that's energy. In Chemistry, they look at things such as chemical reaction, chemical change – that's energy. Turning on the stove gives you an intersection of physics and energy – and it happens in the kitchen every day. Every learner would know this. It's all about relevance."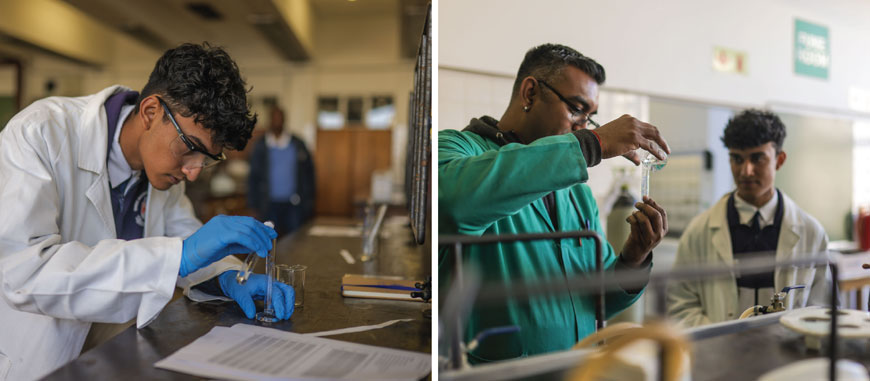 Curricula constraints
"Despite energy's central importance to both Chemistry and Physical Sciences, there is little or no encouragement to interdisciplinary and systems thinking," notes Professor Peter Moodie, a Visiting Lecturer in the Wits School of Education who is involved in science and technology education curriculum development.
"The concept of energy gets attention in the [high] school Physical Sciences curriculum, but separately and differently in the Physics half and the Chemistry half," he explains. The Curriculum and Assessment Policy Statement (CAPS) is South Africa's official curriculum for all school-going learners.
"We are looking for ways to introduce our students to systems thinking, and unifying ideas – such as energy – that cut across disciplines. For example, we have presented them with an interdisciplinary approach to electricity by treating voltaic cells and circuit behaviour as one topic."
A further example of how the WSoE is transcending the silo tradition and pursuing novel, innovative ways of teaching and learning is by presenting circuits and cells as a physics-chemical system.
Rethinking science education
In the era of renewable energies, Moodie worries that the dearth of skills could continue to stalk South Africa. He advocates a paradigm shift on the part of both educators and BEd students, towards systems thinking. He encourages urgent national attention to the United Nations' Sustainable Development Goal number seven, which calls for affordable, reliable, sustainable, and modern energy for all by 2030.
"Clean energy systems help us deal with climate change, so the challenge for a science educator is to introduce the physics and chemistry of new technologies such as fuel cells using green hydrogen, battery storage, photovoltaics, and wind turbines, for example," says Moodie. "The curriculum should reflect the realities of practical science and scientists."
Shoks Mnisi Mzolois a freelance writer.
This article first appeared in Curiosity, a research magazine produced by Wits Communications and the Office of the Deputy Vice-Chancellor: Research and Innovation.
Read more in the 15th issue, themed: #Energy. We explore energy research into finding solutions for SA's energy crisis, illuminate energy needs of people with disabilities, address the energy and digital divide in an unequal society, and investigate the origins of fire control.