Curiosity, Issue 6: You are what you eat
- Wits University
Our online research magazine focuses on the socio-economic, political, physiological and psychological dynamics of food and nutrition.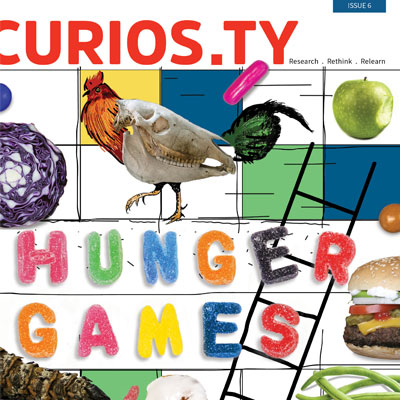 The sixth issue of Wits University's research magazine, Curios.ty, is themed:#HungerGames and our researchers unpack their latest work on food security, food science, food politics and governance, nutrition and food-related health issues such as obesity, diets, breastfeeding, and body image.
The #HungerGames in South Africa and Africa are real; the socio-economic, political, physiological and psychological dynamics of food and nutrition brings to light the tragic reality that millions of people are still starving every day despite our societal advances.
Here are some sobering facts from the research:
Since 2014, the number of households with a monthly income of R3 200 or less that skipped a meal in the year rose from 23% in 2014 to 37% in 2018. For households with earnings between R3 201 and R12 800 per month, this number doubled from 9% to 18%.
The average monthly cost of a thrifty basket of food for a four-member household is estimated at R2 786.
Preliminary findings in new research due for publication in 2019 indicate a link between the relative increase in food and beer prices with levels of crime and violent behaviour in South Africa.
Small dairy farming has been decimated in South Africa: Over 5 000 small dairy farmers who used to produce 50 000 jobs in the country have gone out of business. Dietary recommendations advise that a child should at least have half a litre of milk per day – at a cost of R210 per month, which is more than half the current childcare grant.
A quarter of South African children are stunted and childhood malnutrition has been linked to an increased propensity for violence in adulthood.
South Africa has the highest prevalence of diabetes on the continent. In the public health sector in 2014, there were 5 000 new diabetes cases a month. By 2016, that was close to 15 000.
ty is a print and digital magazine that aims to make the research at Wits University accessible to multiple publics. Available on the Wits website here: http://www.wits.ac.za/curiosity/
Our feature story, Food takes root in Africa (page 8) shows how Africa's arable land is being gobbled-up by multinational food giants that grow food specifically for the export markets and not the continent's people. But the research also provides viable solutions to stem the tide and create a food sustainable future for Africa.
About Curios.ty
Curios.ty is a print and digital magazine that aims to make the research at Wits University accessible to multiple publics. Available on the Wits website here: http://www.wits.ac.za/curiosity/
Follow us on: