Clean, safe, controversial
- Beth Amato
Nuclear energy has had a bad rap, but in South Africa's current energy conundrum, its importance in the mix is clear.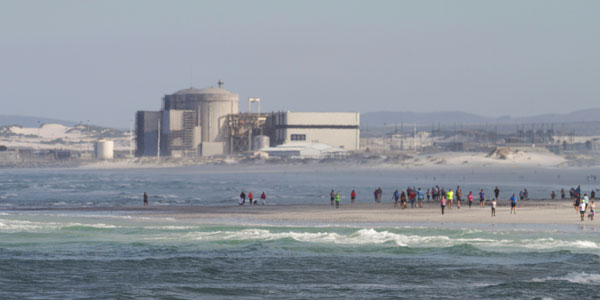 The catastrophic accident at Chernobyl in Ukraine in the mid-1980s, popularised in a recent television series, made nuclear energy a controversial subject. The magnitude of the potential destruction of nuclear energy, should human error or a reactor breakdown occur, is uncomfortable to comprehend. The images of mass evacuation, severe injuries, and lingering radioactivity are burnished in the popular imagination.
Nuclear energy is a form of energy released from interactions of neutron with fissionable heavy to produce energy with other unstable fission products in a controlled nuclear power reactor.
A major environmental concern related to fission nuclear power is the creation of radioactive wastes and its storage, which might cause health effects to exposed individuals.
Safety techniques have, however, been mostly addressed by the International Atomic Energy Agency through newer generation reactors. Reactors are the devices that control nuclear fission to release nuclear energy.
In South Africa, low-level radioactive nuclear waste is safely disposed of in a desolate area of the Northern Cape. However, in this country, public mistrust of nuclear energy 'deals' persists.
In bed with the reds?
Honorary Professor of International Relations, John Stremlau, is wary of the Russian influence on South Africa's nuclear sector. "My main problem with nuclear, aside from the weapon development focus during the apartheid regime, was the constitutional challenge that Zuma's dodgy deal with Putin (Rosatom) posed. This deal was agreed for R1 trillion without financial vetting." Rosatom is a Russian state corporation headquartered in Moscow that specialises in nuclear energy, nuclear non-energy goods and high-tech products.
In addition, a visit from Russia's foreign minister to South Africa, where "cooperation in nuclear energy was a prominent item on the bilateral agenda", casts a nefarious light on nuclear energy, notes Stremlau.
Misguided politics and poor infrastructure aside, nuclear energy has been unfairly cast as the poor cousin in the energy mix family, particularly in South Africa. So says Professor Iyabo Usman who leads the Nuclear Structure Research Group (NSRG) in the School of Physics. She asserts that nuclear's potential to help fix South Africa's electricity crisis is significant.
"Nuclear energy generation in South Africa is through Koeberg's two-unit reactor nuclear power plant. This supplies Eskom with about 5% of its yearly electricity generation. There is potential for so much more in South Africa and across the continent," says Usman.
Nuclear setbacks
Koeberg is the only nuclear power station in Africa and has been in operation since 1984, with a planned operating life set at 40 years. But work to extend Koeberg's life until around the year 2045 has stalled. The most fundamental elements – the steam generators – have not been replaced, causing significant delays.
The Pebble-Bed Modular Reactor (PBMR) was South African-owned technology commissioned in the early 2000s. This would have been tremendously useful in supplying electricity, but bizarrely, work on the PBMR also stalled in 2012 owing to lack of funding. "The Integrated Resource Plan explicitly states that modular reactors would add a further 2 500 megawatts to the grid. Therefore, work must start now in resurrecting this technology, considering that building up nuclear capacity takes a lot of time," says Usman, who asserts that everything depends on how quickly the government responds.  
South Africa remains wedded to coal
It's not surprising that the upgrade of Koeberg is beset with issues, embedded in the broader context of Eskom's relentless reliance on ageing coal fleets, which currently supply most of the country's electricity. In 2022, the country had 200 days of loadshedding, profoundly affecting society and the economy.
"We're in a good position to have a broader energy mix. Nuclear power – being a clean and efficient energy source – is a critical part of this diverse mix. Indeed, nuclear energy can aid economic growth across all sectors. But the current shortfalls owing to Eskom's over-reliance on coal means loadshedding will continue indefinitely," says Usman.
She explains that there is nothing wrong with nuclear energy generation but worries about the faltering infrastructure that inhibits efficient transmission and distribution. "It's a wider problem of corruption, mismanagement, sabotage, and lack of maintenance of the electricity grid itself. Yes, we have the ability to generate extra nuclear power, but we are at the whims of a bigger energy system, sadly. In addition, we are losing vital skill as scientists are leaving for greener pastures, particularly to the United Arab Emirates."
Nuclear for SA's just transition
Eskom has advocated for the expansion of nuclear energy to assist South Africa to achieve its climate change goals that were set by the Paris Agreement. At the 2022 COP26 climate summit, the US agreed to give South Africa $8.5 billion to enable us to shift to a low-carbon economy. "Nuclear energy is important to achieve many of the Sustainable Development Goals. One of these goals is affordable and clean energy," notes Usman.  
Small modular reactors could be the ticket. Usman explains that small-scale modular nuclear power projects, that include land and marine water-cooled reactors, are a more suitable alternative to large power stations like Koeberg. "Using small modular reactors, we can without a doubt transition to a low-carbon economy. Furthermore, they are cost effective, don't need a lot of space, and can be built in three years. The resultant nuclear supply can add to the energy mix, reduce loadshedding and ultimately, boost our economy," says Usman.
Beth Amato is a freelance writer.
This article first appeared in Curiosity, a research magazine produced by Wits Communications and the Office of the Deputy Vice-Chancellor: Research and Innovation.
Read more in the 15th issue, themed: #Energy. We explore energy research into finding solutions for SA's energy crisis, illuminate energy needs of people with disabilities, address the energy and digital divide in an unequal society, and investigate the origins of fire control.