Beyond the Ivory Tower
- Ufrieda Ho
Four Wits units demonstrate how translational research can respond to the needs of a world outside the academy.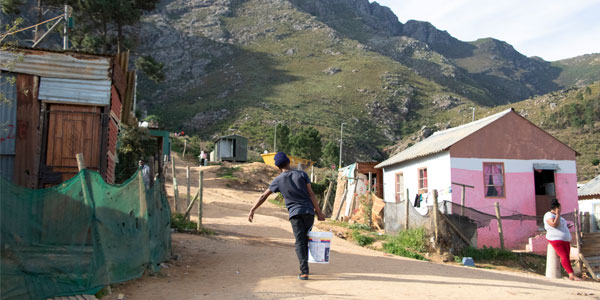 When research, science, and academic output translate into positive public impact, it can change lives for the better and elevate a university's role to one of direct societal benefit.
The Wits Roy McAlpine Burns Unit based at the Chris Hani Baragwanath Academic Hospital is one of the University's specialised centres that represents hope for thousands of burn victims who have limited access to expert burn care treatment in the public sector.
The unit is 32 years old this year and in September 2021 welcomed a generous donation of R70 million from the Roy McAlpine Charitable Foundation. This injection means that the unit can be upgraded and expanded.
A burning issue
Director of the Unit, Professor Adelin Muganza, says that the upgraded facility will support deeper research into the care for severe burns and will grow the Unit's international reputation as a centre of excellence. It also continues to demonstrate the potential that can come from strong partnerships. The Unit operates within the government-run hospital and also relies on private donor funds.
According to Muganza, one of the true learnings from the Unit is about gaining deeper insight into the communities that it serves and the lives of the close to 1 000 patients that come through the doors annually.
"Between 60% and 65% of our patients are burnt accidentally, which is a direct result of using candles or primus stoves. Between 25% and 27% of patients are burnt as a result of violence, often gender-based violence. About 1% are made up of patients who have tried to commit suicide. We are also seeing an increase in electrical burns coming from illegal electricity connections," he says.
For Muganza these insights are a reflection of the dire societal pressures in the country. The data, he says, should therefore be used to improve prevention programmes and to advocate for shaking up policies and regulations.
"We have got a different epidemiology in the country, which means that we can do better at prevention. We have had good success stories, like putting pressure on government to regulate the importing of sub-standard primus stoves that were exploding, and which resulted in around 25% of the accidental burns that we were seeing," he explains.
Towards legal equity
A deeper acknowledgement of the lived reality of the vulnerable for whom a meaningful response is critical is also what grounds the work of the Wits Law Clinic.
Now in operation for over 40 years, the Clinic is accredited as a legal practice and is part of the compulsory experiential training for final year law students, in the form of Practical Legal Studies.
Its mission is to ensure better access to legal advice and legal recourse as an essential part of building a more inclusive and equitable society. These gaps of access were starkly clear during the hard Covid-19 lockdowns of 2020 – even as people were forced to distance socially and stay home, hundreds were in need of legal advice for job dismissals, evictions, family court matters, and fair debt management.
At the time, the Director of the Clinic, Daven Dass said that they realised that they had to find a way to stay open but still comply with hard lockdown rules. They devised a questionnaire system for plaintiffs to complete documents and to leave with campus security, which the Clinic collected and then followed up telephonically. In five months, the Clinic received over 800 questionnaires.
Dass said: "The need was huge. Our phenomenal staff and students at the Wits Law Clinic continue to do the work they do, epitomising the spirit of Ubuntu and the value of being the change they want to see in the world."
Also in the Wits School of Law, the Centre for Applied Legal Studies (CALS) has been at the forefront of using the law to promote human rights and to challenge unjust power systems in the country and the region.
The Centre was formed in 1978 and played a pivotal role in pushing back against the National Party during apartheid. Today it focuses on five key areas: business and human rights; civil and political justice; environmental justice; gender justice and home; and land and rural democracy. Together they make up the social justice values towards building a better world.
Water justice
These values dovetail current pressing issues that demand solutions to the deepening climate crisis. The Claude Leon Foundation Water Stewardship Programme tackles this head on. This Wits centenary initiative includes two research chairs for a transdisciplinary approach to water stewardship and postgraduate water research, worth R15.7 million.
The programme recognises that social inequality means that the climate crisis disproportionately burdens the poor. In a highly unequal country, this means that food and water security, and access to sufficient, safe and affordable water, risks perpetuating poverty, if water management remains feeble, inept and ineffective.
The Programme focuses on innovative water security solutions for the most vulnerable, and postgraduate science and research to push for improved legislative and policy reform and accountability.
These are just some of Wits' many programmes and initiatives that together ground academic pursuit in the values that contribute to making the world a better place for more people.
Ufrieda Ho is a freelance writer.
This article first appeared in Curiosity, a research magazine produced by Wits Communications and the Research Office. Read more in the 14th issue, themed: #Wits100 where we celebrate a century of research excellence that has shaped today and look forward to how our next-generation researchers will impact the next 100 years.