A hospital just as Madiba envisioned it
- Ufrieda Ho
Based at Wits University, the Nelson Mandela Children's Hospital is a true icon of the legacy that South Africa's favourite son has left behind.
You have to look pretty hard to find an image of Madiba in the Nelson Mandela Children's Hospital (NMCH). That's the point about real legacy – it doesn't need a plaque, a statue or even a hashtag to manifest. In fact, the majority of the young patients at the NMCH don't remember when Madiba was president. They don't know his story of sacrifice, revolution and looking on tempests and not being shaken.
History lessons will be for another time for these patients. Their and their carers' priority is for them to heal – perhaps exactly as Madiba would have wanted.
Bearing Mandela's name, though, does mean the hospital must deliver. On a wintery June morning, the one-year-old hospital in Parktown seems way too quiet. There is no buzz of people waiting, staff making rounds, and no children playing on the gleaming playground equipment. Public relations officer, Lulu Herkt, takes on board all these first impressions that she knows emanate from bad press when the hospital seemed behind schedule, and in a funding crunch. South African healthcare, after all, has a shocking track-record and there's a glut of white elephants masquerading as service delivery.
Her response comes in the form of a hospital tour. At radiology, one of the first sections to open at the hospital, there are murals of giraffes with peeping antlers reaching for the stars. The beds are thoughtfully child-sized and even the MRI scan chamber is custom-designed for a small human. Beyond the pristine and prettiness the radiology department has successfully relieved the patient load on the Charlotte Maxeke and Chris Hani Baragwanath hospitals and given access to high-tech digital imaging for more children.
"We are a referral and academic hospital, which is why it may seem quiet at times. We don't want to open departments with fanfare then fail because we haven't planned properly. That's why we're opening in phases," says Herkt.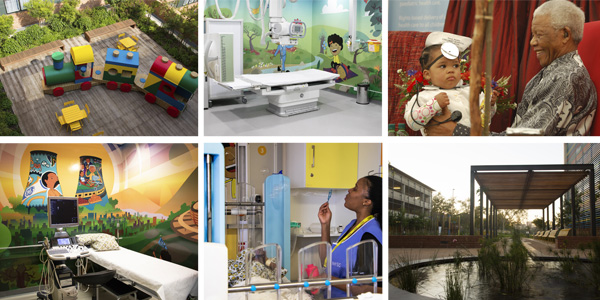 South Africa's icon was always present in the minds of those involved in planning the hospital.
"He was the elephant in the room," says Professor Keith Bolton, former Chief Executive of the NMCH, of how Mandela – although absent – came to be part of virtually every decision around planning a hospital like the NMCH.
"Just thinking about his vision made you want to do things better, to think bigger," says the paediatrican, who never met Madiba but was hooked from the moment that the Chief Executive of the NMCH Trust, Sibongile Mkhabela, approached Wits University's team of paediatricians over a decade ago, saying: "The old man wants a hospital".
"We couldn't get the 3 000-bed hospital we hoped for, but we did get a hospital that has the intention to be run as a private hospital but is accessible to every child, whether or not they can pay," says Bolton.
Wits donated the land for the hospital. Being just metres from the Wits Faculty of Health Sciences and its teaching hospital, the Charlotte Maxeke Academic Hospital, the former hockey field that was part of the Wits Education Campus was a perfect fit. Wits would also be the affiliate university to the NMCH. The board of trustees in turn had to raise the R1 billion needed to ensure the hospital could fill the gaps required of a specialised tertiary and quaternary institution. Tertiary and quaternary refers to specialised care available in referral centres.
Bolton retired two years ago from the NMCH board, but at 72-years-old still works mornings at the Rahima Moosa Hospital. He admits that the NMCH retains a special place in his heart.
"Once a week we have an X-Ray and MRI assessment day. When I'm told the X-rays were done at the NMCH, I do get a tear in my eye," he says.
The NMCH is run by a trust, with Nelson Mandela's wife, Graça Machel, as its Chairperson. It survives on fundraising, but clinical staff are paid by the state. "We don't want to drain the public healthcare system of health professionals who might flock here for better pay, or for the NMCH to be another hospital under pressure with casualty in-patients," says Herkt. "We're trying a different model."
One of the things that are different to other hospitals is the family-oriented healthcare. There are no set visiting hours; there is accommodation available for parents; siblings' play areas; lounges with Wi-Fi; and social workers to explain operations and give support.
Dr Despina Demopoulos is a paediatric intensivist. In her ICU unit there are children desperately ill, but she's smiling. A baby on a sophisticated blood cleaning and pumping machine has the best chance of recovery, and a toddler with severe pneumonia is going to be just fine, she says.
"It's been a dream to be part of the NMCH team. One of our patients' dads said to us recently 'Madiba would have been proud of you' – that's thanks enough," she says.
The NMCH is at its fledging stage, but Bolton says it cannot be allowed to fail. "It has to be a hospital of true integration of services, accessibly and collaboration on all levels, just as Madiba envisioned," he says.
Staff get emotional when speaking about working in a hospital that bears Madiba's name. As Herkt continues her informal tour, she's interrupted by a surgeon who has good news: the NMCH surgery team say they will be ready to hit the target of completing 100 general surgeries in July. It will coincide with the Mandela centenary celebrations, just as they had hoped.
Herkt beams at the news: "This is Madiba's living legacy."