Chinese businesses donate personal protective equipment to Wits students
- Wits University
Members of the Chinese community in South Africa open their hearts to Wits students to protect them from Covid-19.
On 13 October 2020, the Wits Students' Representative Council (SRC) accepted a donation of over 200 000 items of personal protective equipment (PPE) on behalf of Wits students from Chinese business associations in South Africa.
The donated items included six barrels of 25l sanitizers, four medical thermometers, and 200 000 face masks.
With the move to lockdown level 1 in September, Wits has permitted more students on its campuses as national lockdown regulations eased. The PPE will aid in protecting students from Covid-19 and curbing the spread of it on campus.
The handover ceremony was attended by members of the SRC, representatives from the Student Affairs Division, and donors including Ausma Electronics; Cheetahway Express Pty Ltd; Cindystar Group; Newedge Group; the South African Chinese Public Security Forum; the South African Minnan Chamber of Commerce (SAMNCCOM) as well as the Southern Africa Canton Hongkong and Macau Commercial Liaison Association. These businesses are part of the Southern Africa Chinese Public Security Forum that donated 10 000 disposable medical masks to medical students in May. The forum is led by NG Siu Hong, whose organisation was one of the biggests donors.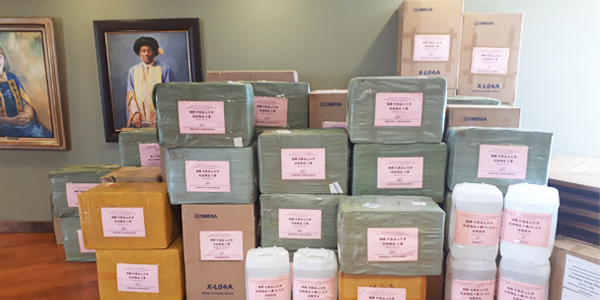 Humanity and care towards students
Jerome September, Dean of Student Affairs at Wits, expressed his gratitude to the Chinese community for displaying humanity towards Wits students during the Covid-19 pandemic.
September said that the pandemic has brought people and communities together in a quest to tackle Covid-19 collectively.
"What this pandemic has taught us is that, as a world, we cannot each one sit in our corners. We cannot be divided, we cannot live separated as if we are not one human species. What this pandemic has taught us is that we are interconnected in ways that we have never imagined before. It is in that interconnectedness that our full humanity sits. It is when you say you see a need, and you want to work with us. It is in that moment that the very best of humanity thrives, that the very best of humanity comes out of us."
"We want to thank you for putting the needs of the students and the less fortunate at the forefront and for coming here today in solidarity and in friendship," he added.
Hong, Chairperson of Southern Africa Chinese Public Security Forum that donated 100 000 face masks, said they felt compelled to protect students and they believe it is their mission "motivate them to pursue higher education." After receiving the request to donate PPEs for students from Dr Lizhi Huang, chairperson of the Wits Chinese Students and Scholars Society (WCSSS), Hong spurred the Chinese community in South Africa to also contribute.
"We are here to deliver our promises for building a better community and protect our students. Students can study with a peaceful mind, together with the continuation of the academic work, the future of South Africa is within the reaching distance," he said.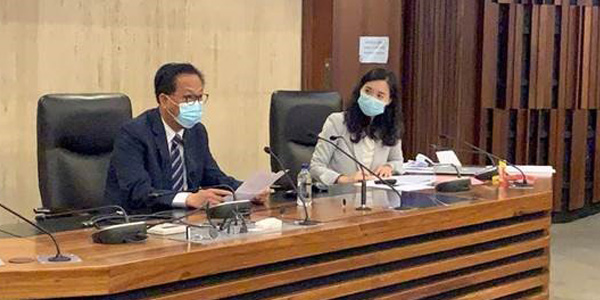 Meishuang Wang, Senior Vice-Chairman of SAMNCCOM, said such acts of solidarity and kindness would help in the fight against the pandemic.
"We as the South African Minnan Chamber of Commerce believe that, together as communities helping each other, we can get through these trying times. Our organisation will try to do all we can do to help ensure the safety of the staff and students who are returning to the University," she said.
James Feng, CEO of Ausma Electronics, which donated 20 000 masks, said the PPE will aid in the successful completion of the academic year.
"Knowing that the students of Wits University are about to return to campus to complete this academic year, protective equipment is needed. The management of our company made a decision to respond to this need by making donations. Education is the foundation of this country and protecting students is to protect the future," he said.
"We see the great value of education in other business development schemes. In the near future, Ausma is willing to offer assistance to Wits students for future career developments."
Lai Lai Ng, CEO of Newedge Group and a philanthropist who has devoted part of her life to charity work, said the group's donation is a reflection of its dedication to the advancement of society.
"As a mother of two children, my particular attention and care goes to the education of students. The health and happiness of a child is the source of happiness for a family. I hope that our donation could help a little bit in restoring the hopes of the families and restoring the smiling faces of all the hardworking students," said Ng.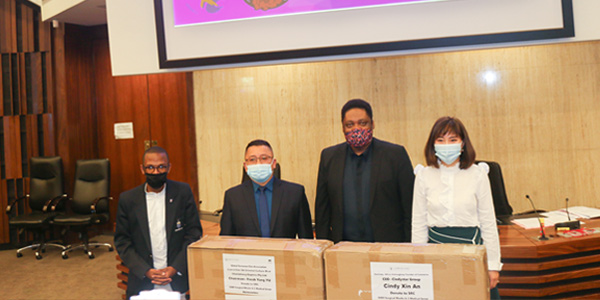 Fresh Yang Yu, CEO of Cheetahway Express, said that through their donation, the company strives to make a positive impact in communities.
"A good organisation must have a strong sense of social responsibility and a good spirit of making contributions to all other societies. We hope this donation is just the beginning for us to contribute to the values serving and repaying to the society," said Yu.
Cheetahway donated 5000 facemasks and two medical thermometers.
Sophia Zhao, from the WCSSS, established in 2020, also expressed her gratitude.
"We will continue to work hard for the exchange between the youth of China and South Africa. I would like to express my sincere gratitude to the various institutions that donated supplies to Wits University."
Zhao, together with Huang, chairperson of the Wits CSSS, Xiang Fan and Dr Hairong Wanga also from the society initiated and organised the event.
Looking to the future: From donations to development
The donation marked the beginning of a potentially long-lasting relationship between Wits and individuals and organisations who contributed.
In their speeches, donors expressed their keen interest in cultivating a strong relationship with the University that will contribute to their career development through their companies and other initiatives.
Cindy Xin An, CEO of Cindystar Group, who took English language courses at the Wits Language School after relocating to South Africa in 2008, said she has a great affinity with Wits and a personal appreciation of its high standards and quality.
"In the near future I am willing to help Wits students who are interested in building their education networks and help students find a suitable platform for career development."
Similarly, Yu said that Cheetahway Express, as one of the leading brands for logistics in South Africa, would be interested in recruiting distinctive Wits graduates to help develop the South African E-commerce logistics industry.
Ng was looking forward to contributing to women development initiatives at Wits.
"In the near future, I hope to pay more attention to the development of women and the growth of girls at Wits. I am also willing to communicate more with the students of Wits. We could encourage each other, and make the world and campus a better place to live and study."