Pullen Nature Reserve

Pullen Nature Reserve is a Wits facility that offers space for workshops, research, writing retreats, fieldwork and general recreation. It is open to members of staff, postdoctoral fellows, postgrads and alumni and colleagues from other universities. Situated a mere 35 km's from Nelspruit with views to Swaziland, Pullen offers a contained and unique world within which to do anything from lab work in the specially designed laboratory, to field work on the 250 hectares of land. Accommodation ranges from self-contained flatlets complete with kitchens and bathrooms for individuals and partners, to buildings with multiple bedrooms and bathrooms,a large communal kitchen and recreational spaces. It's a perfect place for anyone with a small budget and big dreams.
Writing Workshops
We host regular, SPARC-funded paper writing retreats for members of the Wits Community at Pullen Nature Reserve & Jackson Field Station, see this page for more information or to book.
Booking and Cost
To book, phone the School of AP&ES on +27 11 717 6403.
What does it cost?
R200 per person per night self catering.
Accommodation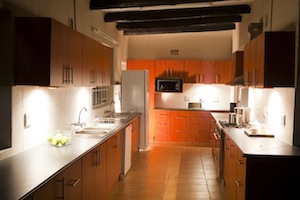 Pullen can accommodate 48 people sharing bedrooms.
The main house has 34 beds in 8 rooms – (2 or 3 bunk beds per bedroom). There are three bedrooms with en suite bathrooms all the rest have shared bathrooms and lavatories. There are two large recreational rooms which convert into workshop space. An open plan adjoining kitchen has a gas stove, microwave, two fridges and two freezers. The kitchen is fully equipped with pots, pans, crockery and cutlery. There is a very large verandah with inbuilt braai, ideal for use in warm weather.
The cottage is three flats with a total of 14 beds. Each flat has two rooms separate from the main living area. Irene has one room with two single beds and one with two double bunks. Mick has two singles in each bedroom and Jackson has two singles in one room and a bunk bed in the study. Each flat has a fully equipped kitchen and dining room with private outside verandah and braai area. The flats are separate from the main house which is situated approx. 150 metres away. All accommodation has electricity and running water with solar powered geysers. Pullen is not serviced. It is cleaned prior to arrival.