Paul Luckin
Paul Luckin (MBBCh 1980) is an anaesthetist, living in Brisbane, Australia. He was a paramedic in Australia before starting his medical training. After graduating, he practiced in cardiac anaesthesia in Durban, where he was a consultant in accident and emergency medical services. Paul spent eight years in the Mountain Club of SA Mountain Rescue team in the KZN Drakensberg, which he describes as "exciting times in small helicopters in big mountains, in all weather!"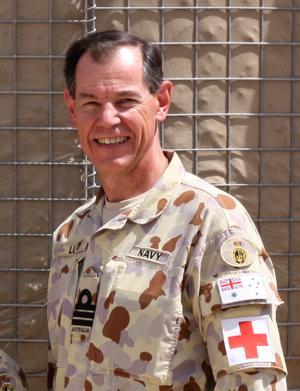 After returning to Australia he set up and ran Advanced Airway Management Training in Ambulance Service Tasmania, and was President of Royal Life Saving Society in Tasmania.
While building a house, he fell 7m onto concrete, sustaining multiple fractures. "Some near-death experiences are a great way to learn the receiving-end of trauma medical care," he writes.
Paul has four parallel careers; in the Royal Australian Navy, Search and Rescue, St John Ambulance as well as earning a living as an anaesthetist. As a captain in the navy he has deployed to a number of war zones, including Afghanistan; to peace-keeping operations; the Bali Bombings; and to Banda Aceh following the tsunami that killed 160 000 in that city alone. He is also in the navy's submarine escape, abandonment and rescue medical team.
Paul is the medical advisor to the Australian Maritime Safety Authority, the body responsible for Search and Rescue in the Australasian SAR Region – 11% of the surface of the globe. He teaches the medical aspects of SAR to police teams, and is asked for real-time advice on survivability during SAR operations across Australia and parts of the Pacific.
His roles in St John Ambulance have included Director of Training, Director of Medical Services Branch, and Senior Medical Officer at big music festivals, which primarily entail many drug and alcohol overdoses.
He has been invested as a Member of the Order of Australia, AM, for his work in emergency medicine and Search and Rescue, and as a Commander of the Order of St John, CStJ.
How do you look back on your training at Wits?
With gratitude. In awe of the people who taught me. My training at Wits, particularly in trauma, is the reason I have been able to do many interesting and rewarding things, and the reason the Navy has deployed me in trauma teams. I led a group of Australian doctors on a tour of SA a few years ago; when visiting the Chris Hani Baragwanath Hospital one of them said" Gee, I wish I could have trained here!"
Wits left me with something else; a complete inability to tolerate racism, or bullying, or discrimination against those who have less.
It also taught me that life is fragile; at the end we have only our faith, our family, and our friends.
A definition of success?
Success to me is believing I have done my best, hoping I have made a contribution. A successful day, in the Navy, in Search and Rescue, in St John – and in anaesthesia – is one where everyone goes home alive.