Professor Thokozani Majozi
Faculty of Engineering and the Built Environment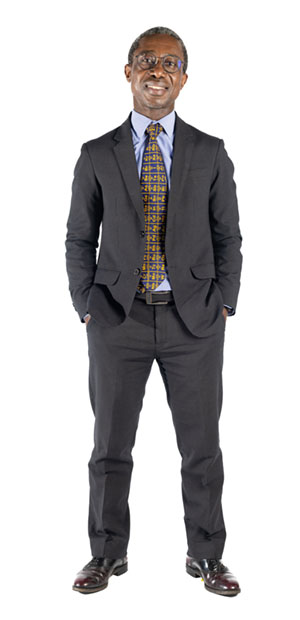 The Council of the University of the Witwatersrand approved the appointment of Professor Thokozani Majozi as the new Dean of the Faculty of Engineering and the Built Environment for a period of five years (renewable), from 1 November 2021. He replaces Professor Ian Jandrell, who was recently appointed as the Deputy Vice-Chancellor: Systems and Operations at Wits.
Majozi spent 17 years in academia, of which seven have been at Wits. He is a full professor in the Wits School of Chemical and Metallurgical Engineering and also serves as the National Research Foundation/Department of Science and Innovation Chair in Sustainable Process Engineering. His main research interest is in batch chemical process integration, where he has made significant scientific contributions that have earned him international recognition. Some of these contributions have been adopted by industry.
Prior to joining Wits, Majozi spent almost 10 years at the University of Pretoria, initially as an associate professor and later as a full professor of chemical engineering. He also served as an associate professor in computer science at the University of Pannonia in Hungary from 2005 to 2009. He completed his PhD in Process Integration at the University of Manchester Institute of Science and Technology (UMIST) in the United Kingdom.
Majozi started his professional career as a junior process engineer at Unilever in 1994. In 1996 he was appointed as a senior process engineer: competency improvement specialist at Dow AgroSciences and in 2002 he joined Sasol Technology as a technology leader for optimisation and integration.
He was the Vice-President of the Engineering Council of South Africa between 2009 and 2012, where he also chaired the Strategic and Education Committees, and is currently the Chairperson of the Board of the Council for Scientific and Industrial Research. He was recently appointed to serve as a member of the Advisory Board for ASSAf Council, and is a member of the Academic Advisory Board for Stellenbosch Institute for Advanced Studies.
A prolific researcher, Majozi is the author or co-author of over 200 scientific publications including four books in Process Integration, published by Springer and CRC Press. Three of these were published after joining Wits in October 2013. He is also a member of various editorial boards, including the Journal of Cleaner Production and the Process Safety and Environmental Protection Journal, which are both published by Elsevier.
His contribution to science has been recognised through several scientific awards, including the Bill Neal-May Gold Medal from the South African Institution of Chemical Engineers, the British Association Medal, National Science and Technology Forum awards (three times), National Research Foundation (NRF) President's Awards (two times). Recently, he was awarded the National Order of Mapungubwe by the President of South Africa, specifically for his contribution to industrial wastewater minimisation. He has also delivered several keynote addresses at international conferences.