Drawing Creepy Places
Dr Sechaba Maape will present this lecture, which forms part of the Global Studio Lecture Series
The Series is co-hosted by Open Architecture (South Africa) and the RAIC Centre for Architecture at Athabasca University (Canada). Please note this is a CPD event.
Time: 17.00-18.30 SA Time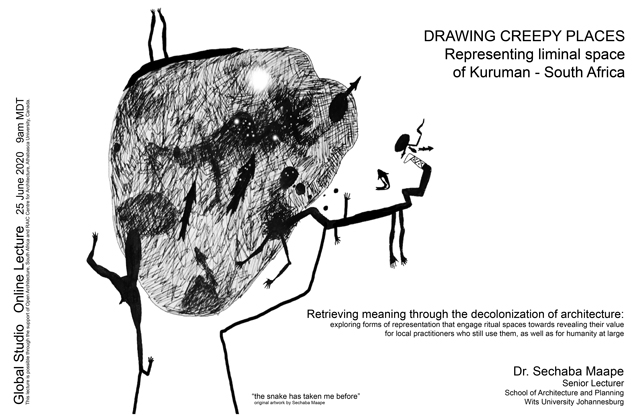 Sacred sites have been studied and discussed by scholars in the disciplines of architecture, anthropology and archaeology. Within these disciplines these spaces are typically represented using Western objective and scientific methods of representation including cut plans and sections, as well as laser scans. Using the case study of two ritual sites in the Kuruman area of the northern Cape province as case studies, the following paper will argue that modern methods of representation have the potential to strip away the value of these spaces for those who use them for their spiritual and ritual purposes. The paper will explore forms of representations that engage ritual spaces towards revealing their value for local practitioners who still use them, as well as humanity at large. The paper will discuss the significance of these places as liminal spaces through which humans gain the capacity to inhabit this earth. The paper will conclude by discussing the need for better understanding these spaces in relation to our contemporary global crises, and the role of representation of these spaces towards deeper forms of habitation.
Credits:
Participants who attend the full 90-minute session will be granted a Certificate of Completion to apply for professional development credits recognized by the following institutes.
Alberta Association of Architects (AAA) | 1.5 Structured Learning Hour

Ontario Association of Architects (OAA) | 1.5 Structured Learning Hour

Cape Institute for Architecture (CIfA) | 0.25 Category 1 CPD Credits

Gauteng Institute for Architecture (GIFA) | 0.25 Category 1 CPD Credits

KwaZulu Natal Institute for Architecture (SAIA-KZN) | 0.25 Category 1 CPD Credits Add event to calendar