About us
Our mission is to take advantage of our commercial, strategic, historic position and surroundings to be a leading school of architectural, planning, and spatial research in Africa and the world. Students at SoAP have the advantage of access to a wide range of emergent phenomena of material culture: learning about developing districts that form part of the original Witwatersrand mining belt, the old industrial rustbelt areas, the dynamic townships, rich in culture, where the built environments include innovative structures constructed from recycled resources. These new landscapes are being explored in classes, looking at urban design, urban and regional sustainability, and resilience. Our position in Johannesburg provides us with a unique locale for the study of contested urban spaces: the School's Yeoville Studio has produced a publication 'Politics and Community Based Research: Perspectives from Yeoville Studio Johannesburg' (October 2019), exploring the vibrant and complex dynamics of Yeoville as a post-apartheid, peri-central neighbourhood. We also study design and delivery processes of urban infrastructure, considering the relationship between urban form and infrastructure provision in terms of sustainability, land tenure, settlement layout and morphology, as well as land-use management. In the design studios, students explore differing approaches to site. They gain an understanding of building typologies in different contexts, including programming, conceptual development, and architectural representation. In design research, phenomena of urban compounding, spatial infrastructure development, streets, socioeconomics, policy and politics are all explored. Research centres at SoAP emphasize critical studies of modern and contemporary architectural practices, housing and informal settlements, urban management and policy, because of how migration to the city, urban governance, commerce, finance, industrial and residential activities continue to impact on the growth of the city and its spatial formations. PhD and Masters' students are doing research in these areas: culture and heritage studies, place identity and cultural memory in the context of shared landscapes, urban environments, and the artificial residual landscapes of Johannesburg's mine dumps.
Research in this locale, our space of reference, furthers our agenda in quest of a deeper knowledge of issues of shifting city centres and edge cities, the flight of corporates from the Central Business District, and strategies for reclaiming the inner city. The exodus from Johannesburg's inner-city core has given rise to an expansion of developments including the newly-built mixed-use, high-rise enclaves, with their equivocal transparency of glazed-façade, with large-surface shopping malls, in addition to the spread of exclusive residential suburbs. It has also left spaces where small and informal businesses have emerged, and that the urban poor and low-income groups have occupied and transformed. In tandem with the increasing complexity of urban growth, sustainable and resilient design and planning need to include new ways of thinking about the countryside and features of landscape, not forgetting the wildlife reserves and the world heritage sites within our metropolitan borders. The flat-tops of the distinctive yellow mine dumps, which are the abandoned goldmine hills with rare vistas of the city, provide new sites for future commercial and residential development, and even parks, and decommissioned mine shafts, now without function, become historical artefacts. Together, the natural and the artificial rolling landscapes of the metropolis remain subjects of curiosity, intense debate, and research for students and scholars, since they impact on settlement patterns in the Gauteng City-Region.
In this age of concern for security in civic, public, and private space, to study at SoAP is to have first-hand experience of the global trends in security management, and environmental and behavioural studies, because the city of Johannesburg, as well as South Africa at large, has examples of the most high-tech, walled-citadel homes, commercial and civic establishments, armed with advanced tools of surveillance. Thus, the architectural and the planning curriculum, and our location in the heart of metropolitan Johannesburg, gives the students and researchers an 'urban laboratory' for:
Exploration and analysis;
Problem solving and innovation;
Creative engagement and design;
Reflection and theorising; and
Critical engagement and debate on design, socio-spatial constructs, and the urban challenges of our time.
Many of our graduates have progressed to become esteemed professionals while others are leading academics at universities across the globe.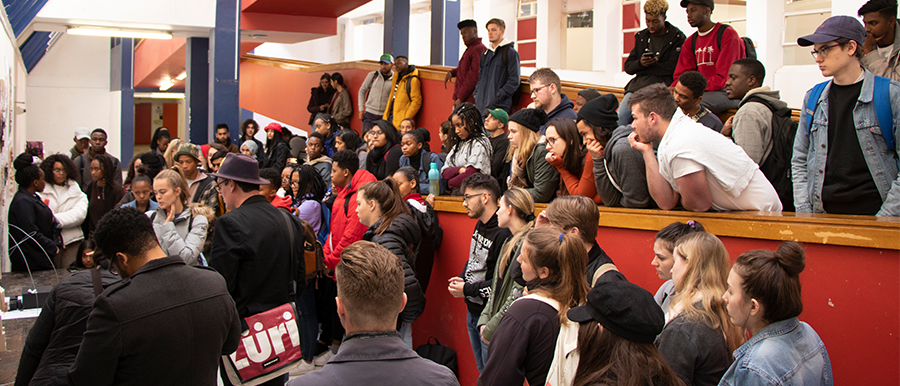 Share
Tweet