Wits sailor Tawanda Chikasha sails into favour for Zimbabwe Achievers gong
- Tshepiso Mametela
The year 2020 has been emblazoned into the consciousness of the global community and bracing to end it off on a sensational personal note is the Wits Yacht Club's Tawanda Chikasha, who has been nominated for the Zimbabwe Achiever's Award (ZAA).
The ZAA, which is an internationally recognised awards brand, celebrates and promotes innovative and commendable high achievement by people and organisations of Zimbabwean descent, while tipping a hat off to its various connected partners from around the world.
Chikasha, in January, took to the waters of the Atlantic with his JM Busha 54 team — comprising Michaela Robinson, Emma Clark, Jonathan Ham and Hearn Johnson — ahead of finishing in third position in a strong field, and eventually capturing the class one handicap and line honours. The team also scooped the prize for First Youth as they closed out an incredible showing at the event.
On his latest milestone, coming at a time of radical social change, the 24-year-old BCom honours student spoke to Wits Sport on what it means for his burgeoning sailing career and how he plans to use it to leverage his ambitions looking ahead.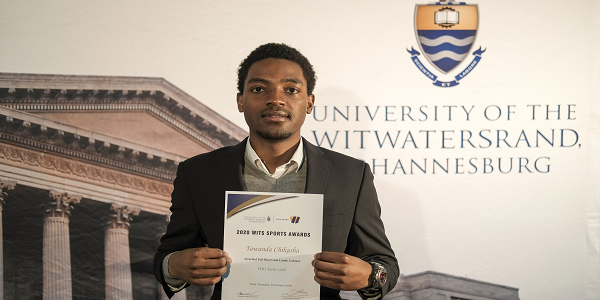 Tawanda Chikasha at the 2020 Wits Sports Awards
WS: What do the Zimbabwean Achievers Awards signify for you?
TC: It's a great award to be nominated for; it signifies that the work and the accomplishments in terms of the Cape2Rio sailing campaign have been recognised, not only as a sporting accomplishment, but for the social goals that our campaign was centred around.
WS: Why is it important that you were nominated? Describe your reaction to the news?
TC: It is important because I was nominated in categories that aren't specifically about sport. I was nominated in the categories Community Champion of the Year and Male Personality of the Year, and this signifies the impact the team and I had outside of just sailing and the sporting accomplishments.
WS: What would it mean to you and other young Zimbabweans for you to win the award?
TC: It would be important for me to win this award to further inspire young Zimbabweans to do great things and to aim for the stars. It really shows that challenging and pushing yourself comes with the recognition and the acknowledgement for your efforts.
WS: What words of encouragement do you have for others who aspire to the same success?
TC: I encourage young people to experiment — to be open to trying new things which aren't usually done, and to be open to pushing themselves while continually being open to learn as much they can.
WS: What goals have you set for yourself in 2021, academically and in the sport of sailing, and how do you look to achieve them?
TC: Next year, I plan to study overseas; doing a masters [degree]. On sailing, I'm planing quite a few things including, hopefully, launching a campaign to circumnavigate Africa and visit different places and landmarks, specifically, lighthouses that are quite relevant to the history of how the waters around these countries played a big role in the development that took place.