New Centre of Centre of Excellence to focus on early human behaviour
- Wits University
Collaboration between Wits and the new CoE at University of Bergen is essential to answer some of the most fundamental questions about our ancestry.
A new Centre of Excellence in early human behaviour at the University of Bergen in Norway will aim to address unanswered questions about our species.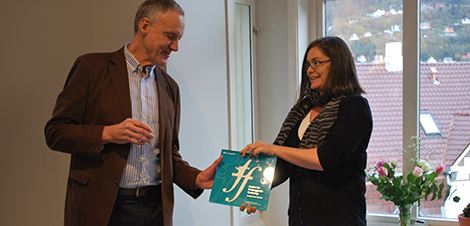 Headed by Wits Professor, Christopher Henshilwood, the Centre for Early Sapiens Behaviour (SapienCE), was officially launched at the Bergen University's Department of History, Archaeology, Cultural and Religious Studies recently.
"The Centre will directly address unanswered, first order questions about Homo sapiens, such as what defines the switch to 'modern behaviour', how exactly should this term be defined and why and how did this switch occur," says Henshilwood.
"One of the other questions that we aim to answer is 'were there changes in the human brain at that time that accelerated behavioural variability and how can these be measured now?'."
Henshilwood holds the South African NRF SARChI Chair in Modern Human Origins, which was recently renewed. The new CoE programme is operated by the Research Council of Norway, which finances the activities of Norway's foremost scientific environments in centres to achieve ambitious scientific objectives through collaboration and long-term basic funding. It has close links to Wits, with several staff members having links with Wits, including Professor Bruce Rubidge, who serves on the SapienCE board.
"The establishment of the SapienCE in Norway is a huge achievement for Professor Chris Henshilwood. As Director of the Centre of Excellence in Palaeosciences in South Africa I am excited about the close collaboration between these two centres of excellence. This will bring a great deal of local and international research attention to the remarkable Middle Stone Age sites of the Southwestern Cape which are providing ground breaking new understanding of early human behaviour," says Rubidge.
Henshilwood believes his work in Blombos Cave and Klipdrift Shelter in the southern Cape has laid the foundation for the need to establish a Centre of Excellence in human origins research.
"Over the past 20 years, archaeological evidence from the Middle Stone Age in Africa has rapidly changed perceptions of the behavioural variability and adaptive strategies of these early humans," says Henshilwood. "Our research in the southern Cape, since 1991, has uncovered unprecedented new evidence for the evolution of early Homo sapiens in southern Africa."
Some of these major discoveries related to the advanced technology that early humans developed. It also included the earliest evidence for the making of a pigmented compound, as well as the first known use of a combination of heating and pressure flaking to create finely-crafted stone tools.
There are a lot of questions about our early development to still be answered by the SapienCE, says Henshilwood. The centre will focus on seven different research questions in the next 10 years.
"The starting point is simple. We all come from Africa. I am certain that in the next five or 10 years, we will have a completely new understanding of human behaviour.