Wits Oral Health sinks its teeth into World Oral Health Day
- Dr Mpho Molete
In South Africa, over 60% of primary school children suffer from dental decay and more than 80% of these children remain untreated for the disease.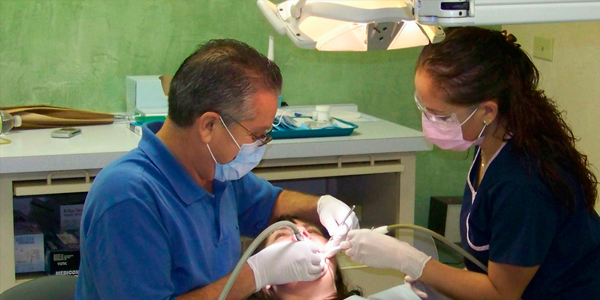 Ninety percent of the world's population will suffer from oral diseases in their lifetime. World Oral Health Day (WOHD) is celebrated annually on 20 March. WOHD celebrates the benefits of a healthy mouth and promotes global awareness of the issues around oral health and the importance of oral hygiene for all. WOHD is a platform for the dental and oral health community to reduce the overall disease burden.
Cavities can impair school performance
The most common oral diseases, such as dental caries [tooth decay and cavities] and periodontal [gum] disease are amenable to prevention and yet they continue to affect the quality of life of individuals of all ages. Oral health is integral to general health; poor oral health affects general health and the wellbeing of individuals as a result of the pain and the disability it can cause. It affects the ability to speak, eat, and carry out daily activities. Evidence has shown dental caries to be associated with poor school performance amongst children.
In South Africa, over 60% of our primary school children suffer from dental decay. More concerning is that over 80% of these children remain untreated for the disease due to the overburdened oral health system and poor healthseeking behavior. In terms of the elderly residing in Johannesburg, the prevalence of missing teeth is 85% and approximately 33% of these people are edentulous [lacking teeth] and in need of dentures [removal artificial teeth].
COHOP puts its dentists where the mouths are
The Community Oral Health Outreach Project (COHOP) is a flagship community-based programme in the School of Oral Health Sciences at Wits. COHOP has addressed the oral health needs of communities in and around Johannesburg for over 30 years. Programme activities have been provided through teaching, research and service delivery – an approach that has shown to be beneficial to both the University and communities in terms of objectives achieved.
Wits dental students exposed to the programme not only gained a broader clinical experience but have widened their world view.
"I gained a vast amount of clinical experience treating this patient. It did, however, teach me much more than this. This case taught me to assess the community and their needs as a whole and then to modify my advice according to their needs and available resources," wrote a fourth-year BDS student, reflecting on a case study in Diepsloot.
"Diepsloot made me realise that South Africa still has a very long way to go in the fight against poverty and HIV/AIDS. While some are on Discovery medical aid, some can't even afford a toothbrush," wrote another.
COHOP has conducted and published research ranging from oral disease prevalence surveys, through quality of life studies to programme evaluation research. The results from the studies have helped inform planning and policy development for the Department of Health and strengthened and improved the quality of services and programmes COHOP offers to local communities.
COHOP delivers its services from a mobile dental unit equipped to provide oral health screening for common diseases; emergency dental care; primary health care; and oral health promotion interventions. Partnerships have been formed with the Department of Health, local schools, and NGOs for people living with physical or learning disabilities. This ensures that the most vulnerable in our communities have access to oral health care.
Last year, close to 2000 patients received primary health care services in Diepsloot and tooth brushing programmes have been initiated at two local primary schools. Oral health preventative programmes were conducted for children with Down syndrome, autism and HIV/Aids.
Much still needs to be done to continue improving the oral health experience of communities. Many oral diseases can be avoided with increased governmental, health association and society support, and funding for prevention, detection and treatment programmes.