CALS partners with Human Rights Commission on Equality Courts project
- Lee-Anne Bruce
CALS and the SA Human Rights Commission are collaborating on a project focusing on the use of the Equality Courts to promote gender justice
The Centre for Applied Legal Studies and the South African Human Rights Commission have begun work on a joint project investigating the performance of and challenges faced by the Equality Courts. The purpose of the project is to promote the rights of women and non-binary persons' to equality by advocating for improved access to these important courts.
CALS Director Prof Tshepo Madlingozi and SA Human Rights Commission CEO Tseliso Thipanyane on Friday, 6 May 2022, signed a historic memorandum of understanding between our institutions. CALS and the Commission are together undertaking a project entitled "Gender Equality and Gender Justice: 26 years of constitutional implementation with a focus on the perspective of the Equality Courts". The project will be led by Prof Madlingozi and Dr Zonke Majodina from CALS.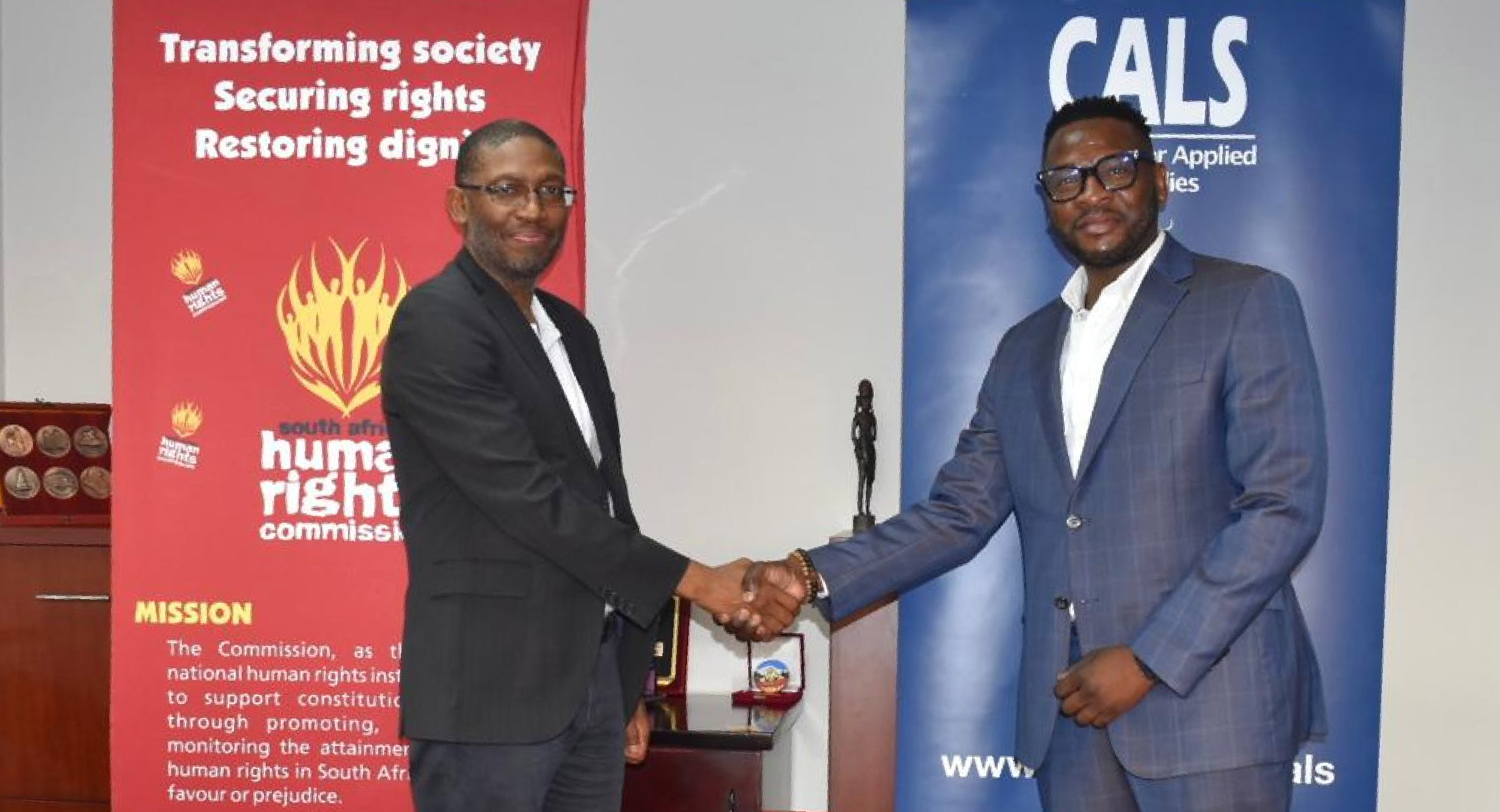 CALS Director Prof Tshepo Madlingozi and SAHRC CEO Tseliso Thipanyane sign a historic memorandum of understanding between our organisations
The Equality Courts are specialised courts which hear matters relating to unfair discrimination, hate speech and harassment. In theory, these courts remove barriers to judicial access. For instance, anyone may lodge a complaint without legal representation and without incurring, making the courts more accessible to the public. Although the South African Equality Court model has the potential to revolutionise judicial access, its promise has not yet been fully realised and preliminary research suggests that the Equality Courts are underutilised.
The "Gender Equality and Gender Justice" project will investigate the work of the Equality Courts in using the Promotion of Equality and Prevention of Unfair Discrimination Act (PEPUDA) to realise gender justice. CALS intends to use the findings of this research to inform our strategic litigation and engagements with Parliament, produce a guide for the public on the use of the Equality Courts, and organise a conference in 2023 around the 20th anniversary of the Courts' establishment. The project will in particular assess how women and persons who identify as non-binary or LGBTIAQ+ have or have not been able to make use of these courts. It also seeks to study the barriers that make access to equality difficult and identify ways to overcome these barriers.
Under PEPUDA, the South African Human Rights Commission must report and make recommendations on the operation of the Act and whether the objectives of the Act and Constitution have been achieved. This project will assist the Commission to make recommendations – via their Review Committee – on necessary amendments of the Act that need to be made to improve its implementation in practice.
"We are honoured to be collaborating with the South African Human Rights Commission on this important project," says Prof Tshepo Madlingozi. "CALS believes Chapter Nine Institutions have a key role to play in promoting social justice and strengthening our constitutional democracy. Advancing gender justice and countering discrimination are essential to the missions of our institutions. This MOU is part of CALS strategic objective of contributing to the (re)building of state institutions vital to our constitutional democracy."
Read the full memorandum of understanding here.
For inquiries, please contact: