Celebrating ten years with our CALS mothers
- Lee-Anne Bruce
This week CALS has the honour of celebrating our ten year anniversary with two pillars of our organisation, Duduzile Mlambo and Sibongile Ncube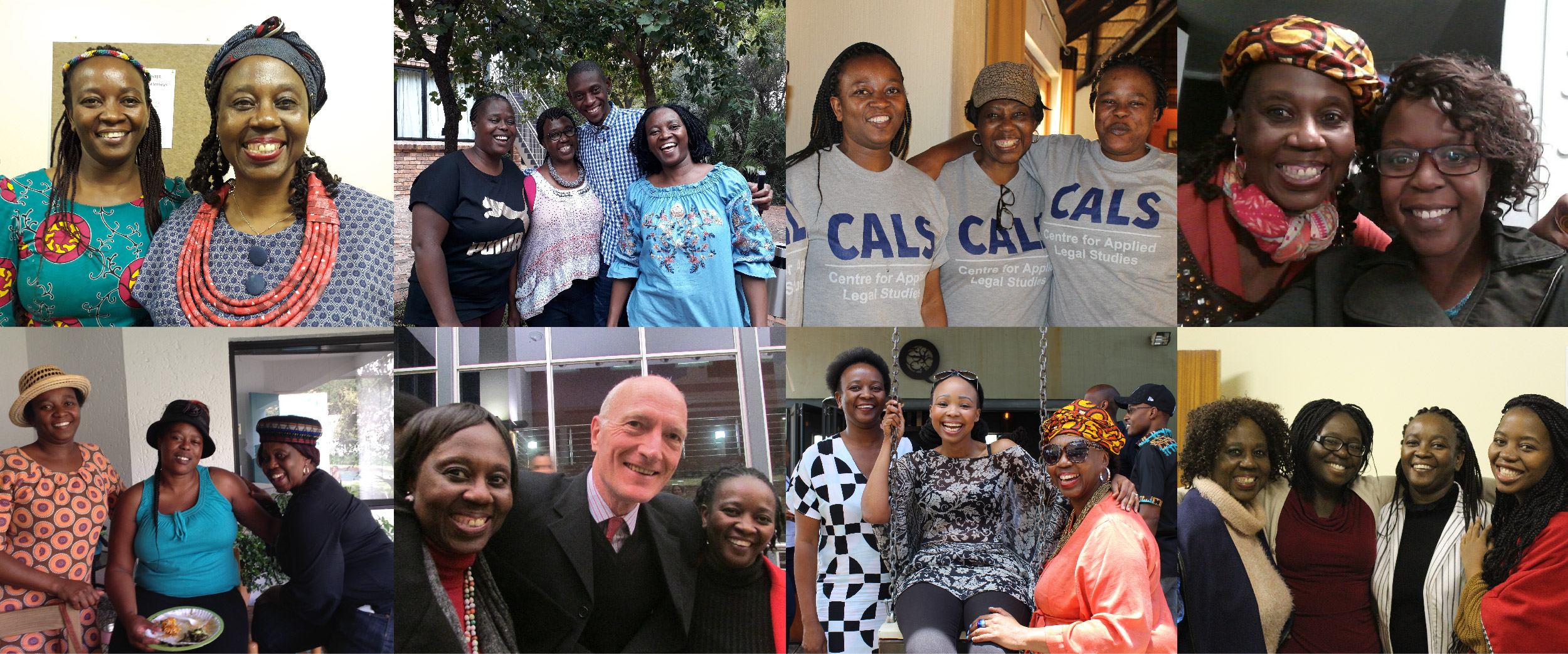 Something I've missed dearly while working remotely during the pandemic is just walking into the office in the morning. No matter how early I would arrive, Mam'D was always there before me, wearing a warm smile and an elegant outfit, greeting me with a "Good morning, my angel" and offering me something new from her selection of herbal teas. Duduzile Mlambo often introduces herself as the CALS mom, and I can't imagine a more accurate term for the energy and love that she brings to her work in the front office. She does more than process claims, make payments and manage petty cash: she takes care of us, her children.
Later in the day, I would almost certainly need to turn to Sis'Sbo to ask if I could bug her for help on a problem I was struggling with. She would always welcome me in and get to work immediately; I can't remember her ever saying she was busy or couldn't help. Sibongile Ncube is a former teacher with a quiet but commanding presence, known by everyone as the office problem-solver. Working well under pressure, Sis'Sbo can be the difference between being stuck in a foreign country or getting home safe and sound. She is the person we trust to make things happen, from travel to events to recruiting new members for our growing team.
Their official titles may have something to do with senior administration, but what Mam'D and Sis'Sbo really do around the office is hold everything and everyone together. This week, we have the incredible privilege of marking ten whole years with them at CALS. After a decade of benefiting not only from their hard work and passion but also from their guidance and support, we wanted to take a moment to celebrate them and their unique contributions to our work and our lives.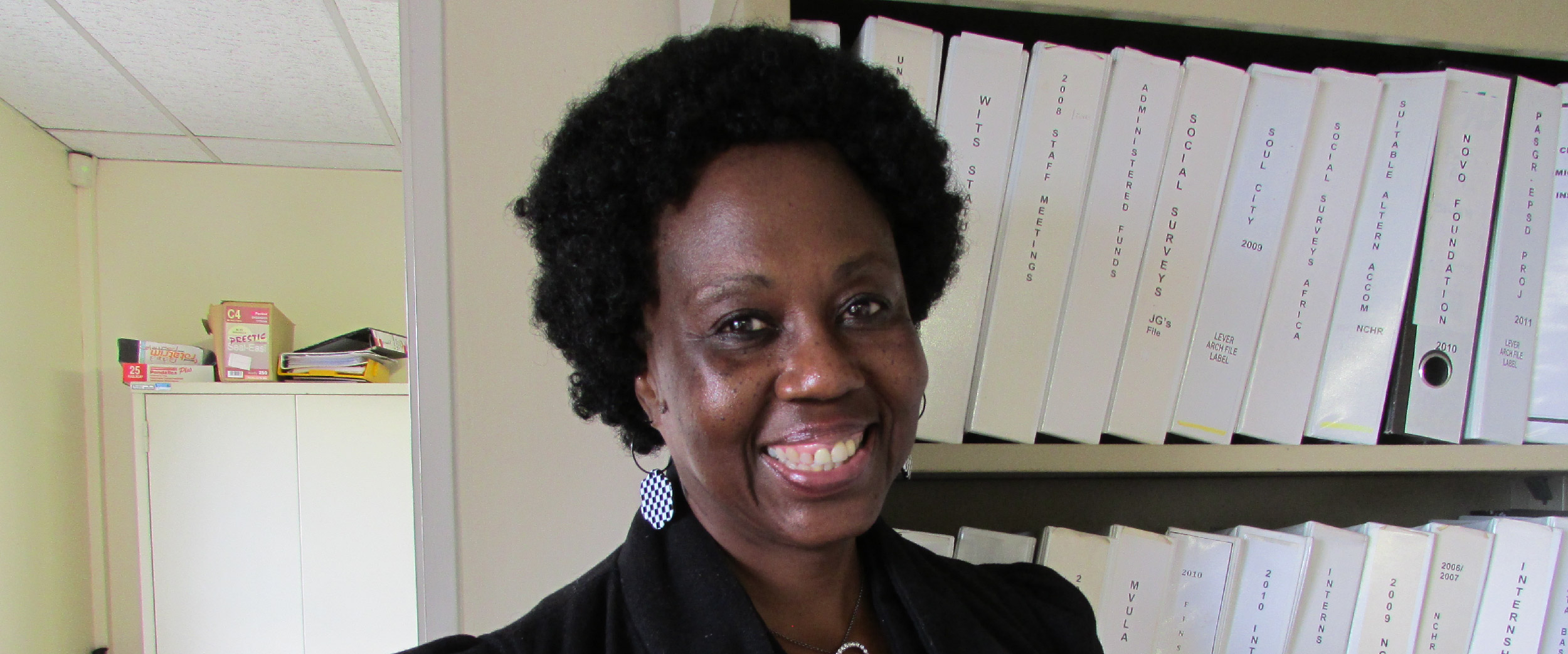 The name "Duduzile" means "comforted" or "consoled" and that is a very accurate way to describe what our dear Mam'D does for us. "Mam'D, you've held me from the moment I joined CALS, thank you for that. You're a constant source of wisdom," says Busisiwe Zasekhaya, co-ordinator of the Right2Protest Project. That support goes beyond responding to crises or checking in on us, according to Palesa Madi, Acting Deputy Director: "Thank you for making sure we are well, thank you for letting us know when we ourselves don't know that we aren't well, thank you for brightening up our days all the time."
"You are a major part of what makes CALS a unique organisation," says Robert Krause. "The kindness, generosity and wisdom you bring to your role as our parent is a source of solace. You have also brought a spirit of togetherness and fun to the organisation." Louis Snyman agrees: "To our CALS mother, you will never know how much your support has helped us through the years. Where would we be without you?"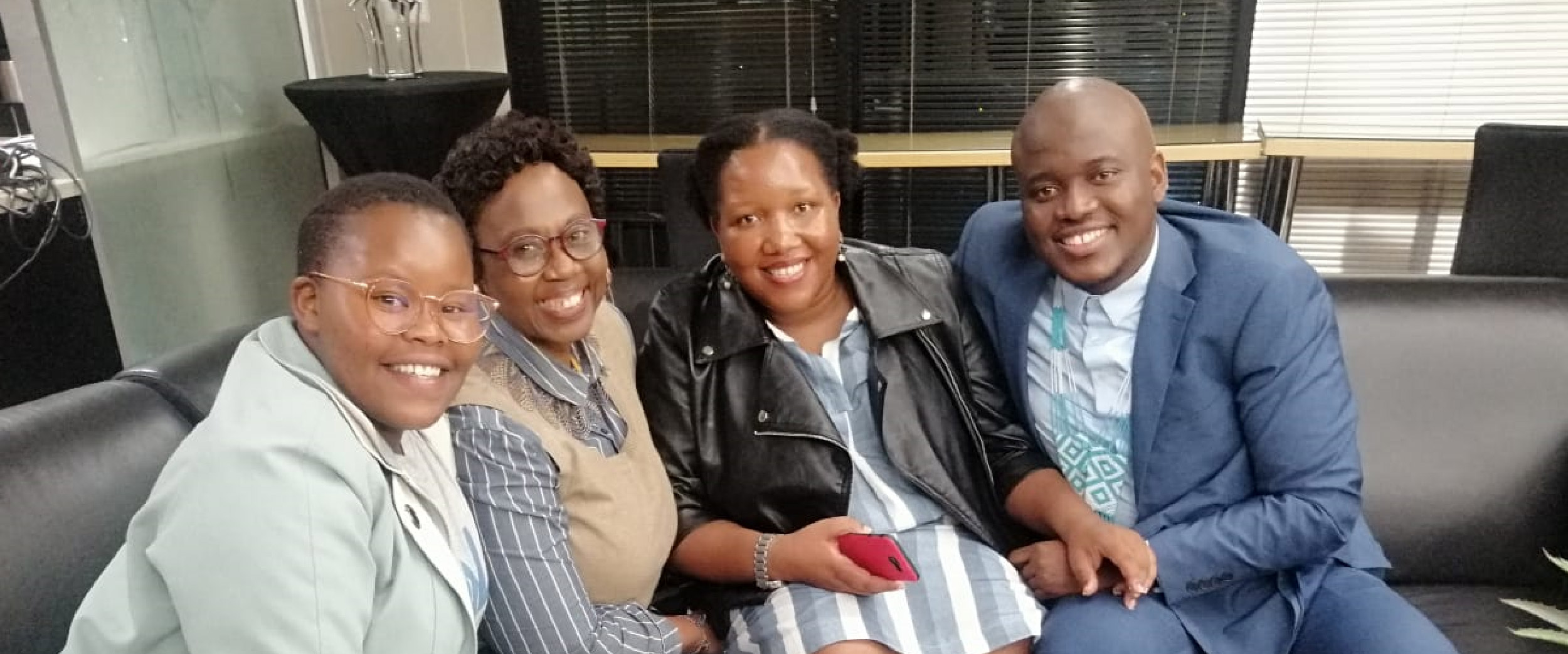 "Wow, Mam'Mlambo is a treasure," says attorney Thandeka Kathi. "I met her for the first time in 2013 when I interned with the Wits Justice Project and spent my Fridays at CALS. But four years later when I returned, Mam'D remembered me. That's who Mam'D is, she remembers – be it everyone's birthday or to remind you to hand in your claims on time, Mam'D remembers. That's why she is a mother to us all."
Former staff members at CALS recall what an impact Mam'D had on their work and on the environment in the office. "Ma'Dudz was my spirit guide during my directorship at CALS," says Prof Bonita Meyersfeld, former Director. "She and I journeyed through something significant and I continue to channel her grounded generosity of spirit. Ma'Dudz, you are the personification of the society I wish to see." Former Deputy Director Lisa Chamberlain notes: "What would CALS be without scented oil diffusers, colourful artwork, rose petals, extra blankets and exceptionally stylish hats? Dudu brings all of this in the joy she exudes when caring for people."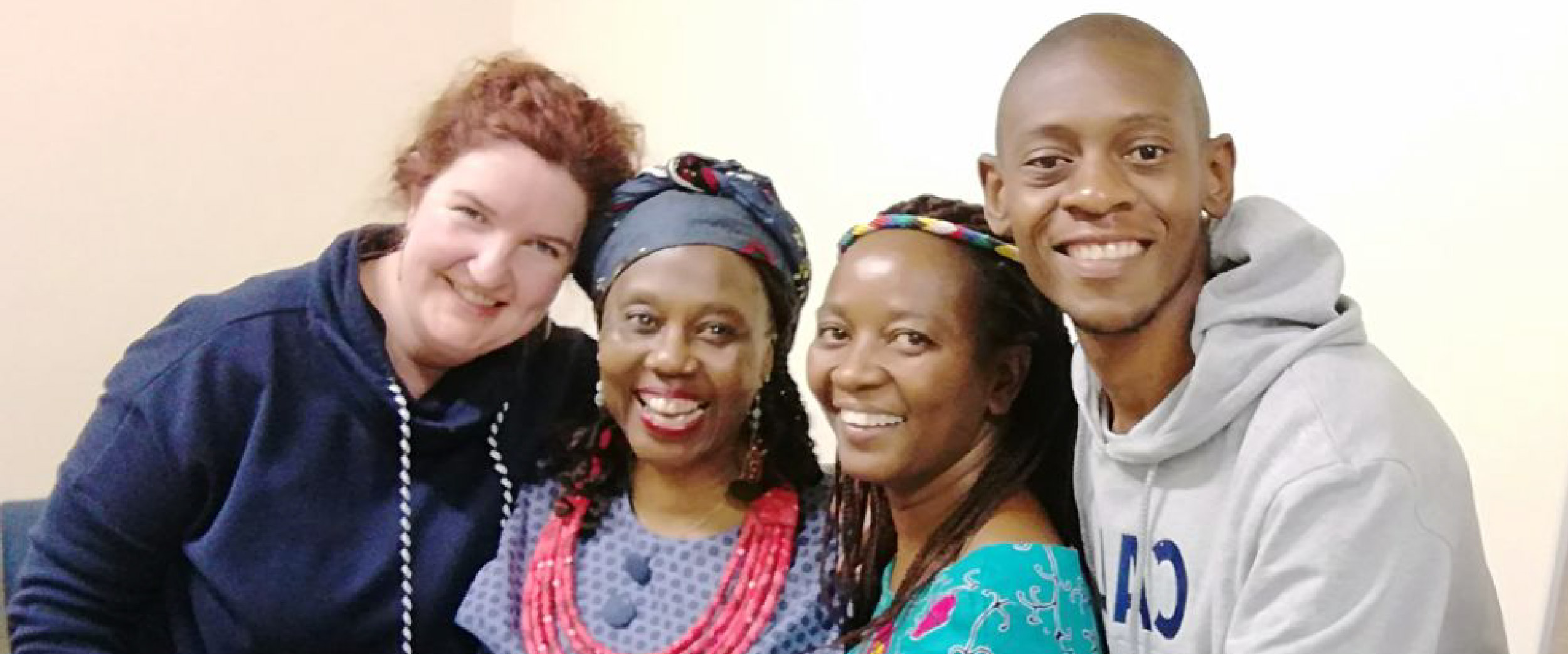 "At CALS, none of our work would be possible without the pillars of the administration office," says Baone Twala, former staff member at CALS. "Mam'Sbo and Mam'D are integral to the work, but they do their work so well that it can be easy to take their contribution for granted. It's especially easy to take for granted their personal investment and commitment in doing their work well and to ensuring that everyone working at or visiting CALS is taken care of."
The quiet dignity of working behind the scenes like this to keep things running has no better example than Sibongile Ncube. Sis'Sbo gets everything done with a gentle touch and incredible work ethic. "Sis'Sbo is the silent machinery behind the organisation – without her, almost everything would come to a standstill," says Palesa Madi. "She goes the extra mile to ensure that all goes well and she makes her challenging work look easy." Thandeka Kathi agrees: "If you are going into a battle field you need to take Sis'Sbo with you. You just have to! I cannot count the number of crises Sis'Sbo has saved me from."
"Your kindness and grace under pressure is always a great reassurance during stressful times," says Robert Krause. "You are always extremely supportive and bring a practical, problem-solving aptitude that makes even administrative emergencies in a very slow university bureaucracy appear easy to resolve. The calm, relaxed and compassionate energy you radiate makes CALS that much better a place."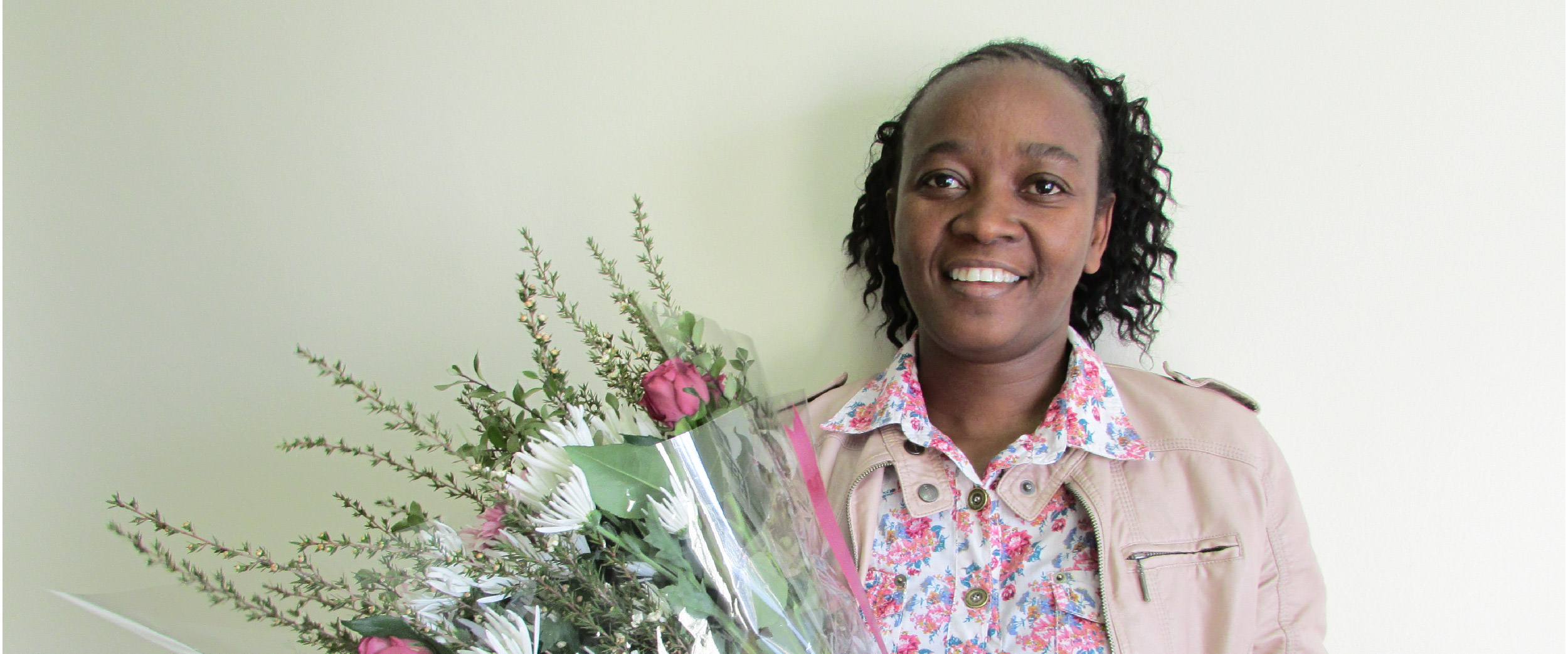 "Thank you for always being the calm in the storm and thank you for always treating everyone with the utmost kindness," says Busisiwe Zasekhaya. Louis Snyman agrees: "To the one who we can always rely on, the one who never raises her voice but is always there to help with a smile. Thank you for being the rock we can always turn to when things seem to be unsteady. We will always appreciate your support and strength."
Lisa Chamberlain recalls from her time at CALS: "Bongie is the rock-solid, formidable energy that has driven CALS for a decade without whom things just literally would not work." Bonita Meyersfeld agrees: "Sis'Bongs is one of the most dignified people I know. Her quiet fortitude and formidable intelligence guided all our work together. I aspire to be the kind of nurturing, powerful and effective person embodied by Sis'Bongs."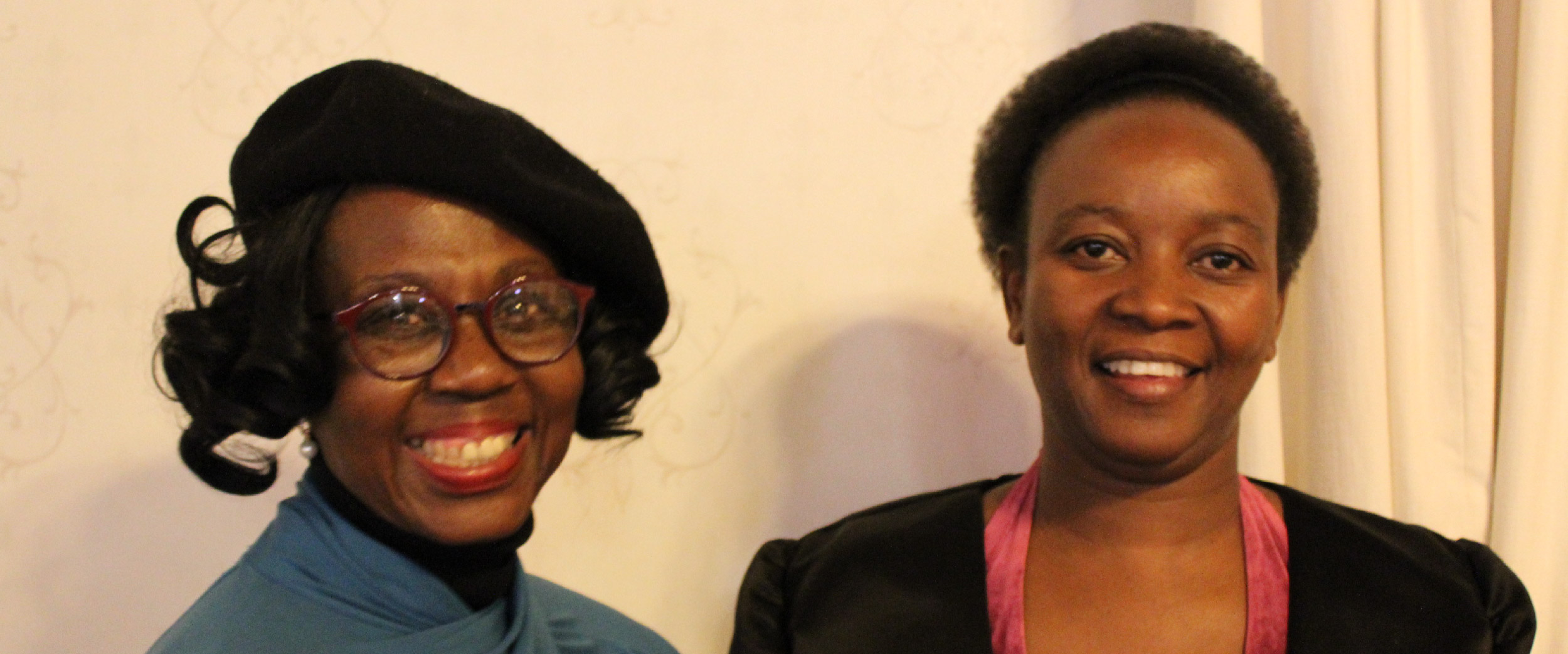 Mam'D and Sis'Sbo both have a very special relationship with our younger staff members, especially our interns and candidate attorneys. They are passionate about helping recent graduates transition into the workplace and it doesn't go unnoticed. "Many of us enter the working and professional space at a young age and it is rare to find both a colleague and a mother in one person," says Stanley Malematja, attorney in the Right2Protest Project. "You never cease to show me love and support."
"I'm grateful to have had the privilege of working with Dudu and Sbo during my formative work years," agrees Kay Mahonde, former candidate attorney at CALS. "Working with them at such a time boosted my confidence and instilled in me respect and appreciation for the role played by a strong and committed support team."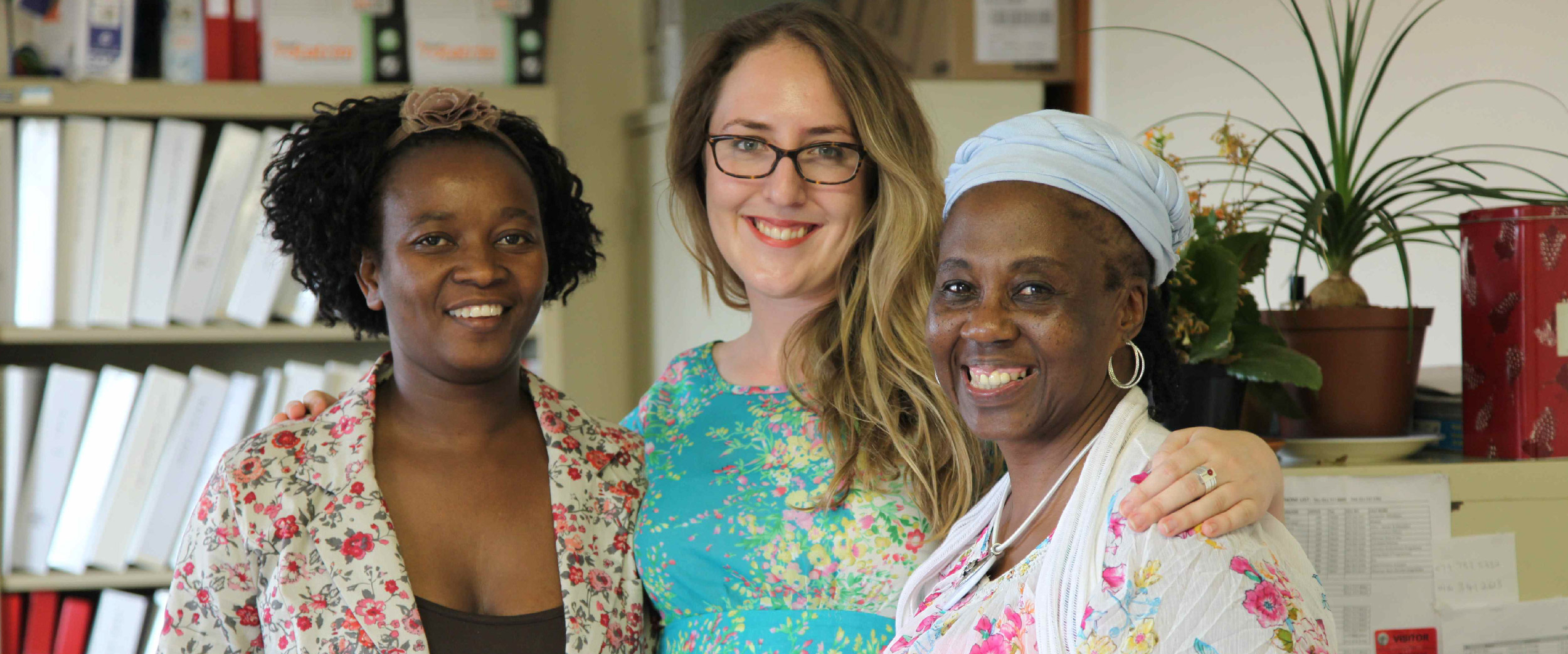 Former interns going all the way back to 2011 and 2012 still keep in touch with Mam'D and Sis'Sbo and think of them fondly. "My time at CALS changed my life and was the launch pad into a career in international human rights law," says Lucy Geddes, former intern from Australia. "Dudu and Sbo were instrumental in making my experience so positive – their warmth, sense of humour and care were pivotal in making me feel at home, not just at CALS, but also in Jo'burg and South Africa more generally."
"When I think of the work that I did at CALS, I know that it was possible because of the excellent contribution that Mam'Sbo and Mam'D made," says Baone Twala, who has worked at CALS as an intern and then later as a candidate attorney and an attorney. "More than anything, I'm grateful that Mam'Sbo and Mam'D have always made time to listen, comfort and encourage. I wish them both the very best for their future and CALS is very fortunate to have them."
We wholeheartedly agree. We are so grateful to have had you to guide us and make sure the work happens over the last ten years, and we can only hope we will still have you with us for another ten. To our dearest Mam'D and Sis'Sbo, from all your CALS family new and old on your tenth anniversary: siyabonga kakhulu. We thank you and we see you.