Op-ed: The impact of the national lockdown on the right to protest
- Stanley Malematja and Busisiwe Zasekhaya
The Right2Protest Project explore how the lockdown has impacted the right to protest and how activism can continue without gathering in person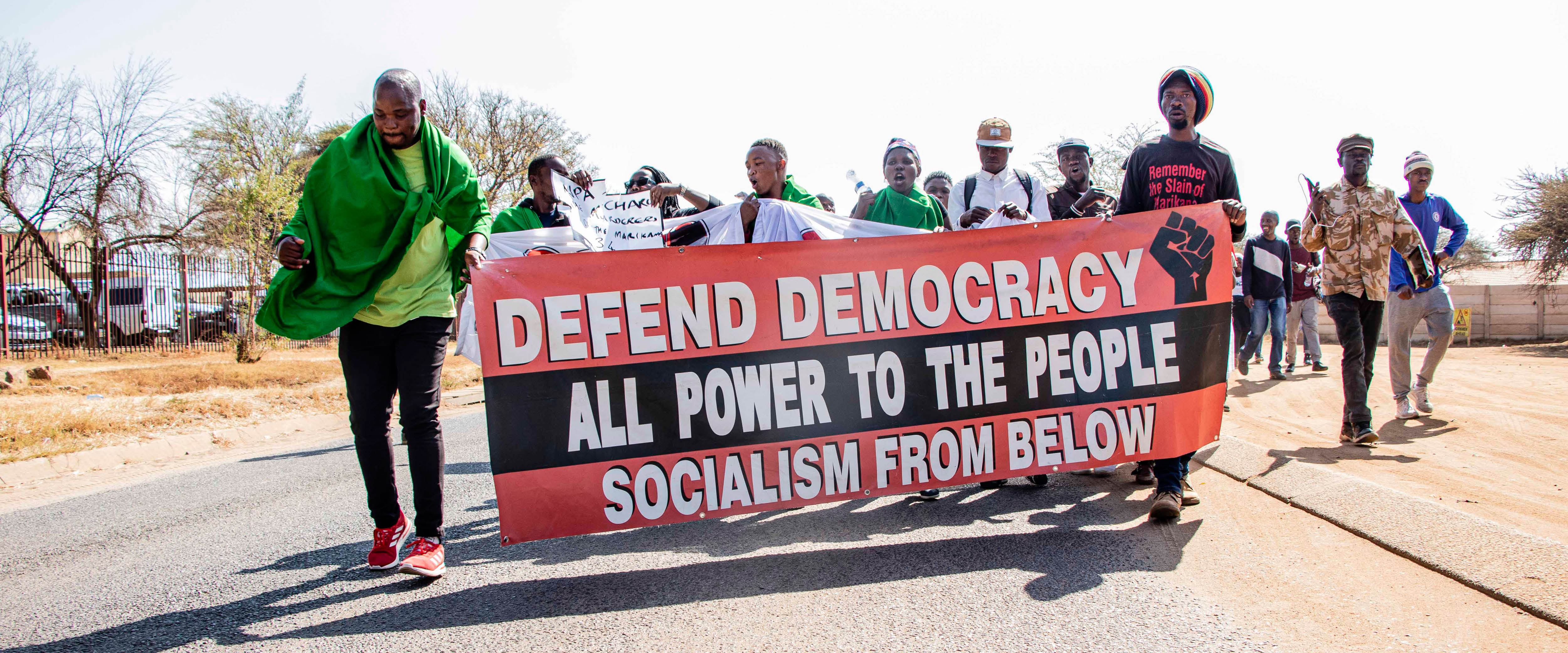 The national lockdown has resulted in a number of limitations to the right to protest. Gatherings continue to be entirely prohibited. The government has urged people to refrain from protesting or gathering for their own safety. This means that traditional forms of protests such as marching on public roads, sit ins, unauthorised occupation of public spaces and other mass-based disruptive protest repertoires are outlawed. The lockdown does not negate the fact that mass protests are an important component for holding government accountable. The essence of protests is the ability of a group of people to speak in one voice, with the same objective in mind.
As one court put it, "a single voice is likely to be drowned out in our polity. A choir is far more likely to get its message across". Our courts have held that freedom of assembly is essential because it is generally organised public opinion that carries weight. It therefore makes sense that disgruntled members of the public in engage in mass protests. Notwithstanding that, the unique situation created by the pandemic has resulted in the traditional methods of protests being a serious health hazard. Fortunately, there are other ways in which people can protest without necessarily gathering and risking their health. Therefore, the limitation imposed on the right to protest does not imply that people cannot stand as one and fight for their fundamental human rights
Section 36 of the Constitution is termed the limitation clause and permits for the rights in the Bill of Rights to be limited. The nature of the right being limited by the Regulations is undoubtedly essential in a democratic society. The right creates a space both to speak and to be heard. It is a right exercised mostly by those who are marginalised. It provides a means of communication for those who feel their demands or concerns are not being given serious consideration by the state. In the current situation, it is arguably correct that the government could not impose any less restrictive means to curb the spread of the virus. The importance of the limitation of the right to gather is to curb the spread of the virus and there is reasonable relationship between the limitation and its purpose. Protesters must note that gathering or protesting not only violates the regulations, but it exposes them to high possibilities of contracting the coronavirus and spreading it.
With the current limitations in place, it is still important for people to be able to voice their dissent on issues. Those with access to digital spaces can take part in internet activism. In South Africa in particular, we have seen a rise in internet activism with people engaging with leaders on societal issues on twitter and the use of hashtags to highlight issues. Internet activism has become an important form of protest that informs protests on the ground and has helped bring attention to issues that South Africans face. In 2019, the #AmINext internet activism sparked protests all over South Africa showing the power that social media can have. People can also use platforms such as Amandla.mobi to start their own campaigns, sign petitions and garner support from the online community. During the lockdown, the use of social media to document force used by police and the military in communities has been a very important source of activism.
However, because of the disparities in South Africa, not everyone has access to digital platforms for an alternative form of protest and this is why we have seen an increase in protest action because for many, taking to the streets is the only outlet that they have. If you do not have access to digital spaces, we urge you to partake in other forms of protests such as putting signage up on your door or gate to voice your dissent, contact local civil society organisations that can assist you by providing advocacy support and document human rights abuses if you can. Organisations such as the Right2Protest Project is easily accessible on its hotline, 0800 212 111.
People should not have to risk their health and well-being to fight for basic human rights which should be afforded to them. Over the period of the lockdown we have noted with concern the increasing number of reports of protest action taking place across South Africa because people have no other option but to take to the streets because they do not have electricity, food or access to water and their engagement with local government has proven to be futile. A fundamental part of flattening the curve of COVID-19 is ensuring that communities have access to basic amenities to survive.
Although the traditional methods of protest may win the fight for access to basic services, it will not conquer the great war against COVID-19. Social distancing is essential during this unique period in our lives and people need to consider suspending the traditional methods of protesting.
Image by Edward Molopi.