Celebrating one year with Prof Tshepo Madlingozi
- Lee-Anne Bruce
To mark his first anniversary with us, CALS would like to show our appreciation for a leader who has proved both brilliant and compassionate in trying times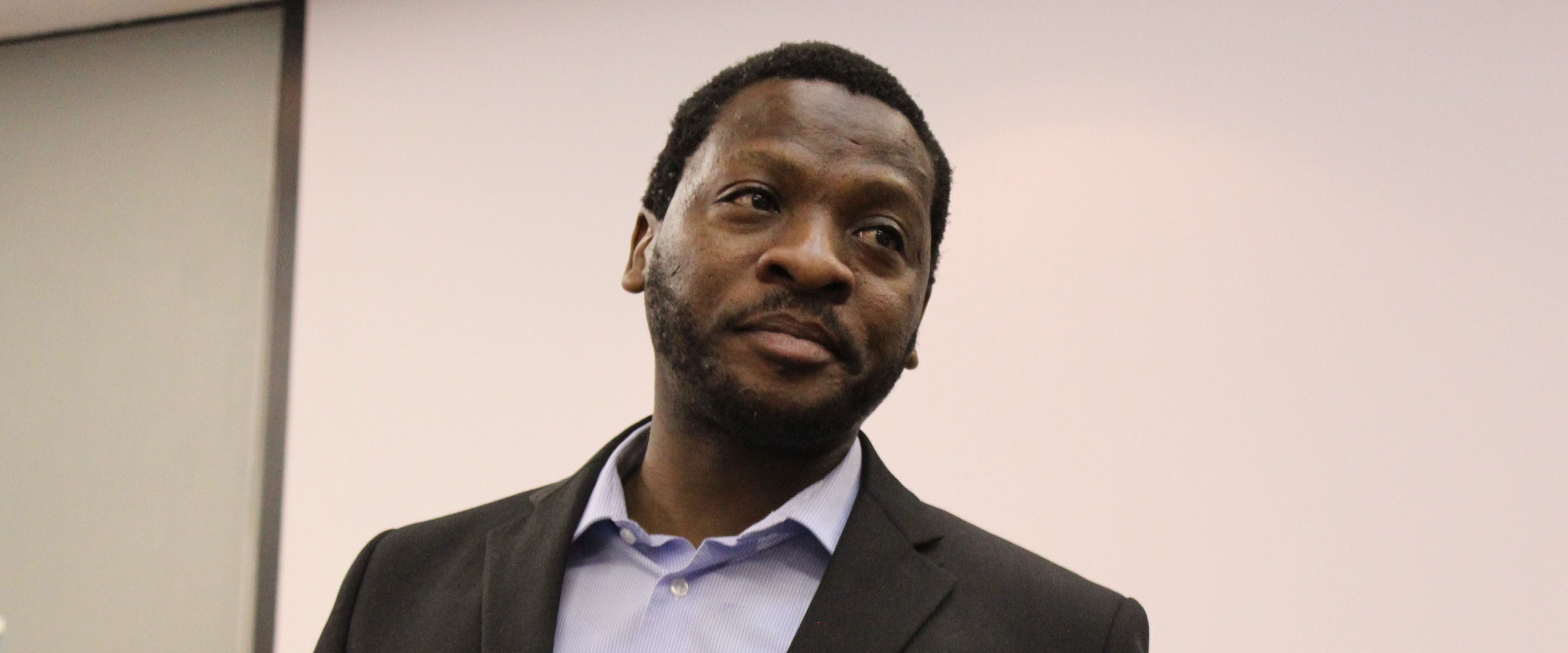 One year ago on Monday the 3rd of June 2019, the staff at CALS officially met our Director, Prof Tshepo Madlingozi, for the first time. And what a year it's been! Above all, what a privilege it has been to have Tshepo, also affectionately known around the office as Big Boss or Ntate Dlingz, here to guide us with his questioning mind and kind heart through our day-to-day struggles and our overall strategy plans. Much of that strategy has had to adapt recently, of course, with the arrival of a pandemic and the ensuing lockdown. We are more than grateful to have such a responsive Director form part of our incredible leadership team, and we wanted to use this anniversary as an excuse to show our appreciation here.
An enormous thank you goes out to all of our contributors from the Law School, our Faculty and most of all CALS. Contributors include Abongile Nkamisa, Anesu Dera, Basetsana Koitsioe, Busisiwe Kamolane, Lerato Phasha, Louis Snyman, Palesa Madi, Phindile Khulu, Sheena Swemmer, Sithuthukile Mkhize, Stanley Malematja and Thandeka Kathi from CALS as well as Prof Wesahl Domingo and Prof Imraan Valodia from the University.
Acting Deputy Director of CALS, Palesa Madi, describes Tshepo as a "walking wealth of knowledge" for good reason. Tshepo holds two Masters degrees and a PhD and is considered one of the leading scholars on decolonisation in the country. This makes him an asset both to our organisation and to the wider Wits community. "Tshepo is the kind of thought leader we need not only at CALS but at the School of Law," says Head of School, Prof Wesahl Domingo. "We have already benefited from co-hosting seminars and masterclasses with a number of visiting academics, and look forward to much more engagement through our research, teaching and events."
Tshepo brings his analytical mind to bear in all the work we undertake at CALS as well. "What stands out for me in having Tshepo as our leader is the effort he has taken in getting to grips with what happens in our programmes and the profound contributions he makes to all our work," says Sithuthukile Mkhize. "I think when we struggle to articulate issues in our work, after he steps in I'm often left with the feeling of 'this is why you are the Director'."
In fact, it seems like a huge part of our Director's role is about paying attention, encouraging us while at the same time challenging our assumptions. "Working with him in the last year has opened my eyes to new ways in which we can push the envelope and the limitations of our work," says Thandeka Kathi. Sheena Swemmer agrees. "He actively shows interest in what every staff member is doing and praises us for work well done but importantly also challenges us when he feels we could do better. He makes CALS feel like an environment where we can be creative and brave in the law," she says.
Beyond being a strategic thinker, what Phindile Khulu most values about Tshepo is his compassion and leadership qualities. "CALS is lucky to have such a humane leader. Tshepo is always with us on the ground," she says. Many others would agree. "It was Mark Yarnell who said, 'A leader is someone who demonstrates what's possible.' This is Tshepo through and through," says Lerato Phasha. "He makes all of us feel significant, to want to do better and to be better. He inspires all of us to do great things." "Working with Tshepo as been one of the best things ever," says Anesu Dera. "He has improved the organisational culture by putting the wellbeing of the staff first."
This has proved more crucial than ever during the current lockdown. "In the difficult times that COVID-19 has placed us all in, Tshepo has emerged as a compassionate leader who places his staff's wellbeing at the forefront," says Busisiwe Kamolane. "He continues to support, inspire and propel each of us to achieve our greatest potential as we continue to make meaningful contributions towards achieving social justice and legal reform. Tshepo is the kind of thought leader and change agent needed in our country in these present times."
It's not all serious with Tshepo, though. He is also known for his witty sense of humour and good taste in TV shows. "In Tshepo I have found a leader, an activist and a friend," says Louis Snyman. Anesu Dera explains, "If you are a series lover like me, you get some nice recommendations from Tshepo on what to watch." But even these may reveal his attitude to creative social justice lawyering. "His love of Better Call Saul might give you a hint about what he believes – that a modern lawyer should not be rigid or keep to conventional methods of lawyering such as going to court and concluding settlement agreements," says Anesu.
Let's not forget that Tshepo has an impressive group of people around him at CALS. "Tshepo is leading a wonderful team," says Prof Imraan Valodia, Dean of the Faculty of Commerce, Law and Management. "I know they have been developing a new strategic plan for the Centre – I look forward to seeing how CALS will advance social justice over the next few years." Head of School, Prof Domingo, agrees. "We can see CALS going from strength to strength under his leadership and strategic vision," she says.
There are many words we could use to describe our leader, among them: knowledgeable, energetic, dynamic, creative, passionate, remarkable, a visionary, the embodiment of black excellence. Without a doubt, the ones that come up the most often are 'compassionate' and 'leader'.
As Stanley Malematja puts it, "Your skills, personality, knowledge, botho and patience is amazing. Thank you for your leadership." Or in the words of Basetsana Koitsioe, "You have been an exemplary and visionary director, a great leader who has dedicated his life to the service of humanity. Thank you for your extraordinary ability and leadership to guide us at all times." And, from the perspective of Abongile Nkamisa, "You are a compassionate leader and a decorated African scholar. I feel proud to serve with you in the pursuit of social justice. Makwande, Makukhanye Makubekuhle nkokheli."
We see you and we thank you for all you do for us, Ntate.