Wits football grandstand renamed after Ronnie Schloss
- Wits University and Wits Alumni Relations
Alumnus honoured for his commitment to the Wits Football Club and to soccer in South Africa.
The main grandstand at the Wits Football Stadium has been renamed after Wits alumnus Ronnie Schloss (BSc Quantity Surveying 1968). Schloss is a former Wits football player, administrator, and life president of the Premier Soccer League (PSL) in South Africa.
In a renaming ceremony held at Wits on 7 November 2023, Schloss was honoured by members of Wits University, his former colleagues, and leaders in the national football community. A plaque was unveiled and the grandstand will undergo renovation as part of the upgrading of the Wits Anglo American Digital Dome on East Campus.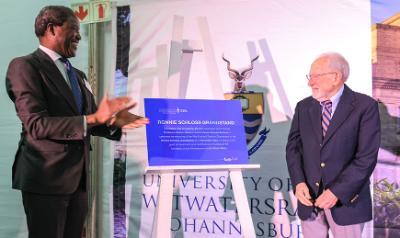 "Today, we unveil the Ronnie Schloss stand that serves as a beacon of inspiration to all of us who pass through these gates. Let it stand as a testament to the transformative impact that one individual with dedication and determination, kindness and love for this university and this country, can achieve," said Professor Zeblon Vilakazi, Vice-Chancellor and Principal of Wits.
"Prof Ronnie Schloss' journey with Wits Football Club is not about a tale of past glories, it is a story that continues to unfold. His dedication to our football community remains steadfast. He continues to contribute to the development of South African football, ensuring the legacy of Wits University Football Club," said Vilakazi.
A famous story was recalled from the 1962 season when Wits was scheduled to play Bloemfontein Celtic in the National Football League. At the time the club lacked an official coach, and its finances were in dire straits. Schloss went into the Wits canteen and asked students to sign up for the game, with a promise of a train trip to Bloemfontein. The team pitched up in a variety of footwear and was thrashed 17-0. But that game, however, was the start of Schloss' career.
According to sports historian Jonty Winch, Schloss was the single-most-important factor in the revival of the club. He started his career as a student in 1962, in an environment in which rugby and cricket were the dominant sports. After an injury sidelined him from the game, he turned his talents towards administrating the affairs of the club. His influence as secretary, chairman and then president of the club was considerable for an unbroken 26 years. He established a solvent edifice for the club and was the driving force behind the development of Wits soccer.
Schloss, who was visibly moved by the occasion said: "It's something I'm never gonna forget. To my University, to my alma mater, all I can say is, thank you for recognising me. I have thoroughly enjoyed my life here."
Speaking in a video message, Dr Kaizer Motaung, chairman of Kaizer Chiefs, said Schloss has been serving the football community for over 60 years beyond measure. "I have personally benefitted from many years of collaboration with you," he said.
Schloss, Motaung and Dr Irvin Khoza, chairman of Orlando Pirates, share a long history going back to the origins of the Wits Football Club, where Wits was the first team with white players ever to play in Soweto.
"At the time, we could not enter Soweto with a team of only white players, so Kaizer and Irvin lent us players to make up a mixed team," said Schloss.
The mixed Wits team faced tremendous hostilities during the apartheid years, and often had to make difficult choices. The black and white players could neither travel, nor enter a restaurant together. From the onset, the team decided to rent their own bus, and only go to places where they can go together as a team.
"We decided we either go as a unit, or we don't go," said Schloss. "We lived an interesting and different life. We taught people how to mix and appreciate the cultures of the other. That was the strength of our team."
Fellow alumnus and former CEO of the South African Football Association, Raymond Hack (LLB 1955, HDipTaxLaw 1974, LLD honoris causa 2004) said: "He is a friend of football. We are standing here today because of the massive contribution that Ronnie has made."