Inaugural global art prize awarded to Senzeni Marasela
-
Wits alumna hopes the acknowledgement will inspire more artists from Africa.
Wits alumna Senzeni Marasela (BA FA 1999) was named the recipient of the first K21 Global Art Award presented by The Friends of K20K21, in co-operation with the Kunstsammlung Nordrhein-Westfalen gallery, on 20 April 2023.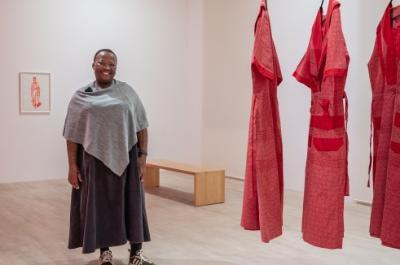 The interdisciplinary artist travelled to Düsseldorf, Germany to collect the award, which celebrates "the vision and courage of emerging and mid-career artists". Marasela's work will be showcased in the gallery's art collection in two rooms for a year and the award is endowed with 70 000 euros.
"Our K21 Global Art Award marks a vital step forwards to a more inclusive approach to our collection policy, and in turn also a more inclusive, open and all-embracing idea of what cultural heritage is within Düsseldorf, Germany and further afield. I am convinced that our collection policy and this art prize will make a significant contribution to making our museum more diverse for our visitors. For this I wish to thank the Friends of K20K21 and our magnificent international Jury: without them, this prize would never have been possible," said Professor Dr Susanne Gaensheimer, the director of K20K21.
Marasela, who lives and works in Soweto, uses performance, photography, video, embroidered textiles, printmaking, and installation. Her work has been exhibited widely in South Africa, Europe, and the United States and is included in important international collections. In 2015, she was part of the 56th Johannesburg Pavilion at the Venice Biennale.
Marasela said: "I am delighted that my work is having an impact here in Düsseldorf—and hopefully soon beyond the city limits. All my adult life, I have worked with dedication as an artist, and I see this award as an incentive to work with even more conviction and determination. I am grateful to the jury of the K21 Global Art Award and the Friends of the Kunstsammlung Nordrhein-Westfalen for believing in my artistic practice. I hope that this is the beginning of great discussions and co-operations. I also hope that this is a journey that will inspire young artists around the world, especially in Africa."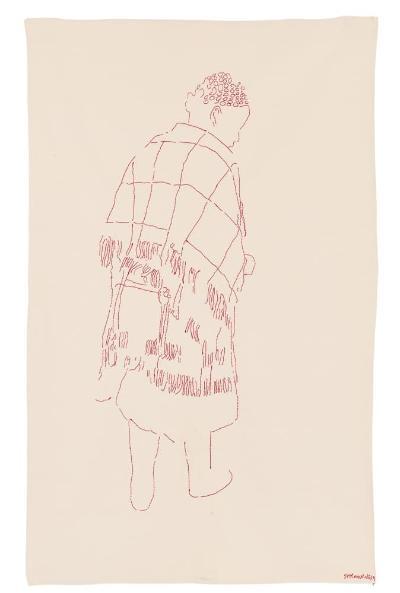 At the centre of the selection of works acquired for the exhibition is a red Iseshweshwe dress, which Theodora Mthetyane – the fictional alter ego of the artist Marasela – received as a gift from her husband Gebane when he left the rural countryside for Johannesburg to find work. Marasela has used Theodora to allude to her own mother's story and the situation of many South African women during the apartheid era. She wore the dress herself every day for an extended period of six years (2013–2019). She embodied Theodora's story, dedicated to the situation of waiting, loneliness, and hope, and experienced different reactions ranging from identification to discrimination. The project Waiting for Gebane culminated in Marasela's first major institutional solo exhibition at Zeit MOCCA in Cape Town in 2020.
The 2022/23 K21 Global Art Award jury was composed of five renowned museum directors and curators from across the world: Doryun Chong (M+ in Hong Kong); Koyo Kouoh (Zeitz MOCAA in Cape Town); Omar Kholeif (Sharjah Art Foundation, Government of Sharjah, UAE); Oluremi Onabanjo, The Museum of Modern Art in New York) and Jochen Volz (Pinacoteca do Estado de São Paulo).
Source: https://www.kunstsammlung.de/en/engagement/friends/global-art-award