Alumni in the spotlight October 2023
- Wits Alumni Relations
Catch up on a wrap of Witsie awards and appointments from the past month.
Awards
Sihle Hlophe (BA DA 2009) Lobola, A Bride's True Price? an NFVF-funded film was the winner in two categories: Best Achievement in Directing and Best Documentary Feature at the 2023 South African Film and Television Awards.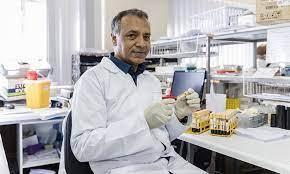 Professor Shabir Madhi (MBBCh 1990, MMed 1999, PhD 2004) has been appointed as an honorary Commander of the Most Excellent Order of the British Empire (CBE) by King Charles III in recognition of his services to science and public health during the global COVID pandemic.
Wits alumni were among the 2023 Absa Jewish Achiever Awards winners. The annual awards celebrated "the uniqueness of South Africa and the triumph of the African spirit". Robbie Brozin (BCom) co-founder of Nando's, received the Kirsch Family Lifetime Achievement Award. Raelene Tradonsky (BCom 1988, BAcc 1990), the executive director of King David Schools Foundation, received the Mann Made Community Service Award. Hylton Kallner (BEconSci 1996), CEO of Discovery Bank, received the Business Leadership Award. Raymond Hack (DipLaw 1974) was awarded the Art, Sport, Science and Culture Award and Dr Adam 'Taddy' Blecher (BSc 1989, BSc Hons 1994) was the winner of the Bertie Lubner Humanitarian Award.
Henrietta Rose-Innes (BSc Hons 1995) has been awarded the prestigious UJ Prize for Literary Translation, for her translation of Etienne van Heerden's novel Die biblioteek aan die einde van die wêreld. Originally published in Afrikaans in 2019, the novel was released in English in 2022 as A Library to Flee.
Appointments
The Development Bank of Southern Africa appointed Chantal Naidoo (HDipTaxLaw 1997) to its board.
Mary Vilakazi (BCom 1999, BCom Hons 2000) has been appointed as CEO of FirstRand as of April 2024, making her the first woman at the helm of the company.
Mark Harris (BSc Eng 1971) has been appointed as the new Director of the Johannesburg Centre of Software Engineering (JCSE) for a period of one year. This follows the sad passing of Professor Barry Dwolatzky, the Founder and Director of the Centre.
Nampak appointed Nonzukiso Siyotula (BAcc 2006) as an independent non-executive director and member of its audit and risk committee.
Janet Love (PDM 1994, BA 1998) has been appointed as a commissioner of the Independent Electoral Commission of South Africa.
Stiint Global Inc, a leading recruitment technology firm, welcomed Stacey-Lee Bolon (BA 2007, BA Hons 2008, BA Hons 2009, MA 2010) as its new CEO.
Discovery Health announced Ronald Whelan (MBBCh 2000, MBA 2007) will take over as CEO from 2024 after Ryan Noach's resignation.
DRA, a global engineering firm, announced changes to its board of directors and appointed Valentine Coetzee (MEng 2012) as a non-executive director.