International award for Witsie whistleblower
-
Athol Williams among four South Africans honoured for bravery and integrity.
Witsie Athol Williams (BSc Eng 1992) has been named among the four South African whistleblowers by Blueprint for Free Speech with a Special Recognition Award on 7 December 2022.
The award forms part of the Blueprint for Free Speech Whistleblowing Awards for 2022, which acknowledge whistleblowers for their "bravery, integrity and commitment to the public interest and positive and enduring impact".
Blueprint for Free Speech is an internationally focused not-for-profit organisation based in Australia, concentrating on research into and support for freedom of expression. Areas of research include public interest disclosure (whistleblowing), censorship, the right to publish, media law, internet freedom, and freedom of information. A total prize money of £20 000 will be shared between the recipients which include British David McBride, Cynthia Stimpel, Bianca Goodson and Patricia Mashale.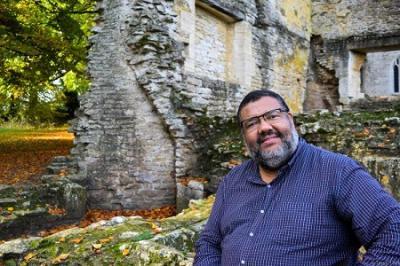 This year's winners were chosen by a panel of three judges: Lady Sue Woodford-Hollick OBE, award winning former investigative television journalist and current businesswoman, James Catlin, a former finance journalist and now Australian barrister with particular expertise in fraud, media law, unfair trade practices and protected disclosures and Dr Suelette Dreyfus, executive director of Blueprint for Free Speech.
The award follows Williams being awarded the Chairman's Award for 2022 by the South Africa Chamber of Commerce UK on 17 November 2022.
He told Wits Alumni Relations: "All persons have a psychological need to know that sacrifice and hardship has some purpose or meaning, that efforts made for the common good will yield results. The slowness of our justice system means that few results have followed the disclosures made by whistleblowers at high personal cost. Acknowledging whistleblowers with awards such as the Blueprint Prize is a small way of affirming to us that our efforts are valued by society. It is sad though that an international organisation acknowledges the efforts of South Africans to resist corruption and state capture in our country, while South African bodies offer no such recognition.
"I continue to receive threats as attempts to silence me. I refuse to be silent about attacks on our democracy and the syphoning off of public funds to private pockets. Even though I'm in exile I will continue my fight for accountability and justice in South Africa. I am thankful for an award like the Blueprint Prize because it amplifies my voice and emboldens me to continue resisting corruption and state capture."
Williams has earned degrees from Harvard, Oxford, the London School of Economics, MIT and London Business School. His disclosures about US-based consultancy Bain & Co constituted a central part of the Zondo Commission's investigations and have had a global impact. He also published Deep Collusion: Bain and the capture of South Africa (Tafelberg, 2021).
National Treasury has since banned consultancy Bain & Co. from tendering for public sector contracts for a period of 10 years for engaging in "corrupt and fraudulent practices" related to its contract at the SA Revenue Service. The ban will run until 4 September 2032. The decision to ban the company came seven weeks after the UK government banned it from competing for state contracts for three years.
In 2021 Williams spoke to WitsReview about the huge personal cost of his testimony which damaged his career and had a negative impact on his health. He fled South Africa in November 2021, believing his life was in danger because of the country's poor protection of whistleblowers.
He is currently based in the UK was recently appointed as a Research Associate at Oxford University. He said he was slowly rebuilding his life "embracing opportunities here to share my philosophy that an ethical society becomes a prosperous society."
* This article was updated from its original on 12 December 2022 to include more detailed feedback.