More people packed together in a smaller space
-
Seasoned urban planner shares visual representation of SA's economic hub.
New executive director of the Gauteng Central Regional Observatory (GCRO), Rashid Seedat (BA 1985, PGDipArch 1987, MM 2001, MSc 2007) has a more than 40-year link with Wits ­– and his career has seen him occupy senior positions in the economic hub of Johannesburg.
As a guest speaker at the recent Wits alumni webinar series on 26 August 2021, Seedat shared insights with guests ­– among whom included former Public Protector Thuli Madonsela and Professor Mark Orkin – in a talk titled "Social, spatial and governance contours of the Gauteng City-Region".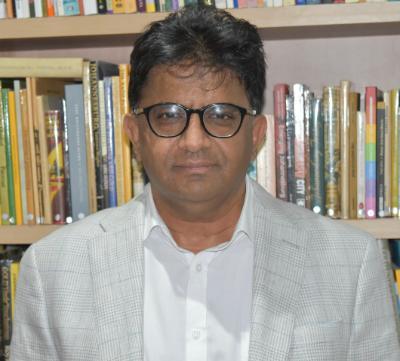 "The idea of a wider metropolitan region began to take shape during the 1980s, by the late 1990s this conurbation was named the Pretoria-Witwatersrand-Vaal Region and in 1994 it became Gauteng – the Place of Gold," he said.
Seedat explained that the Gauteng City-Region (GCR) is "a construct, political device and mode of governmentality through a series of well-structured outputs that grapples with the social, political, economic and environmental complexities of the city-region". It echoes other global cities in countries such as India, China and the US, as an interconnected way to investigate policy decisions, governance concerns and the city-region's future.
The GCRO is a partnership between Wits, the University of Johannesburg and the Gauteng Provincial Government. He provided an overview the GCRO's work, the spatial features of the city-region, issues of social mobility as well as the quality of life surveys conducted by the GCRO to enable an understanding of key governance issues.
The visual representations, maps and analysis of sprawling urban growth which Seedat presented were mesmerising and highlighted the huge policy challenges faced by a region in constant flux. This was evident in the volume of people, the changing use of land and housing trends.
"The population of Gauteng is estimated at 15 544 894 (from 2020 mid-year StatsSA estimates) and it is projected to grow about 1 800 000 every five years."
"In the GRC an unusual trend shows people are more tightly packed together over time and the density is unevenly spread. Fifty percent of Gauteng's residents live on just 2.4% of the province's land," he said.
Some of the key housing dynamics show significant growth in backyard dwellings, informal settlements alongside a growing number of housing estates.
"The biggest and most important trend is different residential types being developed in different parts of GCR, pulling an already divided city-region further apart," he said.
The lively chat function saw Seedat fielding questions related to spatial development, smart cities, sustainability, the impact of the GCRO research on policy as well as its limited use by municipalities to improve access to services and mitigate development gaps.
Seedat's full talk can be accessed here.
The GCRO is in the process of completing its Quality of Life survey for 2020-2021, which contains 248 questions relating to dwelling type, health, income, employment, transport, opinions on government, social fabric and well-being etc. With a total of 13 616 respondents and at least 20 people in every Gauteng ward interviewed, it provides a rich dataset. The results will be released on 9 September 2021 and more information can be found here.