Hydroponic farming duo win virtual startup competition
-
Wits graduates' business makes smart use of water and is set to improve local farming methods.
Ngwako Sekhula (BSc 2018) and Mokgalakgathe Tladi (BSc 2018) won first place at the 2020 End Poverty Innovation Challenge.
Around 70 teams participated in the international virtual competition across 23 countries in December 2020 to promote social ventures and employment opportunities in underdeveloped communities.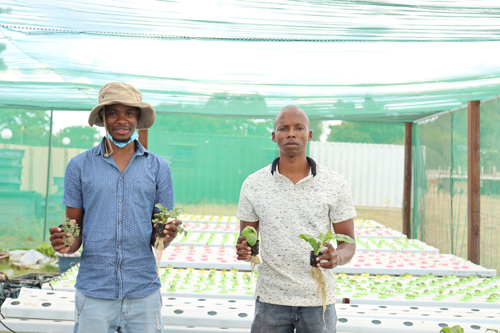 With their startup, VegeThentic Farms, Sekhula and Tladi secured a cash prize of around
R15 000 as well as mentorship from the Entrepreneurs Futures Network. They will also be assisted by the Social Ventures Foundation, based in the United States, in the development, funding and scaling of the social venture.
Both are Wits graduates and they gained theoretical and technical skills in cell biology, biochemistry, biotechnology, microbiology and plant pathology from their time at the university. Their love for the natural world is something they've both had since childhood. "I've always been fascinated by science and the natural world. That fascination has increased over the years and inspired me to find sustainable food production solutions that will make a positive long term contribution to humanity and our environment," says Tladi.
"For as long as I can remember I have always been curious and interested in science. Science teaches you a lot of transferable skills that you can use in many other related fields," says Sekhula.
After graduation, the duo worked at the Bio Analytical Research Corporation in Auckland Park, Johannesburg as assistant laboratory staff specialising in clinical trials. In 2018 they started their own initiative, VegeThentic, which is a hydroponic farming business that uses advanced soil-free farming methods to produce vegetables and herbs. It is situated in Polokwane and sells pesticide-free leafy vegetables to locals, restaurants and supermarkets.
"We researched people who were already doing it and we looked at small-scale farmers. We realised that most of the smaller farmers were at the mercy of the climate and scarce water sources. So we built a prototype of a soilless system that uses less water to grow more food on limited land compared to conventional farming," says Tladi.
Hydroponic farming grows plants in a water-based environment, without soil. Sekhula says the nutrients are directly supplied to the plant by dissolving inorganic fertilisers primarily through water and fed directly to the plant's roots. "Depending on the type of system and crop, the plants can be grown in a substitute support medium that doesn't provide any nutrition to the plant — like wood shavings, river sand or coco peat— or their roots can be submerged in nutrient-rich water.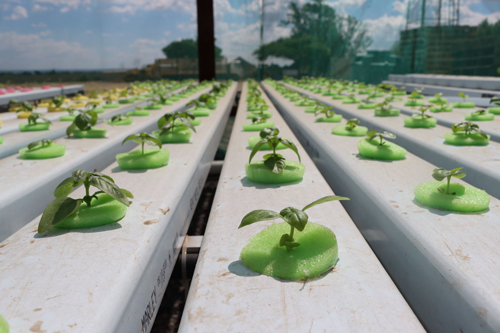 "We understand the importance of saving water and maximising available land for better food production. We use 80% less water compared to traditional agriculture."
VegeThentic Farms initially focused on building a prototype (with 18 crop capacity) which they ran for four months (one crop cycle) before building a second bigger prototype with crop capacity of 360 crops which has been used from May 2019 to present, and has been running successfully ever since.
The company also manufactures hydroponic systems for farmers and assists with prototypes on farms, offering training services to aspirant growers. Their method is also ideal for people who have limited space to grow their own food. They have even considered people with disabilities. "We believe that future farms should be accessible even to wheelchair-bound people. A farm that uses no soil can always have a concrete floor, it can grow the crops at a height that requires no bending at waist to harvest. And this is an inclusive environment for disabled aspiring farmers, people with back issues, and more general bodily restrictions," says Tladi.
Their winning entry is featured here: