Get used to the rapid pace of change
-
Respected chief executive Greg Solomon shares why good leadership is critical.
CEO of McDonald's South Africa and Wits alumnus Greg Solomon (BSc 1992, BA Hons 1993, BSc Hons 1995) shared insights into leadership with fellow alumni on 25 June 2021.
Solomon who started his career as a civil engineer and joined McDonald's SA in 1996 as a project manager, was instrumental in building many of its first restaurants and outlined the company's significant milestones since its inception in 1995.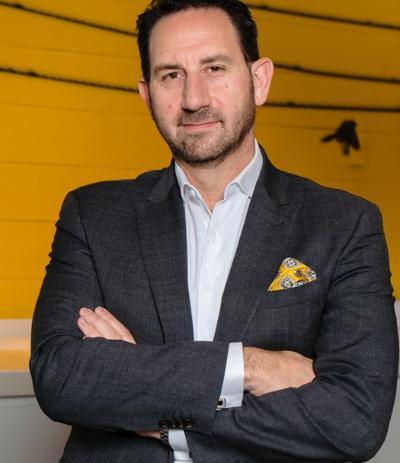 He shared the company's steady evolution to adapt to the particularities of South Africa as well as incorporating global trends over the years: the introduction of "drive thru"; 24-hour service, the transition to biodegradable packaging, launching a charity (Ronald McDonald House of Charity); designing light-steel frame buildings; reducing demand and consumption of products, moving to digital deliveries, offering leadership skills transfers and growing an average of 25 restaurants year-on-year to its current 16 000 employees.
For Solomon, good leadership is the ability to influence others, build trust and respect and align a team to a common purpose.
At a time when many businesses are at a crossroads with the impact of the pandemic, he said: "In the past two years, brave leadership has been needed more. The world has changed and we need to adapt how we communicate. Brave leadership is important and people want to see leaders leading from the front, making certain decisions, being responsible, being accountable and most importantly being authentic, in that way they build trust and respect. Brave leadership is at the centre of how we should lead our businesses at a point of crisis."
Solomon's leadership credentials have stood the test of time and under him the company's sales have grown, guest counts increased, customer service improved and operating income has risen. He was a finalist in the 2011 Boss of the Year and named the Institute of People Management CEO of the Year 2011.
"What we predict will happen in the future is now going to materialise much faster. It's the pace of change is what we need to get used to." From a business as well as personal perspective Solomon said adaptation was key to staying relevant. "Are you ready for the pace of change? Are you ready to change? Are you modern and contemporary? Do you have the relevant skills to operate in the year 2030 tomorrow?" he asked.
He told the audience of around 400 that strategic planning prepares individuals and organisations to respond to the future in a nimble way, but focus was important. "What is the one thing in your organisation that everyone can get right? What is most important? What can you unite around?"
Equally, happiness is key, he said. He gave an example of in 2016, when he told restaurant owners they would not get bonuses. "We did make a deal with them that if they met their KPIs [key performance indicators], they would win a six-day trip on a ship to Mauritius. Out of 170 restaurant owners, 120 met their KPIs and went on the cruise to Mauritius."
He said that often it's the small things that make the biggest difference, much like the tiny instrument, the trim tab, used to turn the direction of a giant ship. "It's the 'hello'; 'welcome'; 'how are you feeling?'; 'happy birthday'; 'Merry Christmas' and messages on Ramadan. These are the small things that give hope."
Many guests responded positively: "Thank you so much for your inspirational sharing", "very fruitful session on leadership and self growth...as entrepreneurs or business owners, just loved it", "great advice and awesome presentation, thanks Greg", "one of the best webinars I have attended. The delivery was so clean!"
The full talk can be accessed here.