An educator who goes beyond the call of duty
-
Alumna's leadership in township school acknowledged in global teaching award.
Nonhlanhla Masina (BSc 2010, BSc Hons 2011, MSc Med 2017) was recently crowned sub-Saharan Africa regional winner in the 2021 Cambridge International Schools Dedicated Teacher Awards.
Masina is a local school teacher and co-founder of the African School of Excellence (ASE) in Tsakane, on Johannesburg's East Rand. Her dedication and hard work during the hard lockdown – in which she took up the challenge to teach six classes in four subjects, including maths, chemistry and physics for Grades 11 and 12 – secured her nomination.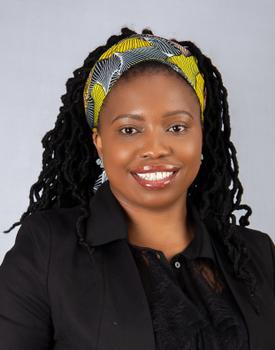 The Dedicated Teacher Awards are a global competition in which 60 entries are shortlisted, and narrowed down to six regional winners. Annama Lucy from GEMS Our Own English High School, Sharjah – Boys' Branch in the United Arab Emirates was announced as the final winner on 28 May 2021.
Before her Wits journey, Masina walked eight kilometres each day to attend Buhlebemfundo High School, where she was named Best Female Learner as a matriculant in 2006. In an interview she said: "When I arrived at Wits, I realised that I was hopelessly unprepared for the demands of academic life. Academically, I was weak and unprepared. And it suddenly dawned on me that this was what most people with a similar background [as me] had to go through."
The ASE township school started in 2006 as classes during school holidays and materialised into a high school in 2013. Its model aims to take the best teachers and instill students with confidence and a passion for learning, while using technology. Every class is divided into three parts.
The first component is a peer learning, practical problem-solving session (related to real life experience) to explore and develop the concept(s). This is followed by a technology-based session to check for understanding in which learners work independently, e.g. on a quiz or exercises using Khan Academy (the offline version is used to allow self-checking). The third component comprises class instruction and discussion dealing with more complex aspects of the topic. Parts 1 and 2 are overseen by learning assistants, while part 3 is facilitated by a qualified teacher. The class numbers are small (with an average of 20 students per class). Fees range from R350 to R850 per month.
During lockdown, the school ran its full programme on WhatsApp. Where needed, the school loaned devices to parents (those that are normally used in school for the independent work component). Through all these sacrifices, the 2020 matric class achieved an 80 per cent pass rate with bachelor's exemption.
One of the judges said: "The result is that last year, ASE achieved by far the best results it has ever had, and is poised to do the same in 2021. The level of dedication, toughness, and skill that Ms. Masina has shown over the past year is unparalleled by anything I have seen in education—or in any field—in my career . . . she combines deep expertise in school leadership, academic research and deep township roots. She has designed, resourced and implemented an award winning education model." See more on her nomination here: https://dedicatedteacher.cambridge.org/finalists/
In 2015 Masina was nominated among the Mail & Guardian's top 200 Young South Africans in the Science and Technology category. "My passion within the education space is largely driven by my passion for science and some of the triumph that comes with the South African reality," she said.