Alumnus named best IT manager in Switzerland
-
Trailblazing Alec Joannou honoured at CIO Awards.
Wits alumnus and global chief information officer (CIO) at ABB, Alec Joannou (BSc 1990), has been named Best IT Manager for 2021 at the Swiss CIO Awards.
The awards honour the best Swiss IT managers of the year and are presented annually by EY Switzerland in cooperation with the CIO platform Confare.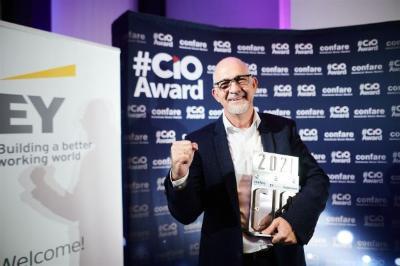 "With his submission, Alec Joannou was able to impressively demonstrate that IT organisation in a large corporation like ABB can drive significant positive change within three years," said Andreas Toggwyler, Global Assurance Data Officer, EY Global on 15 September 2021.
"As a result, ABB IT has today clearly developed from a classic cost centre towards a profit centre and uses customer centricity and intelligent IT governance to play a key role in shaping digitisation at ABB," said Toggwyler in an EY statement.
ABB is a Swedish-Swiss multinational corporation headquartered in Zurich, Switzerland, operating mainly in robotics, power, heavy electrical equipment and automation technology areas. Joannou joined the company in 2018.
"We received a lot of excellent applications for this year's Swiss CIO Award. More than ever, CIOs are at the heart of transformation at many companies, driving change from an operational, technical and talent perspective."
In 2017, as global CIO of Sasol, Joannou scooped the Visionary CIO of the Year Award, which acknowledged his "visionary leadership in applying technology to grow and transform business".
Joannou matriculated at SAHETI in 1985, completing his BSc in archaeology and computer science at Wits. He joined Price Waterhouse's consulting division, rising up the ranks to be appointed as partner in 2002, at the age of 33. He headed up the SAP practice for PwC across Africa, Middle East and Turkey. In 2012 he joined Sasol as their global CIO and was instrumental in transforming the company's digital presence. Over the years Joannou has played an advisory role to several boards including Unilever, Sappi, Anglo American and Sasol and has worked and consulted in over 40 countries.
Joannou was quoted as saying that the award is not just about the CIO. The award goes precisely to those people who work in IT, the partners and the most important stakeholders in IT. He saw the award as "recognition and confirmation of the great advances in IT" by an independent body.