Alumna honoured with the 2021 Outstanding Educator Award
-
Denise Nicholson recognised for her commitment to intellectual property rights and improving library access.
After nearly 38 years' service at Wits, alumna Denise Nicholson (LLM 2012) shows no sign of slowing down as a retiree.
The specialist librarian in copyright and scholarly communication, who retired from Wits at the end of 2020, recently added an Outstanding Educator Award to her long list of accomplishments at the 2021 Unisa Chancellor's Calabash Awards.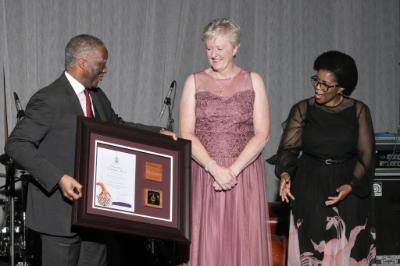 The accolade was presented at a ceremony held on 26 November 2021 by Unisa's Chancellor and former President of South Africa, Dr Thabo Mbeki, in recognition for her contribution to the library and intellectual property worlds. Nicholson has been an advocate for more balanced copyright laws in South Africa and other developing countries.
"I am honoured, humbled and very happy to be the recipient of the Calabash Outstanding Educator Award this year," she said during her acceptance speech.
"My passion has always been to improve access to knowledge for all. Through conferences, lectures, workshops, webinars, publications and my online newsletter which I started in 1998, I have shared information about access to knowledge, copyright and related matters, open access, scholarly communication and research integrity with thousands of people in South Africa and around the globe."
Nicholson started a small consultancy called Scholarly Horizons to continue her work in copyright, open access and scholarly communications in the broader community. Among her many roles, she has been advocating for the Copyright Amendment Bill to be passed.The Bill was approved by Parliament in March 2019, but is currently still under review.
"It will increase access to knowledge, and enhance research, education and creativity in the digital world. It will allow accessible formats for people with disabilities, who have been deprived of such rights in the current copyright law. It will also enable libraries, archives and museums to carry out their statutory mandates, to provide access to information to all, especially for teaching, learning and research, and to preserve our documentary record and cultural heritage. We all need this Bill urgently."
In September this year Nicholson was a presented with the Lifetime Achievement Award at the Library and Information Association of South Africa's (LIASA) online conference for her work as a long-serving copyright services librarian and as a scholarly communications librarian at Wits. It was acknowledgment of her lifelong contribution of leadership, commitment, service and achievements.
Some of her previous awards include: LIASA's Academic Librarian of the Year Award in 2001, Unisa Department of Information Science Alumnus of the Year in 2009, LIASA Librarian of the Year in 2010 and the Wits Vice Chancellor's Academic Citizenship Award in 2015. "Her work was beyond the call of duty and raised the international profile of the University," Professor Andrew Crouch, former Vice-Principal, Deputy Vice-Chancellor: Academic and Executive Dean of the Faculty of Science, said at the time.