New Wits Chancellor announced
-
Dr Judy Dlamini has been elected the next Chancellor of the University of the Witwatersrand
Wits' new Chancellor-designate, Dr Judy Dlamini, has said it's a pity that we still have to note firsts such as "the first black woman" in any position. She hopes that the pace of transformation will pick up so that South Africa and Wits can soon tell other kinds of stories.
Nevertheless, she says: "It is an honour and a pleasure to be elected as the Chancellor of the University of the Witwatersrand, one of the most prestigious universities on the continent. I would like to thank Convocation for its confidence in me. I look forward to working with all sectors of the Wits community." Her term starts on 1 November 2018.
Dr Dlamini succeeds retired Constitutional Court Deputy Judge President Dikgang Moseneke as Chancellor. The Chancellor is the formal head of the University, elected by Convocation (alumni and academic staff) for a six-year term of office.
"The University is privileged to have Dr Judy Dlamini serve as the Chancellor," says Professor Tawana Kupe, Acting Vice-Chancellor and Principal. "She is a public figure of very high distinction and personal calibre and reflects the University's commitment to intellectual integrity and academic excellence."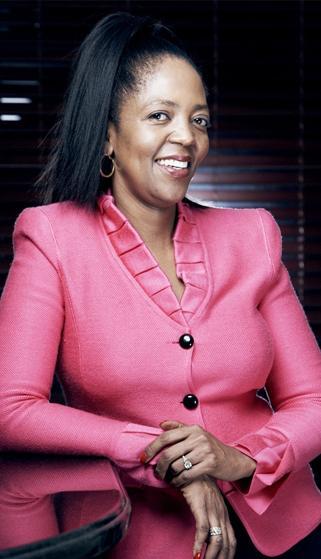 Dr Nobuhle Judith Dlamini grew up in Westville, KwaZulu-Natal, the daughter of primary school teacher Rita (Ngwane) Dlamini and entrepreneur Thomas Charles Dumezweni Dlamini. Her parents encouraged her to pursue her education and served as role models of strength and resilience.
She has said that she learnt that nothing is impossible if you work hard and refuse to be told what you can or can't be. Her mother defied her own parents to get an education, and was always a hard worker. From her father, she learnt that what matters is not how much money you make but what you do with it.
She qualified as a medical doctor at the University of Natal in 1985 and as an occupational health practitioner from the University of the Free State, before earning her MBA from Wits in 1999 and Doctorate in Business Leadership from the University of South Africa in 2014. She also has an Innovation & Entrepreneurship Certificate from Stanford University (2018). Her book Equal but Different: Women Leaders' Life Stories, Overcoming Race, Gender and Social Class (Sifiso Publishers, 2016) was based on research for her doctorate.
"Empowering women starts with a quality education," she told Wits Review in May 2017. "Women must be able to achieve their full potential and assume leadership positions in the future. Stereotypes and prejudices need to be addressed within companies as part of good corporate governance. If you only have minorities with the privilege to lead, you have very mediocre leadership." Her message is that it doesn't make sense to use only half the workforce – the male half – and ignore half of your potential human capital.
She believes that "people are born equal but different" and that "our differences are our strength and should be celebrated".
She has also spoken about the importance of a recognised qualification. "Recognition stands for something – it is about the institution's history, legacy and academic standing."
Dr Dlamini practised family medicine and as an occupational health consultant before changing careers to corporate finance, working at HSBC Investment Bank.
She is the founder and Executive Chairman of the Mbekani Group, which includes operations in health, property, facilities management and luxury fashion retail. It started as a consultancy with two employees in 1996 and now employs more than 150 and invests in other sectors of the economy too.
Previously she chaired the JSE-listed Aspen Pharmacare Limited and she has been on the boards of Anglo American plc, Discovery Holdings and Woolworths Holdings and the Wits Donald Gordon Medical Centre.
Dr Dlamini is a co-founder and trustee of Mkhiwa Trust, a public benefit organisation that her family uses for social investment. It focuses on health, rural development and education.
In 2016 she received the African Economy Builder Lifetime Achiever Award from the African Economy Builder Forum and the award for Africa's Most Influential Woman in Business and Government (Business and Professional Services) from CEO Global.
She is married to Sizwe Nxasana, until recently chairman of the National Student Financial Aid Scheme and former chief executive of FirstRand and of Telkom SA. He was one of the first black chartered accountants in South Africa and established his own audit practice (now SizweNtsalubaGobodo).
The couple are founders of Future Nation Schools, a company which aims to build a network of affordable private schools in South Africa and further afield. It is a subsidiary of the Sifiso Learning Group, based on a model of education that is "technology enabled and epitomises African excellence".
Dr Dlamini's son Sifiso Nxasana (Wits BCom Hons 2008) died tragically in 2012. Her daughter, Nkanyezi Makhari, is head of capital investments at Sifiso Learning Group.